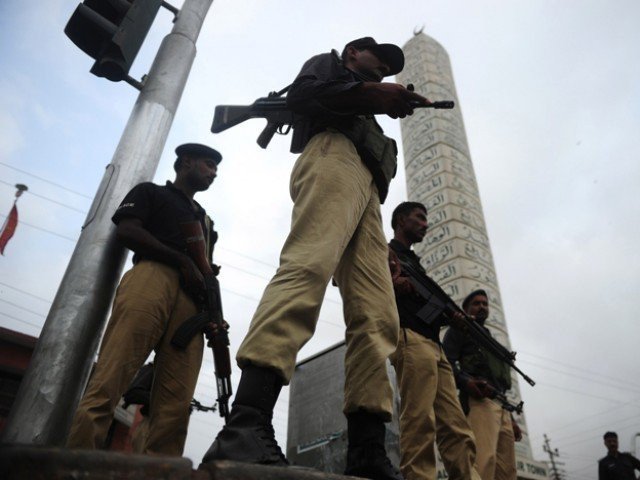 ---
KARACHI:
Several suspects, allegedly involved in different crimes, were rounded up by the police on Wednesday.
The Aziz Bhatti police on Wednesday arrested alleged robber Nizamuddin in an injured condition after an encounter near a cement factory on Dalmia road. They recovered a weapon and mobile phones from his possession.
According to the police, two suspects, riding a motorcycle were out on a looting spree. The police signaled the riders to stop for a check. The suspects, in a bid to escape the arrest, opened fire at the police.
The cops retuned fire and injured Nizamuddin before taking him into custody, while his accomplice escaped under the cover of fire.
Informant arrested
Meanwhile, the Sharafi Goth police conducted a raid near Malir River, based on a tip, and arrested informant Younus alias Lala Gandhari.
He was providing details of locals withdrawing cash from banks to robbers. The law enforcers recovered an illegal weapon, ammunition and stolen mobile phones from his possession.
According to the Sharafi Goth police, the arrested suspect confessed to being an informant for various gang members. He has been arrested for robbery and other crimes in the past. The suspect has been jailed on several occasions since 1991.
Nizamuddin has been booked for various robbery cases in Defence, Ferozabad and Special Investigation Unit Saddar police stations. A letter related to the arrest of the suspect has been issued to various police stations.
Action for the arrest of his accomplices is underway and a case has been registered.
Three in custody
The Sharafi police, in a separate raid, arrested three suspects, including Aurangzeb alias Lush Push and Gul Bahadur alias Mithu. They recovered 1kg of marijuana and mawa from their possession.
Read Police fail to curb street crime
The arrested suspects were engaged in the purchase and supply of drugs, gutka and mawa. The details of cases lodged against the suspects are being obtained, while they are being investigated for drug peddling and various other crimes.
Separately, the Manghopir police conducted an operation, based on a tip, at a vacant compound near Baba Fareed mausoleum and arrested two suspected motorcycle lifters named Naseerullah alias Mir Afzal and Sartaj.
They recovered 16 stolen motorcycles, the chassis of two motorcycles and as many engines from their possession.
The arrested suspects would sell parts and whole motorcycles in Sakran, Balochistan.
Smuggling attempt foiled
Also, the Sher Shah police raided a passenger bus traveling from Quetta to Karachi and foiled a bid to smuggle non-custom paid commodities worth rupees hundreds of thousands.
Sher Shah SHO Chaudhry Shahid shared the items included clothes, blankets, shoes, sandals, crockery, imported clothes, ACs, juice cartons, cigarette packets and dry fruits. The SHO shared that the recovered goods cost nearly 0.6 million.
The police arrested driver Ghulam Qaiser and conductor Abdul Wali and took the bus into custody.
Three motorcycle thieves nabbed
In a separate raid, the Sher Shah police arrested three alleged motorcycle lifters Saif Aijaz, Abdul Haseeb and Umar Zeeshan.
They recovered three stolen motorcycles from their possession and lodged a case against them.
Two fugitives caught
Meanwhile, the Special Investigation Unit (SSI) police conducted a raid in Bufferzone and arrested two fugitives named Rizwan Danish and Osama. They recovered eight dry batteries from their possession.
The recovered dry batteries were stolen from Hyderabad. A case has been registered against the arrested suspects. The suspects were wanted in three cases booked in Kotri, Baldia and Qasimabad.
Published in The Express Tribune, July 8th, 2021.
COMMENTS
Comments are moderated and generally will be posted if they are on-topic and not abusive.
For more information, please see our Comments FAQ