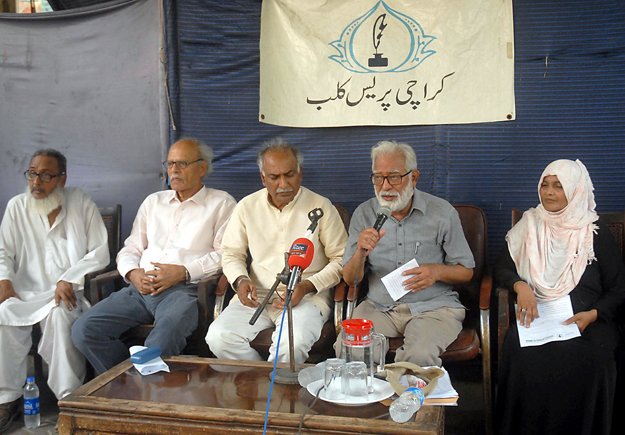 ---
Bureaucratic hurdles caused by the federal overseas Pakistanis and human resource ministry are resulting in delays in payments of pension to the families of the Baldia factory fire victims.

Leaders of labour organisations and civil society said this during a joint press conference on Thursday. They demanded that funds be released to the Sindh Employees Social Security Institutions (Sessi) for the payment of pension to the affected families.

Those who addressed the press conference included Pakistan Institute of Labour Education and Research (Piler) Executive Director Karamat Ali, National Trade Union Federation (NTUF) Deputy General Secretary Nasir Mansoor, Ali Enterprise Factory Fire Affectees Association Chairperson Saeeda Khatoon, Sindh Labour Solidarity Committee  Convener Habibuddin Junaidi, Home-Based Women Workers Federation General Secretary Zehra Khan and others.

"We call upon the prime minister to take stern action against the responsible bureaucrats in the federal ministry who are creating hurdles in payments of pension to the victims' families," said the Piler executive director. He gave a three-day ultimatum to the federal government to resolve the issue, warning that, otherwise, protests would be organised across the country.

Never-ending struggle: Sindh's workers march for their rights

Explaining the issue, Ali said German textile company KIK Textilien, which bought garments from Ali Enterprises that was set ablaze in 2012, had provided $5.15 million via the International Labor Organization (ILO) for pension to the affected families under an agreement and after determination of the pension's payment mechanism. The ILO also signed a memorandum of understanding (MoU) with the Sindh government in this regard, he added.

In December 2016, the German company transferred the amount to the ILO, Ali explained, adding that the labour organisation took around one year to determine the amount of pension and procedure for disbursement. It was decided that Sessi will disburse the pension, he said.

The Piler executive director lamented that after all this was finalised, the federal overseas Pakistanis ministry, which did not play any role for the Baldia factory fire's affected families earlier, suddenly intervened and informed the ILO that the pension amount could not be released to the provincial government without its endorsement of the MoU. Ali added that on March 28, the ILO sent the MoU to the federal ministry for endorsement. However, since then, the ministry has been employing delaying tactics.

"We condemn the attitude of the federal government's Ministry of Overseas Pakistanis and Human Resource Development, which has nothing to do with the labour affairs particularly after the 18th Amendment," said Junaidi. He demanded that the ministry be abolished as it encroached upon provincial affairs.

Civil society calls for amending labour laws to comply with ILO conventions

The affected families are facing problems and agony due to the delay in payments, Mansoor said. The NTUF representative bemoaned the fact that the overseas Pakistanis ministry had kept the file for the endorsement of the MoU for more than a month.