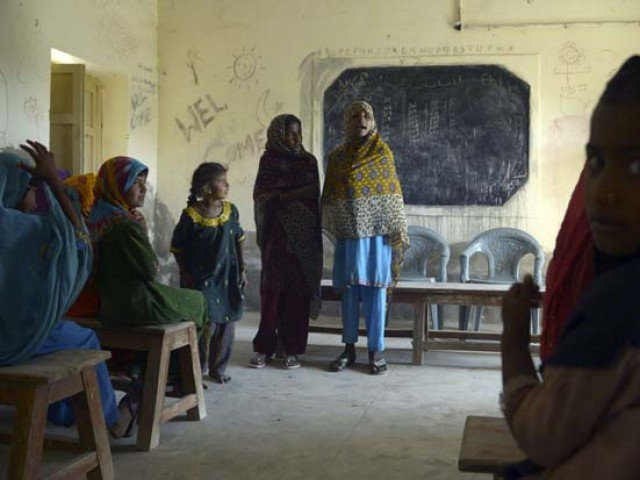 ---
KARACHI: For over past three months, students at the Qurtaba Primary Government School have been suffering due to suspended power supply after the education department failed to clear its electricity dues.
More than 240 children are enroled at the school situated in Clifton Block 1, opposite Shireen Jinnah Colony. Shumaila, a teacher at the school, said the staff cannot maintain the attendance of children in such a situation, as young kids find it difficult to tolerate the humid weather without electricity.

SHC reserves verdict against K-E's 'unannounced' power cuts in Karachi

"No one cares about the children belonging to the underprivileged segment of society," said an official from another school, who requested anonymity.
"Since the last three months we have been writing to the education department and other relevant officials," she said. The attendance of children is also getting affected due to the electricity suspension, she complained.

10 PTI workers arrested for protesting against K-Electric
"For the past few months I have been receiving complaints from the teachers of the school regarding the matter and I personally spoke to the education minister and other officials but it was useless," said Pakistan Tehreek-e-Insaf MPA for PS-112 Khurrum Sher Zaman. He added that since it is a primary school, parents feel reluctant to send their young children to an institute which lacks basic facilities. "The school's building has a bad ventilation system which has worsened the situation," he added.
In March, K-Electric (K-E) had disconnected the electricity supply of 1,457 schools in Karachi due to non-payment of Rs234.8 million, he alleged.

Karachi hit by major power breakdown

"I request K-E to consider resuming electricity as it is a matter of schoolgoing children," he suggested.
Zaman mentioned that according to media reports, more than 50% of government schools in the city are without electricity as the provincial government failed to allocate funds in the budget for the clearance of arrears of the last five years.
"The education department has a budget of around Rs181.5 billion for the 2017-18 fiscal year which is an increase of 13% from the last fiscal year, yet it fails to pay electricity bills of government schools," he accused.

JI to renew protest against K-Electric from May 24

"K-E should immediately resume the school's power supply as we have cleared all dues," said a spokesperson of Education Minister Jam Mahtab Dahar. He added that K-E sends a very high amount of bills to these schools where only fans or lights consume power rather than air conditioners or other heavy duty appliances. "The utility is violating a ruling of the Sindh High Court that states power supply to all the schools should never be suspended at any cost," he added.
"Disconnection notices were served on May 16 to the two government-run schools in Shireen Jinnah Colony as both had not paid their bills since several months," said a K-E spokesperson. He added that the accumulated dues stood at Rs550,000, hence the power supply to both the schools was suspended. "K-E urges relevant authorities to clear their dues," he said.
COMMENTS
Comments are moderated and generally will be posted if they are on-topic and not abusive.
For more information, please see our Comments FAQ