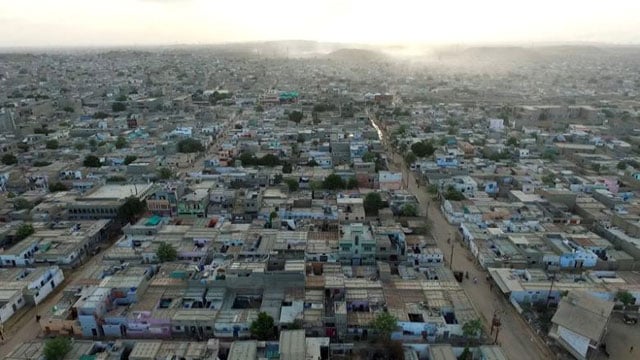 ---
United Nations World Cities Report 2016 has named Karachi's Orangi town as the largest among the world's five largest slums.

According to the report the number of slum dwellers in the world increased from 689 million in 1990 to 880 million in 2014. Around a quarter of the world's urban population lives in slums and the figure is rising fast.




Here we look at the five largest slums in the world.

Orangi Town, Karachi, Pakistan

Widely cited as Asia's largest slum, Orangi Town is believed to be home to around 2.4 million people according to the report although the exaxct figure remains unknown.

The settlement's population exploded in the early 1970s, when thousands of people migrated from East Pakistan after the 1971 war of independence.




Tired of living without proper sanitation, residents of Orangi Town gave up waiting for the government to install sewers and built them by hand themselves.

Now more than 90 per cent of Orangi Town's nearly 8,000 streets and lanes have sewerage pipes – all put in by residents.

Ciudad Neza, Mexico City, Mexico

Ciudad Neza, east of Mexico City, has a population of 1.2 million. Once a sprawling slum, Ciudad Neza has become more like a suburb due to efforts made by residents to build a community and deliver public services.

Dharavi, Mumbai, India

Dharavi is where the famous Slumdog Millionaire was filmed. With a population of 1 million the slum has an informal economy with an estimated $1 billion annual turnover.

'Karachi among five most polluted cities in the world'

However, residents oppose attempts to develop Dharavi, which is located on prime real estate in India's financial capital, Mumbai.

Kibera, Nairobi, Kenya

With a population of 700,000, Kibera, Africa's largest slum is just 5km from Nairobi city centre. It is home to more than 50,000 children most of who go to schools set up by residents and churches.

Residents of Kibera are in the middle of a legal battle with the government to stop the building of a road through Kibera, bulldozing schools and clinics and thousands of homes.

Khayelitsha, Cape Town, South Africa

Khayelitsha is home to nearly 400,000 residents, 99 per cent of them black, according to a 2011 Census.

However, activists believe that the population is at least three times larger. Further, according to a 2012 inquiry into policing in the township, around 12,000 households had no access to toilets.

Most Polluted Cities: Peshawar ranks second in WHO report

"Using a toilet in informal settlements is one of the most dangerous activities for residents and women and the children have the biggest problems," Axolile Notywala, of the Social Justice Coalition (SJO), a campaign group fighting for better sanitation in Cape Town's informal settlements, told the Thomson Reuters Foundation.
COMMENTS (5)
Comments are moderated and generally will be posted if they are on-topic and not abusive.
For more information, please see our Comments FAQ