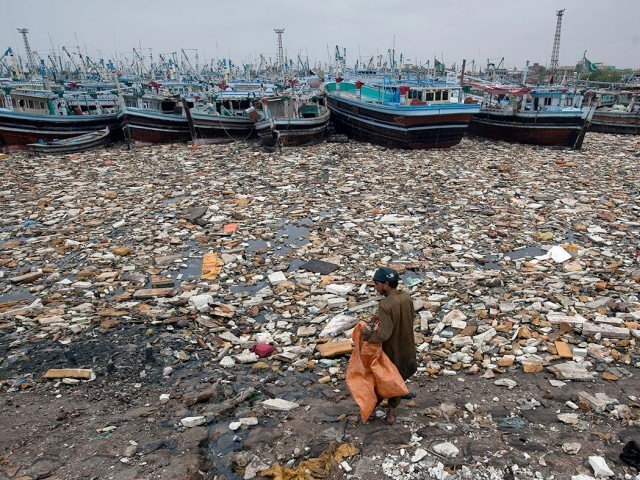 ---
KARACHI: There used to be a time in Karachi when a visitor would toss a coin in the sea near Native Jetty and a young boy would dive in and get it back. The people would see the diver swim through the clear waters and get the coin. However, today the scenario is a mere tale especially for the younger lot.

Speakers at a roundtable conference, titled 'Mission: Save and Rehabilitate Karachi' recalled such happenings from the past when the port city was not as polluted as it is today. The event was jointly organised by National Forum for Environment and Health and Sindh Environmental Protection Agency (Sepa) at Regent Plaza hotel on Saturday.

Three Pakistani cities among most polluted cities in the world

Karachi is among the five most polluted cities in the world, it was shared at the conference. Karachi, Rawalpindi and Peshawar are among the top most polluted cities in the world according to July 2015 findings of World Economic Forum, remarked environment management consultant Syed Nadeem Arif.

"According to WHO [World Health Organisation], about 29,000 deaths occur yearly in Pakistan due to environment problems while damages to economy amount to Rs4.5 billion," he said.

Pakistan may lose its GSP Plus status if it fails to meet the prescribed conventions, as seven out of 27 of these are related to environment, pointed out Gulzar Feroz of Federation of Pakistan Chambers of Commerce and Industry. He also spoke about use of polythene bags and urged the people to stop their use inside their homes. "It has to start from home," he said and lamented that the Sindh government does not plan on improving the environment.

The discussion also focused on how waste treatment plants in Karachi have been rejected by previous administrators claiming that the task does not falls in their domain and lack of capacity of sewerage treatment plants. However, points were also raised on the support of effluent treatment plants.

While space and financial constraints limit industries for setting up individual treatment plants, they are willing to extend their support if the government takes action against violators, said Saleemuz Zaman of Korangi Association of Trade and Industry.

On the same note, lack of political will and ownership for Karachi were cited as reasons for the state of environment in Karachi.

Greener city: Urban forestry to counter air pollution in Karachi

Speaking about the oxygen supply in the city, Coastal Restoration Alliance for Biodiversity CEO Rafiul Haq said, "For every Karachiite, there should be seven trees". For a city with a population of 20 million, at least 140 million trees are required, he added.

On the other hand, architect Tariq Hasan said that cities like Karachi won't grow vertically unless you go horizontal with the transport [develop a mass-transit system]. This won't be possible until we get rid of transport mafia, he added.

Commercialisation of roads

Sepa director-general Naeem Ahmed Mughal called upon the provincial government to revisit its policy to declare 32 main roads of Karachi commercial, stated a press release sent by the organisation later.

He claimed that such large scale commercialisation has been done without conducting mandatory Environmental Impact Assessment (EIA) of any of the selected thoroughfares.

He also said that instead of declaring so many roads commercial at the same time, any specific area of the city should have been selected by the government for block commercialisation.

However, such selection should only be done after proper EIA of the proposed location, he added.

Published in The Express Tribune, June 5th, 2016.
COMMENTS (8)
Comments are moderated and generally will be posted if they are on-topic and not abusive.
For more information, please see our Comments FAQ