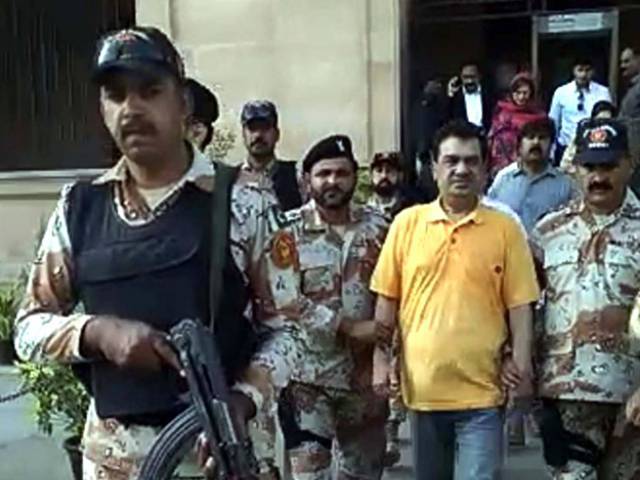 ---
KARACHI: The Sindh High Court (SHC) directed on Friday the Rangers to ensure medical treatment of Fisheries Cooperative Society's former chairperson Nisar Ahmed Jan Memon, alias Dr Nisar Morai, at the Aga Khan University Hospital (AKUH).

Headed by Justice Ahmed Ali M Sheikh, the division bench also directed them to ensure a meeting between the detainee and his family members every Friday.

These directives came on a petition filed by the detainee's wife, Dr Seema Naz, seeking direction for the paramilitary force to provide her husband medical treatment and allow the family members to meet with him at the Mitha Ram sub-jail.

The paramilitary force is grilling Dr Nisar Morai at the Mitha Ram sub-jail for 90 days for his alleged involvement in different crimes, including facilitating the Lyari gang warfare and money laundering.

They had arrested Dr Morai in March from Islamabad and later shifted him to Karachi. Days later, the paramilitary force informed an anti-terrorism court about his three-month detention for questioning.

The investigators claimed they had 'credible' information about his involvement in targeted killings, kidnappings and extortion, which are punishable under the Anti-Terrorism Act 1997. Therefore, Dr Morai was placed under preventive detention for 90 days under Section 11EEEE (3) of the Anti-Terrorism Act.

Dr Morai's wife claimed that several requests were made to the Rangers to allow them to meet the detainee but they were refused. Her lawyer, Rasheed A Razvi, argued that the denial of meeting is a violation of the jail manual and other relevant laws. He said the detainee needed regular treatment for ailments such as cancer but was not being provided treatment, due to which his life could be in danger.

The court was pleaded to direct the Rangers director-general to allow the family to meet the detainee and also to provide him medical treatment. On Friday, the Rangers law officer filed a report in compliance with the court's previous order for provision of medical treatment and meeting of the detainee with his family members.

With the consent of the parties, the judges ordered that the petitioner's husband be taken to the AKUH for treatment in accordance with the law. Adjourning the hearing till April 18, they also ordered that the family be allowed to meet with Dr Morai every Friday in the future.

Published in The Express Tribune, April 9th,  2016.
COMMENTS
Comments are moderated and generally will be posted if they are on-topic and not abusive.
For more information, please see our Comments FAQ