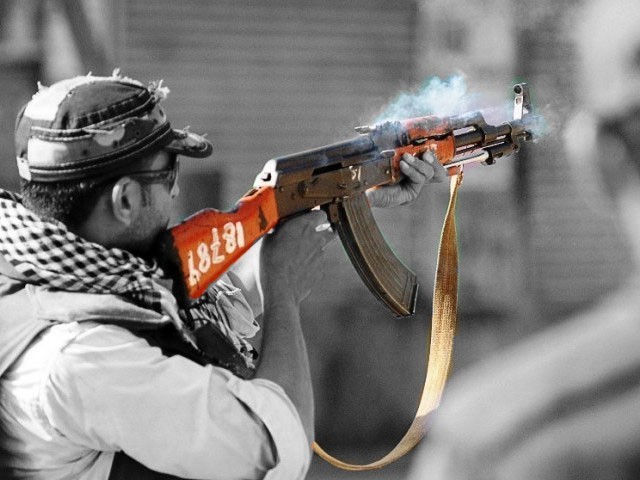 ---
KARACHI: After a long period of war between their groups, gangsters Ghaffar Zikri and Baba Ladla have put their differences aside to jointly take out the third powerful force in Lyari, Uzair Baloch, The Express Tribune learnt on Thursday.

Ladla has been embroiled in a battle with Peoples Amn Committee's (PAC) Uzair Baloch for the last one month and recently reached out to his former foe, Ghaffar, in an attempt to take complete control of Lyari. A source close to Ladla said that 50 men of Ghaffar, led by his brother Sheraz Zikri, have reached Lyari from Balochistan to support Ladla in taking control of Ali Mohammad Mohalla and Zikri Mohalla.  These areas were earlier strongholds of the Ghaffar Zikri group but had become battle grounds for Ladla and Uzair after Ghaffar left. After their return, Zikri's men forced Uzair's commander Jasim Golden out of the areas and reclaimed their territories.




Meanwhile, Ladla has control of Phool Patti Lane, Bihar Colony, Dubai Chowk, Rangiwara and surrounding areas. "By operating through these areas, groups of Ghaffar and Ladla will now easily be able to take control of Uzair's stronghold areas - Gul Mohammad Lane, Kamaila Stop, Baghdadi, Khadda Market, Nawabad and Moosa Lane," a source in the Ghaffar Zikri group said.

The gang leader, however, is not fighting and has instead handed over the command to his brother Sheraz. Residents of Lyari confirmed seeing Ghaffar but only on visits. He first came for the compromise with Ladla and then for the deployment of his men in Ali Mohammad Mohalla and Zikri Mohalla. "Ghaffar will take charge but only after he is satisfied with his relationship with Ladla. Sheraz, on the other hand, can be seen with his men at the chai dhabba [tea shop] in the Ali Mohammad Mohalla," said a resident.

Love-hate relationship

Ghaffar and Ladla have a long history, which includes a period when they were up in arms against each other. When Abdul Rehman Baloch was alive, he had given the charge of all his operational activities to Ladla and when Arshad Pappu was imprisoned, Ghaffar was running his gang from Ali Mohammad Mohalla and Zikri Mohalla.

Both sides lost their men in the battle but eventually agreed to a ceasefire. Shortly after, Rehman Baloch was killed in an alleged encounter with SP Chaudhry Aslam and Ghaffar left the gang and vanished from Lyari. But even during his self-exile, Ghaffar's group attacked Ladla's and was also accused of backing the Kutchi Rabita Committee during the fight with PAC. Things became more intense when Ladla was accused of killing Arshad Pappu, his brother and a companion in Lyari.

A dangerous alliance

Lyari DSP Shakeel Ahmed confirmed that both groups had reached a compromise. "Their common goal is only to defeat the Uzair Baloch group."

"I believe that the same forces, which were once behind the gang war between Rehman and Pappu group and then PAC and KRC, are behind this coalition," said Friends of Lyari chairperson Habib Jan Baloch. "Uzair and Ladla were once brothers but the anti-Lyari elements have turned them against each other. If these conspirators succeed, Pakistan Peoples Party's chapter will close and another party's flag will be hoisted in the area."

Published in The Express Tribune, November 22nd, 2013.
COMMENTS (13)
Comments are moderated and generally will be posted if they are on-topic and not abusive.
For more information, please see our Comments FAQ