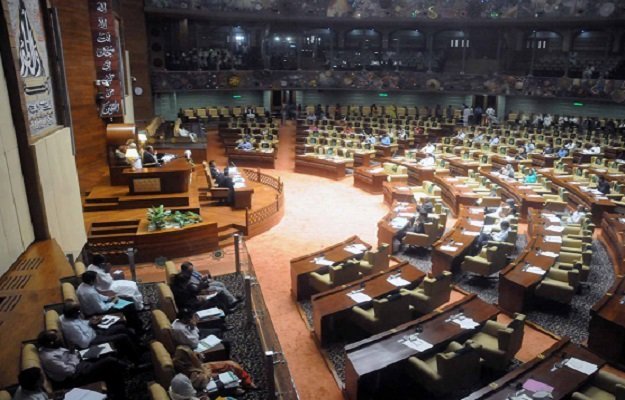 ---
KARACHI:
All 26 MPAs of Pakistan Tehreek-e-Inaf in Sindh Assembly have submitted their resignations to the party's parliamentary leader Khurram Sher Zaman on Monday at the directives of former prime minister and party chief Imran Khan.
Khurram, while confirming the development, said that Sindh Assembly Opposition Leader Haleem Adil Sheikh is also aware of the situation and he will submit the resignations to the Sindh Assembly as soon as Haleem instructs him to do so.
In a statement, Khurram lashed out at the talks between former president Asif Ali Zardari and MQM-P leaders, saying that the MQM-P is now begging and reminding Zardari of the agreements he made with them.
He said that the MQM-P will once again fail in its effort as to whom they are pleading will be removed from Sindh soon.
"The facilitators of regime change have lost peace of mind and spend sleepless nights," he added.
The PTI leader said that there needs to be solid reasoning behind the implementation of any agreement.
However, he added, the MQM-P no longer even has the Mohajir card to support its cause.
The Urdu speaking people like all other people of Pakistan now stand with Imran Khan, said Khurram.
"Both parties are afraid of their defeat even before the local government elections.
People know that the MQM-P is supporting all the wrong policies of the coalition government," he further said.
On Saturday, after being disappointed with the Supreme Court and establishment for not facilitating to hold early general elections, the PTI chairman changed his strategy wherein he had decided to quit all provincial assemblies.
If that happens, PTI's governments in the provinces of Punjab and K-P will also come to an end.
Ramifications of resignations Now, a debate has started as to why Imran had announced leaving the assemblies and would this strategy be successful.
As per political pundits first, Imran wants early elections because of his popularity among the people and it will be easy for the PTI to win the majority of the seats at present.
Secondly, the sword of disqualification is hanging over the PTI chief in several matters, especially the Toshakhana and prohibited funding cases.
An estranged PTI leader said if the PTI quit the Punjab Assembly, PML-N might form its government in the province.
Interior Minister Rana Sanaullah while speaking on a private TV news channel said a resolution would be submitted immediately to the Punjab Assembly for a no-confidence vote against Chief Minister Chaudhry Parvez Elahi, a PML-Q stalwart.
In case of the submission of a no-confidence resolution against him, the CM cannot dissolve the assembly.
COMMENTS
Comments are moderated and generally will be posted if they are on-topic and not abusive.
For more information, please see our Comments FAQ