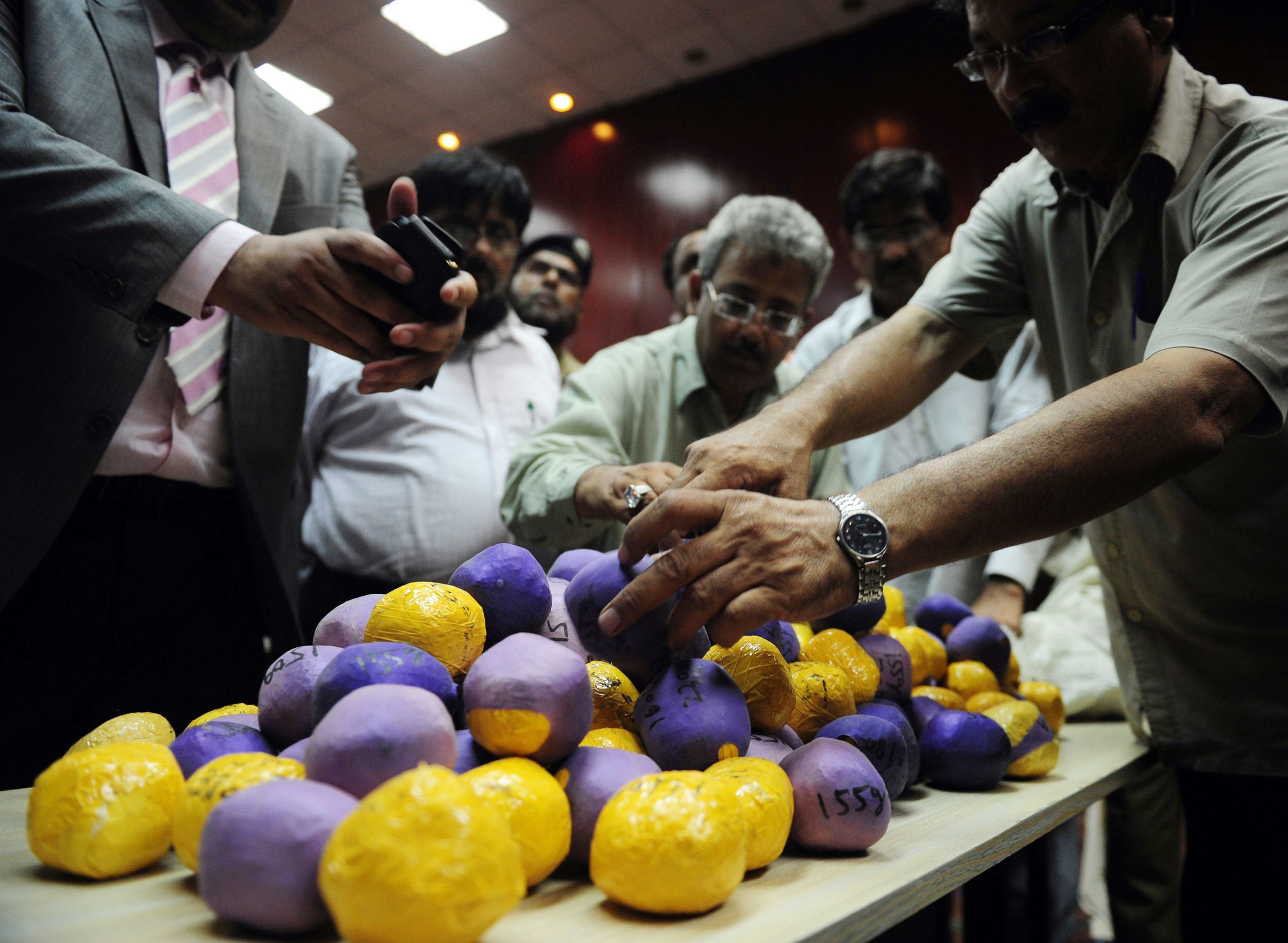 ---
KARACHI: Officials of the Pakistan Customs claimed on Friday to have foiled a smuggling bid of a huge quantity of dual use precursor acetic anhydride of worth $1.5 million.

The chemical had been shipped from Poland for a Peshawar-based importer. Model Customs Collectorate (MCC) at Port Qasim claimed to have seized 15,520 litres equivalent to 16.7 metric tons of pure highly sensitive dual use precursor acetic anhydride, a major component of improvised explosive devices (IEDs) which is also used in the manufacturing of heroin.

Port Qasim MCC Deputy Collector Ihsanullah Shah told The Express Tribune that the consignment was shipped from Poland under the label of 'summer fluid', which is used in the manufacturing of shampoos. The officer added that irrelevant description was used to deceive the customs authorities in order to get the consignment cleared from port. Worth of the consignment was reported to $1.5 million, which is around Rs160 million.

Czech woman attempting to smuggle 9kg of heroin held at Lahore airport

According to Shah, the import of acetic anhydride was detected during the discreet monitoring of the import data available at WeBOC system. Moreover, the information against the consignment contained non-existent item code and indistinct address of the Peshawar-based importer. The deputy collector said due to the suspicious profile, the customs authorities selected the consignment for physical examination, which led to the recovery of the huge quantity of the chemical. Shah also claimed that the seizure of such a huge quantity of acetic anhydride was unprecedented in the collectorate's history.

Shah said South Appraisement Chief Collector Abdul Rashid Sheikh along with Port Qasim Collector of Customs Chaudhry Muhammad Javaid inspected the consignment. The chief collector issued instructions for the immediate registration of an FIR. He also directed to track the trail of the container and arrest the importers.

According to the rules governing imports, acetic anhydride can only be imported by authorised industrial consumers. Therefore, the impugned consignment was imported in violation of the Import Policy Order, 2016. Accordingly, the consignment was seized under the applicable law.

Customs officials bust mobile phones smuggling racket

It is being suspected that the chemical was imported by some terrorist outfits to prepare IEDs. Had this consignment gone undetected, it might have fallen into the hands of rouge elements that might have used it against the interests of the state.

The FIR of the case has been lodged while raids are being carried out to unearth the perpetrators behind the crime. According to Shah, efforts were also under way to approach the relevant department in Poland for assistance in the investigations.
COMMENTS
Comments are moderated and generally will be posted if they are on-topic and not abusive.
For more information, please see our Comments FAQ