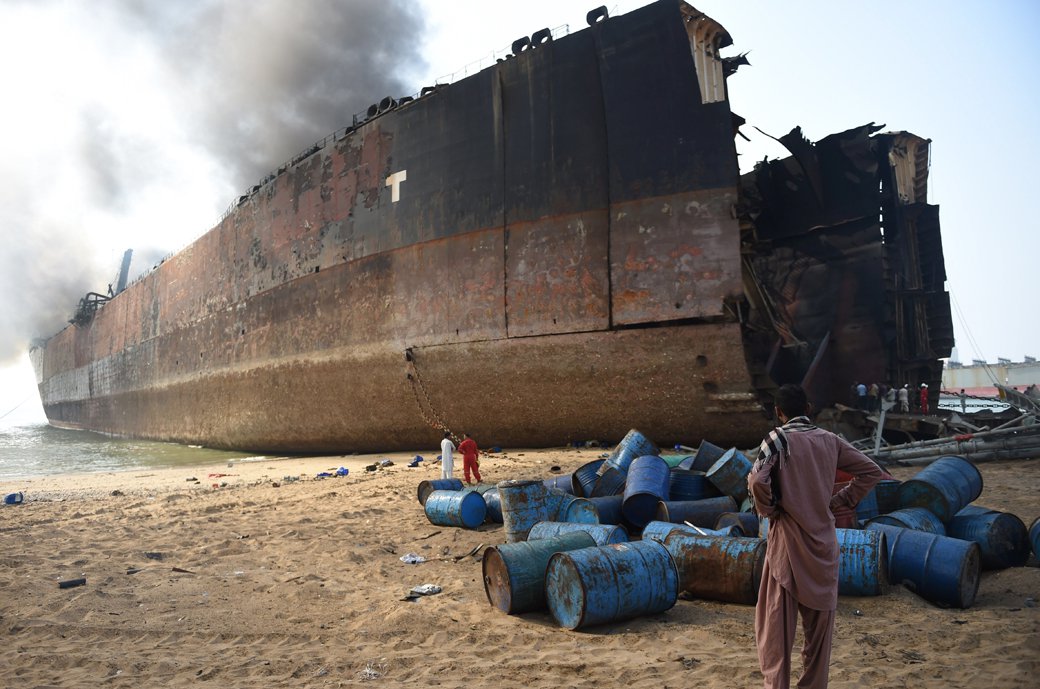 ---
KARACHI: Pakistan's shipbreaking industry in Gadani bespoke is of one of the worst workplace environments in the world where workers have to put their lives at risk every day to earn livelihood for themselves and their families, observed labour rights watchdogs on Saturday.
Some representatives of the National Trade Union Federation (NTUF), Ship Breaking Workers Union (SBWU) and Industrial Global Union visited the yards in Gadani to review.

Ship-breaking workers call off strike after demands met

On November 1, last year, 26 workers were killed and several were wounded when a decommissioned oil tanker caught fire during its dismantling. The fire persisted for three to four days as fire fighters from government and defence institutions tried to control the hundred-metre high flames.
SBWU president Bashir Ahmed Mehmoodani briefed the visiting delegation from its headquarters in Geneva, comprising director shipbuilding and shipbreaking Kan Matsuzaki and projects and rights officer Suzana Miller, about the workers' conditions and their movement.

Another worker dies in Gadani

Mehmoodani said that the workers were forced to work in inhumane conditions due to a criminal nexus of the government and shipbreaking employers and they could not opt for other jobs because this was the only work they knew.
"Fifty years on, they [workers] do not even have safe drinking water facility at the yards," he lamented. "When union raises voice against these things, the employers get them banned by bribing the authorities," he added, briefing about the two previous unions which were made defunct.

Gadani's ship-breaking workers threaten to go on strike

NTUF deputy-general secretary Nasir Mansoor said that Gadani case was arguably the second largest shipbreaking yard in the world after Alang in India and was close to the Chittagong's. "But the work manual is the worst here in Pakistan. Even jungles would have some laws but there are none here."
Mansoor told the delegation about a movement to press the government to legislate a shipbreaking code like other countries have. "It is actually favourable for the industry but neither the government nor the employers pay any heed to it. Perhaps they think that it would affect their illegal businesses than run in the disguise of shipbreaking."

Workers, activists urge govt to introduce labour law reforms

The delegation reviewed the shipbreaking yards and spoke to the workers there. Matsuzaki remarked that India and Bangladesh had far better facilities and work manual at the industry. He said that work would not be possible without proper training and safety in future as the size of ships we have on seas are even bigger than the Tokyo Tower in length.