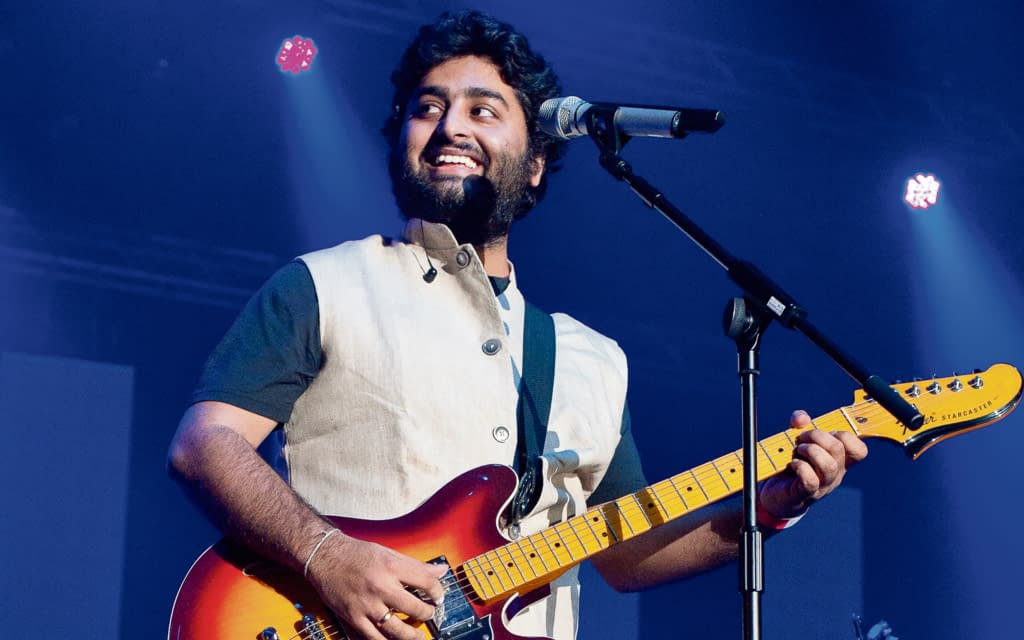 ---
It is said that when legendary Hindi singer Mukesh died back in 1976, film star Raj Kapoor broke down in tears. "I've lost my voice," he would say.

Indeed, Mukesh was the voice of Raj, as well as other heroes of the time. Manna Dey also sang some of the actor's most popular numbers, such as Pyar Hua Ikrar Hua and Mera Joota Hai Japani from Shri 420 and Aaja Sanam Madhur Chandani from Chori Chori but Mukesh's voice usually defined Raj's most iconic moments.

Zaalima singer Harshdeep Kaur wants to feature in Coke Studio Pakistan

From the 1950s, up until the 1990s and even the early years of the new millennium, male playback singers automatically became associated with specific actors, reports The Indian Express. Now, however, things have changed and songs are used primarily to promote film. Consequently, it is usually one or two male singers who end up singing for practically every film.

Enter Arijit Singh, a 29-year-old Punjabi-Bengali artist who has, in just a few years, become the new king of Bollywood melodies. "The thing is…there is hardly any lip-syncing nowadays. The songs are usually in the background so it doesn't really matter who is singing, whether it's Arijit or not," opines popular Indian radio-jockey Siddharth Mishra. "In recent films such as Raees, Sultan or Dangal, the songs were almost always in the background or they play when the last credits roll. When people are leaving the theatre – that's when the most popular song from the film comes."

Mahira, SRK's Zaalima breaks the internet with over 20 million views

According to Siddharth, Bollywood's female playback landscape has much more variety. There are exceptions, of course. For instance, Ranbir Kapoor's skillful lip-syncing in Ae Dil Hai Mushkil and Channa Mereya – both performed by Arijit) was appreciated by many. But the film's director Karan Johar only makes romantic musicals and song are an integral part of those.

Also, male playback singers also often sang for more than one actor back in the day. 1950s onwards, Mohammad Rafi lent his voice to Dev Anand and Dilip Kumar. In the late 1960s and 1970s, he sang for Rajesh Khanna, although Kishore Kumar was usually his first preference.

The trend seeped into the 1980s with Kishore singing for Amitabh Bachchan as well. The 1990s saw Abhijeet, Sonu Nigam, Kumar Sanu and Udit Narayan become the voices for Shah Rukh Khan. Abhijeet's Main Koi Aisa Geet Gaaoun – picturised on Shah Rukh – became huge, as did Kumar's Dau Dil Mil Rahe Hain and Larki Bari Anjaani Hai. Later on, Sonu's Suraj Hua Madham and Kal Ho Naa Ho propelled him up further up the success ladder.

Five musicians who deserve a spot on Coke Studio 10

But now, it's unlikely that there be one singer singing for just one particular actor. 2011's Rockstar was a rare instance wherein Mohit Chauhan rendered all the songs for Ranbir's character. Shah Rukh's latest outing Raees is the prime example of this new trend, seeing as how three different singers – namely Mika Singh for Dhingana, Sukhwinder Singh in Udi Udi Jaye and Arijit in Zaalima – sang for him.

Perhaps this change has come because the overall outlook of filmmakers and composers towards music has changed. "People realise that a fresh voice can elevate the melody and bring a new flavour to a song," says composer and singer Vishal Dadlani. "Whereas, once, experience and familiarity were prized, it's a lot more experimental now and unique textures are being widely appreciated."

Arijit's career took flight soon after Tum Hi Ho from Aashiqui 2 was released. According to Vishal, singers nowadays focus on their songs and composers only. This is in stark contrast to the yesteryears, when say, Mukesh would have known for certain that he was recording for Raj. "That's no longer the case," explains the musician. "Arijit sings every song in his unique style, rather than tailoring himself to the actors. I'm sure there are many times that he doesn't know who the actor is going to be. It's all about him doing his best for the song and for the composer."

Mai Dhai's latest song will take you to Tharparkar

The Raabta hit-maker's success can be attributed to him being a musician as well. After breaking into Bollywood through reality TV shows, Arijit went on to assist some of the biggest names in Hindi music today, including Pritam, Shankar-Ehsaan-Loy and Vishal-Shekhar.

"He understands the song from the composer's point of view and delivers both simplicity and complexity, as required by the song," Vishal says. "Arijit has the ability and the openness needed to make every recording a genuine collaboration. He's also a really nice guy, with no ego. That helps."

Have something to add to the story? Share it in the comments below. 
COMMENTS (1)
Comments are moderated and generally will be posted if they are on-topic and not abusive.
For more information, please see our Comments FAQ