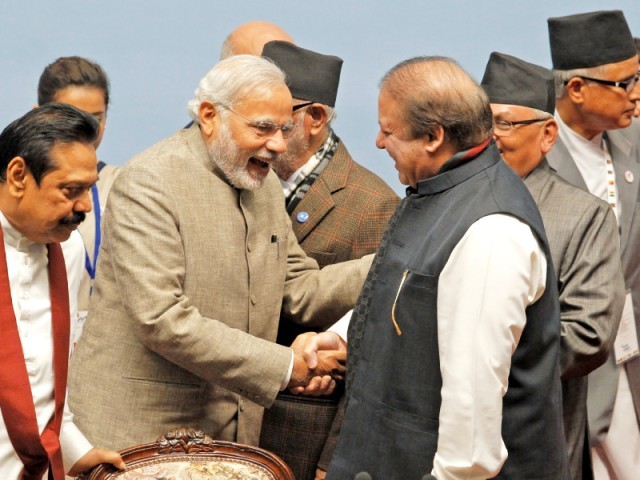 ---
ISLAMABAD: Pakistan has yet to receive any formal proposal from India for a possible bilateral meeting between Prime Minister Nawaz Sharif and his Indian counterpart Narendra Modi on the sidelines of the Nuclear Security Summit (NSS) in Washington DC next week.

"Such occasions (multilateral summits) afford opportunities for world leaders to meet bilaterally on the sidelines," said Foreign Office Spokesperson Nafees Zakaria at the weekly press briefing on Thursday. "Until now, we don't have any such proposal on the table," Zakaria said, adding that there was still time for such meetings to be finalised.

Foreign Office rules out Modi-Nawaz meeting on sidelines of Washington summit




Nawaz, Zakaria confirmed, will be visiting the US capital at the end of the month to represent Pakistan at the fourth NSS. "Through our active participation in the summit's preparatory process, we have ensured that the summit outcomes are consistent with Pakistan's national interests," he explained.

Asked about the meeting of Hurriyat leaders with Pakistan's high commissioner in New Delhi, Zakaria said it was a "longstanding practice".

Why can't we be like leaders in Europe, Modi asks Nawaz

He added that the incident of Pakistani flags being raised in Srinagar on Pakistan Day was a 'reflection of what Kashmiris want', and that Kashmir is a long-standing dispute which needs to be addressed in accordance with the resolutions of the United Nations.

Asked about the status of the quadrilateral peace process in Afghanistan, the spokesperson said that the next meeting of the four-nation group would be held after the first round of talks between the Afghan government and insurgent groups including the Taliban.

Published in The Express Tribune, March 25th,  2016.