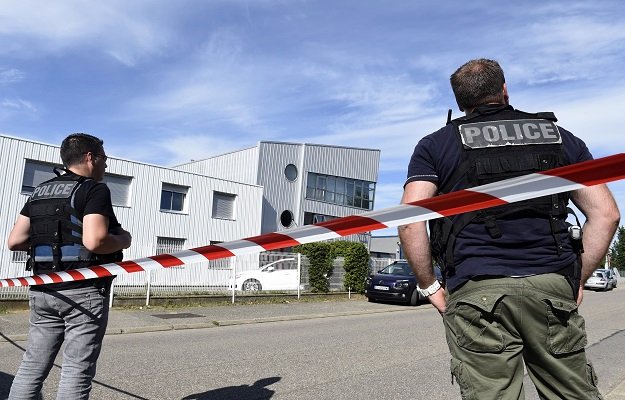 ---
SAINT-QUENTIN-FALLAVIER: The head of the victim, who ran a delivery service, was found pinned to the gates at the American-owned Air Products factory in Saint-Quentin-Fallavier. It was surrounded by two militant flags.

His body was found inside the factory, the site of what French President Francois Hollande called a terrorist attack.

Yassin Salhi, 35, is suspected of driving one of the delivery service's vehicles into the factory grounds during the attack.

The man decapitated in an attack Friday on an industrial gas factory in eastern France was the boss of the suspect now in police custody, legal sources said.

Though access to the facility is restricted because it contains dangerous substances, the delivery company had clearance to enter.

The suspect arrested for a French attack did not have a criminal record but had been under watch as being possibly radicalised, Interior Minister Bernard Cazeneuve said on Friday. "This person was the subject of an "S" ("security") file for radicalisation in 2006, which wasn't renewed in 2008. He didn't have a criminal record," Cazeneuve told journalists at the scene of the attack. He added that police had detained other possible accomplices.

In response to this incident, Francois Hollande and his Tunisian counterpart Beji Caid Essebsi on Friday expressed their solidarity against the "scourge" of terrorism, after attacks in both countries.


The two leaders spoke after an attack in Tunisia left 27 dead at a beach resort, and a man was decapitated near the eastern French city of Lyon. They "expressed their solidarity in the face of terrorism", the French presidency said in a statement.


Published in The Express Tribune, June 27th, 2015.

 
COMMENTS
Comments are moderated and generally will be posted if they are on-topic and not abusive.
For more information, please see our Comments FAQ