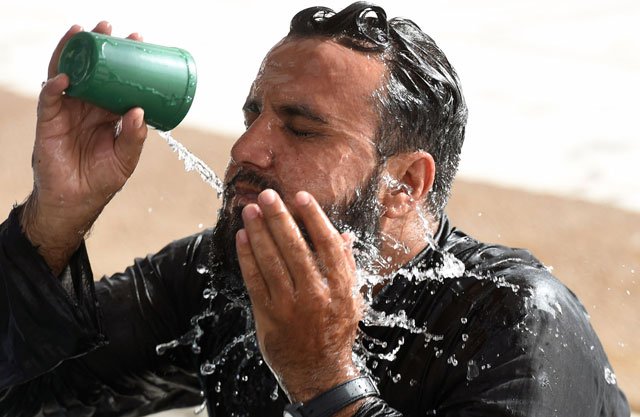 ---
KARACHI: As a deadly heatwave continues to sweep Karachi and other parts of Sindh, the death toll has risen to over 350 in just two days.

With temperatures soaring as high as 42 degrees Celsius on Sunday, Karachi saw hundreds of deaths in the space of just 48 hours. The severe heat wave has also left dozens hospitalised for heat exhaustion and heatstroke, crippling routine life and work in the country's financial hub.





A Muslim man cools down with water at a mosque during a heatwave in Karachi on June 22, 2015. PHOTO: AFP




Hospitals are reported to be overcrowded and all hospitals have declared a state of emergency across all wards. Dozens who were brought to private and public hospitals complained of dehydration and low blood pressure.

Jinnah Postgraduate Medical Centre (JPMC) was over crowded as over 700 patients with heat related incidents, including heat stroke, fever, gastro and dehydration have been admitted at JPMC's emergency ward.

Read: Heatwave kills 90 in Karachi as residents grapple with power outages

"Around 140 persons have died according to our record," said JPMC's focal person Dr Javed Jamali, adding that majority of deceased were elderly citizens. Dr Jamali also informed that over 1,500 people have been brought to the hospital from different parts of the city.





PHOTO: ONLINE


Around 70 people died in different hospitals of Karachi Metropolitan Corporation (KMC), including 64 at Abbasi Shaheed Hospital. "Over 1,000 people have been brought with sun stroke related incidents to KMC's hospitals," said Dr Salma Kausar Ali, the senior director medical and health services. "The situation is very critical," adding that a health advisory has been released.





A man carries a heatwave victim to a hospital in Karachi on June 22, 2015. PHOTO: AFP




More than 400 bodies were brought to the Edhi morgue in Sohrab Goth, claimed Edhi official.

Read: Heat wave: Under scorching sun, Pakistan swelters

"The number has gone up in two days," said Anwar-e-Kazmi, a spokesperson for the Edhi Foundation, adding that families couldn't keep the bodies for a longer period because of the heat.





PHOTO: MOHAMMAD NOMAN/EXPRESS


The Pakistan Meteorological Department has forecast the pre-monsoon season to start on June 25, however, Karachi may not receive more than moderate showers.

The intense heat is also set to continue as the weather is expected to change by late night on June 24.


People cool off in the sea during a heatwave in Karachi on June 22, 2015. PHOTO: AFP

Further, data revealed by the National Aeronautics and Space Administration on June 16 showed that global temperature in the first five months of 2015 have been the hottest ever recorded, with May pushing the mercury to the highest.
COMMENTS (21)
Comments are moderated and generally will be posted if they are on-topic and not abusive.
For more information, please see our Comments FAQ