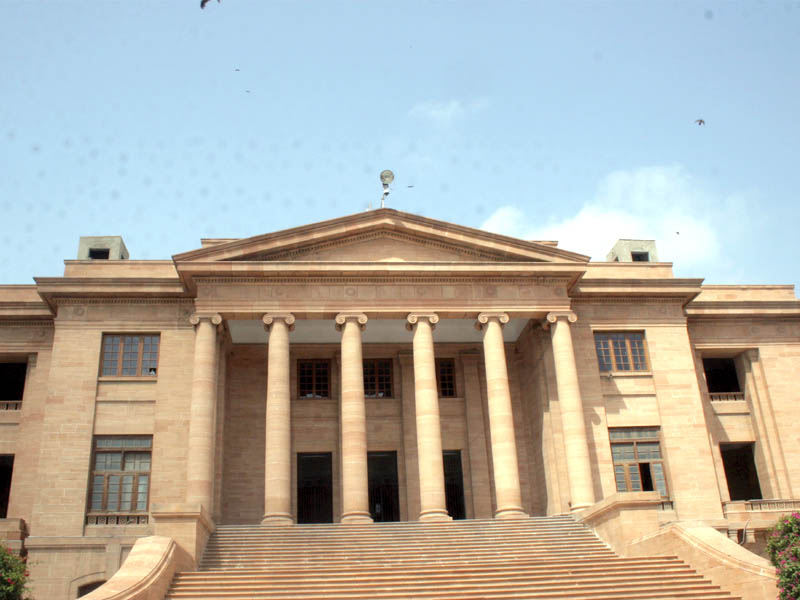 ---
KARACHI:



The Sindh High Court (SHC) on Monday issued notices to the director-general of the Sindh Rangers and his four subordinates to file their replies to harassment allegations and warned that 'appropriate' orders will be passed, if they failed to respond within a week.




"In the memo of the petition, the petitioner has leveled serious allegations against senior officers of the Pakistan Rangers Sindh, who are arrayed as Respondent V to VIII," observed head of the division bench, Justice Ahmed Ali M Sheikh.

The bench warned that in case the DG and his subordinates failed to file their comments by the next date of hearing, which is fixed for August 18, the court would pass an 'appropriate' order against them.

Ahmed Shah, the petitioner, went to court naming the interior secretary, the provincial home secretary, the Sindh Rangers DG Col Mazhar, DSR Yaqoob, DSR Mazhar, DSR Javed, SHOs of the Baldia Town and Pakistan Bazaar police stations and another, as respondents.

The petitioner said that he, ran a business with his sons - Bilal Shah and Qalandar Shah - dealing with the sale and purchase of vehicles. In May this year, they had to shut it down.

He said that the Rangers officials, including Col Mazhar, DSR Yaqoob, DSR Javed, DSR Mazhar, were calling him frequently to the Rangers Wing-53 Headquarters in Baldia and forcibly got two of their cars handed over to another dealer identified as Kamil alias Kami. He alleged that the Rangers officials also snatched Rs1.2 million in cash from him under duress.

The petitioner's lawyer ZJ Jatoi argued that the Rangers officials misused their official powers, which was a violation of the constitutional provisions. The petitioner tried to lodge an FIR against them at the Baldia Town police station, but the officials refused to entertain his plea, he added.

The lawyer pleaded to the court to order the DG Ranges take action against his subordinates for misuse of official powers and restrain them from harassing the petitioner. It was also urged to order them return two cars and cash to the petitioner.

Taking up the matter, the two-judge bench observed that the allegations of a serious nature had been leveled against senior Rangers officials, but none of them except their deputy superintendent Zia Arif Janjua was present in court.

The bench ordered issuance of notices to the Rangers DG, Colonel Mazhar, DSR Yaqoob, DSR Javed, DSR Mazhar, SHO Baldia Town SI Nasir Mehmood, SHO Pakistan Bazaar and a person identified as Tariq for August 18.

The judges also ordered that a senior officer from the Sindh Rangers should personally attend the next hearing. "In case none appears on behalf of the Pakistan Rangers appropriate orders will be passed on the next date of hearing," they bench warned.

Published in The Express Tribune, August 12th, 2014.