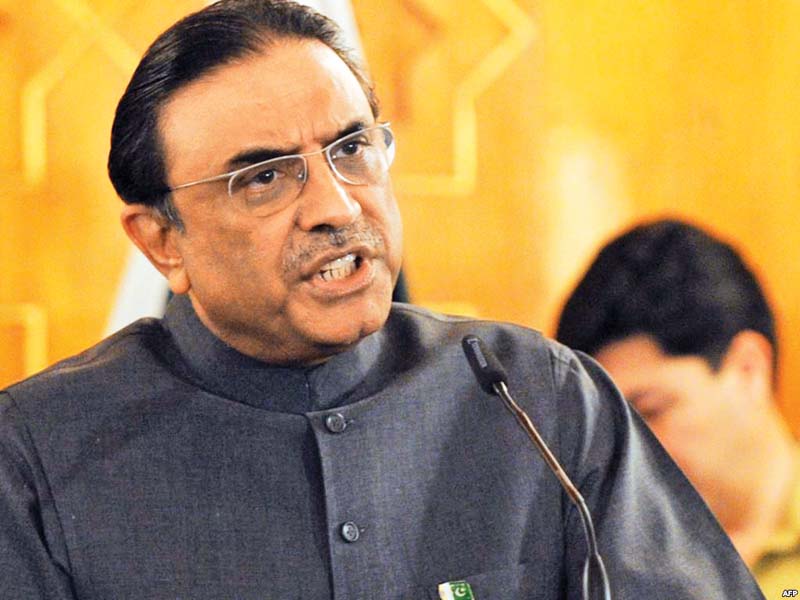 ---
ISLAMABAD:
Pakistan People's Party (PPP) co-chair Asif Ali Zardari on Monday served a legal notice to Pakistan Tehreek-e-Insaf (PTI) chief Imran Khan regarding allegations that he was conspiring to assassinate the former premier.
Last week, Imran Khan claimed that a new plan was hatched for his assassination, and accused the former president of being a key conspirator.
Holding a news conference from his Zaman Park residence in Lahore via a video link, the deposed prime minister termed the alleged conspiracy 'Plan-C' for which he accused Zardari of paying money to a terrorist outfit to carry out the assassination attempt on his life.
The notice served by Zardari today stated that Imran, through a video link address broadcasted on all news channels and reported internationally, made "false, fabricated and scandalous remarks". It furthered that Imran levelled "baseless allegations of serious nature" against the PPP leader.
"Through your baseless accusations of malicious and defamatory nature you have tried to defame our client nationally as well as internationally," the notice stated.
It maintained that the allegations "blindly disregarded" that Zardari and the PPP were "the victim of terrorism" as former prime minister Benazir Bhutto was "also assassinated by terrorists".
Read Imran's allegations against Zardari 'may cause bloodshed': Asif
"Furthermore in your statements, you have stated that our client, through corruption money, is hatching a fresh plan to allegedly assassinate you despite the fact that our client has languished in prison for almost eight years in false, fabricated, trumped up and concocted cases including corruption cases and not one of which was proved against him and he was acquitted in all those cases honorably".
The notice reiterated that Imran's defamatory statements were "being widely circulated on social as well as mainstream media globally" and were made with "malafide intentions and ulterior motives" to "disparage the reputation of" Zardari who "made struggle and sacrifices for the restoration of democracy in Pakistan".
It added that Imran's statements caused "great harm and hurt to the sentiments of the members of the Pakistan People's Party".
The notice called upon Imran to render an "unconditional apology from our client, on television, print and social media, within 14 (fourteen) days from the receipt of this notice".
According to it, if Imran failed to apologize, Zardari could be "constrained to institute appropriate legal proceedings against you, civil as well as criminal, before the competent Courts of law and forums of Pakistan as well as of England, including but not limited to Suit for Damages for Rs. 10,000,000,000/- (Rupees ten billion only) at your risk as to cost and consequences".
COMMENTS
Comments are moderated and generally will be posted if they are on-topic and not abusive.
For more information, please see our Comments FAQ