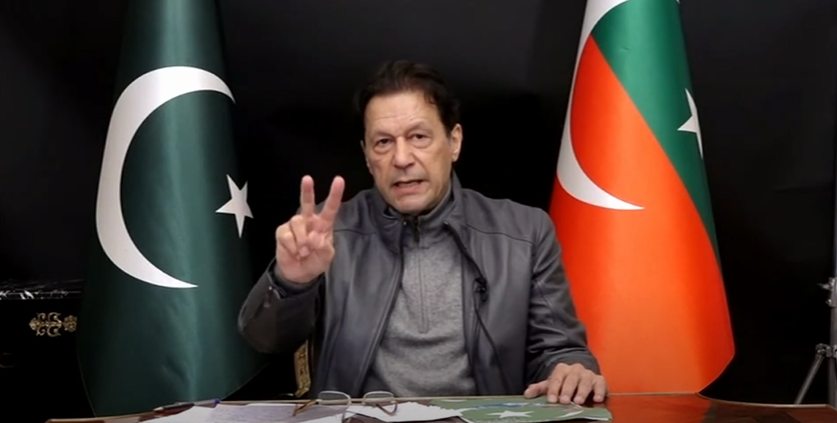 ---
LAHORE:
Former prime minister and Pakistan Tehreek-e-Insaf (PTI) Chairman Imran Khan claimed on Friday that a new plan was hatched for his assassination, accusing former president and Pakistan Peoples Party (PPP) Co-Chairman Asif Ali Zardari of being a key conspirator.
Holding a news conference from his Zaman Park residence in Lahore via a video link, the former prime minister termed the alleged conspiracy 'Plan-C' for which he accused Zardari of paying money to a terrorist outfit to carry out the assassination attempt on his life.
"Now they have made a Plan C, and Asif Zardari is behind this. He has loads of corruption money, which he loots from the Sindh government and spends on winning elections. He [Zardari] has given money to a terrorist outfit and people from powerful agencies are facilitating him," Imran alleged.
"This has been decided on three fronts and they will act soon," he added. "I am telling you this because if something happens to me the nation should know the people, who were behind this, so that the nation never forgives them," he said.
Referring to the gun attack on him in Wazirabad in November last year, Imran further claimed that there was a plot to kill him under 'Plan-B' in the name of religious extremism. "They almost succeeded in their plan to kill me but now they are moving towards Plan-C," he added.
He said that earlier there were four people, who conspired in a closed room to kill me. "When I came to know about the plot, I made a video and sent it abroad and announced in a public meeting that if anything happens, the video will be released."
Read JIT report points to plot to assassinate Imran, says Fawad
"Now they are going to commit the next attack on me, which I am informing the nation today. Life and death are in the hands of Allah and I fear no one. I will go on the campaign trail anyway," Imran said, referring to the upcoming provincial assembly elections in Punjab and Khyber-Pakhtunkhwa.
Accursing the rulers of destroying "parliament democracy and institutions" the PTI chairman said that their purpose was to hide their theft. "All this is being done to distract me, This will not lead the country to progress but to further destruction."
Imran stressed that the nation and the judiciary should taken notice as this was a decisive time for Pakistan. "In these nine months [since his ouster from the government through the no-confidence motion] many people were exposed," he said.
"The nation has come to know what [Prime Minister] Shahbaz [Sharif] and [Finance Minister Ishaq] Dar are. Dar took Pakistan's economy to the point where national security is at risk. Licence has been issued for White-collar crimes. Experts are presenting a terrible picture of the Pakistani economy."
Responding to a question about the impact of the rupee depreciation, the former prime minister said that now the prices of petroleum products and gas would also increase, putting further burden on the common man.
"Gas prices will increase 46% now. It will impact Pakistan's growth rate. Farmers had spent 60% more money on urea alone due to inflation. Our industries are closing down and unemployment is increasing. Exports are on the decline," he said.
He pointed out that the economy was growing at about 6% during PTI's fourth year in power despite the coronavirus pandemic, which was proven in the next economic survey of Pakistan. He predicted that Pakistan's growth would be in the negative this year.
The former prime minister said that whoever came to bail Pakistan out of the economic morass would put conditions. Those who were involved in the 'regime change', he added, did not learn lesson as Pakistan was still on a declining path, he added.
"Every Pakistani is worried about our national security today. Everyone will ask who is responsible for imposing these people on the nation. They are trying to destroy democracy. They want to take the country towards fascism," the PTI chief charged.
Imran warned that things would go out of control if the current situation persisted. "On the one hand inflation is on the rise, while on the other, people are getting unemployed. Instead of tackling the situation democratically, they're creating fear."
Lashing out at the caretaker setup in Punjab, he said that PTI's worst opponents had been appointed at important positions. "The caretaker government is disrespecting democracy. I ask the judiciary to protect our fundamental rights," he added.
Also read Rupee freefalls to 268.3 against USD in interbank market
Meanwhile, the PPP strongly condemned the baseless allegations, levelled by PTI Chairman Imran Khan against PPP Co-chairman and former president Asif Ali Zardari.
In a statement issued, PPP Central Punjab Acting President Rana Farooq Saeed said that it was an absurd allegation. He said that Imran Niazi was indulging in politics of blackmailing.
Also, the caretaker government of Khyber-Pakhtunkhwa on Friday recalled the K-P security personnel of PTI Chairman Imran Khan.
After the Wazirabad attack on the former prime minister, 50 police personnel from K-P were deployed for the security of the PTI chief in Punjab.
As per reports, following the appointment of the caretaker Punjab chief minister on January 22, the provincial government had sent a letter to the K-P government on January 24 to withdraw the security.
While talking to the media, PTI leader Shibli Faraz also confirmed the news and said that a letter has been received from the Punjab government in which the security of Imran Khan has been withdrawn.
Faraz added that the former premier's security is "his right" as earlier the police had written a letter apprising him of threats on his life, adding that if "something happens to Imran, Interior Minister Rana Sanaullah and puppet government will be responsible".
The ousted PM had sustained multiple injuries in a gun attack in Wazirabad on November 3, 2022, while leading his 'Haqeeqi Azadi' march towards Islamabad.
One person died in the shooting, while several members of the PTI chairman's close circle, including Faisal Javaid, Imran Ismail, Ahmad Chattha and Imran Yousaf were also injured.
In view of the security concerns of Imran Khan, a security wall was constructed outside his residence in Lahore and security was enhanced outside the PTI chief's residence in Zaman Park after a security alert was issued by the Special Branch.
Furthermore, check posts were also set up at the entry and exit points of Zaman Park, and more security cameras were also installed to ensure safety.
A special desk was also set up to keep a record of visitors to Imran's residence. Authorities also posted women police officers for checking at entry points.
In addition to the deployment of heavy contingents of Punjab Police, a special squad of Elite Police Commandoes from K-P also reportedly took over the responsibility of the innermost security cordon at Imran's residence.
COMMENTS
Comments are moderated and generally will be posted if they are on-topic and not abusive.
For more information, please see our Comments FAQ