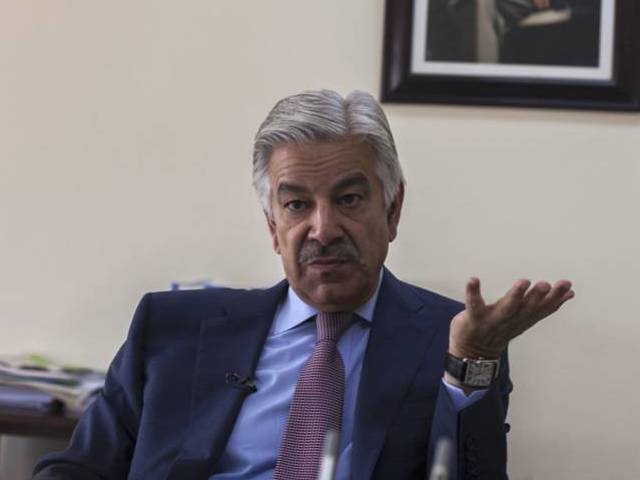 ---
Defence Minister Khawaja Muhammad Asif on Sunday slammed Pakistan Tehreek-e-Insaf (PTI) Chairman Imran Khan for his allegations against former president Asif Ali Zardari, warning that they may trigger "bloodshed" and spell danger for the Pakistan People's Party.
On Friday, former premier Imran Khan had accused PPP co-chairperson Asif Ali Zardari of being a key player in hatching a new conspiracy for his assassination.
"Now they have made a Plan C, and Asif Zardari is behind this. He has loads of corruption money, which he loots from the Sindh government. He has given money to a terrorist outfit and people from powerful agencies are facilitating him," Imran had alleged.
"I am telling you this because if something happens to me, the nation should know the people behind this so they never forgive them."
Read more: 'Dreams' of Imran's wife won't stand up in court, says Bilawal
Speaking to reporters in Sialkot, Asif said that slain former prime minister Benazir Bhutto lost her life due to terrorism but the PPP still adopted a democratic approach instead of resorting to violence.
"If any tragedy happens in the country, Imran Khan would be responsible for it," the defence minister warned.
Asif said that Imran Khan had asked President Dr Arif Alvi to get him in touch with the army, adding that the politics of 2012 would not work any more.
"The grief of losing power has not left Imran Khan. The blame [of being ousted] first was directed at the US but it has now reached [Punjab interim Chief Minister] Mohsin Naqvi," he said.
Asif assured that PTI leader Fawad Chaudhry's arrest was not vengeance on the part of the government. He said that he was only offered two blankets when he was put in prison, but Fawad was being provided with all facilities.
He further accused Imran Khan for being responsible for the destruction of the economy.
Also read: Imran accuses Zardari of hatching new plan to assassinate him
On Saturday, Foreign Minister and Pakistan Peoples Party (PPP) Chairman Bilawal Bhutto Zardari had said that Imran's statements have increased threats for his father, his family, and his party.
"His latest accusation that my family has any association to a terrorist organisation or that we would employ them to cause him harm not only defies logic but exposes us all to an increased threat," Bilawal wrote in a series of posts on Twitter.
He said that his party and family were "exploring a legal response to Imran's latest defamatory & dangerous accusations."
Imran Khan's latest allegations came months after he sustained multiple injuries in a gun attack in Wazirabad on November 3, 2022, while leading his 'Haqeeqi Azadi' march towards Islamabad.
One person died in the shooting, while several members of the PTI chairman's close circle, including Faisal Javaid, Imran Ismail, Ahmad Chattha and Imran Yousaf were also injured.
COMMENTS
Comments are moderated and generally will be posted if they are on-topic and not abusive.
For more information, please see our Comments FAQ