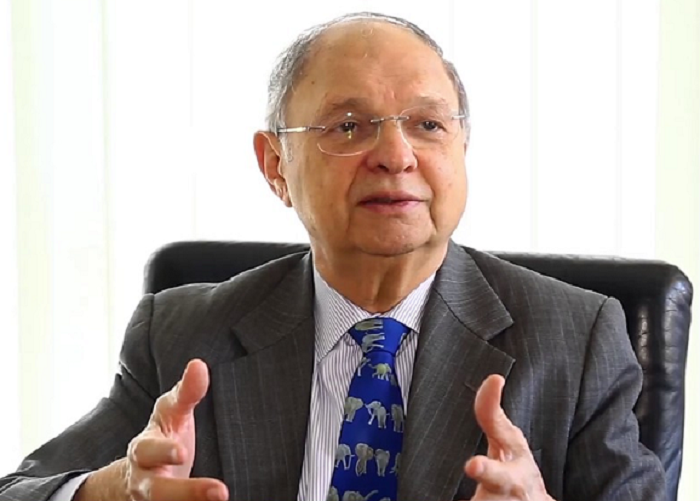 ---
KARACHI:
One of the highly respected and prominent businessmen, Byram D Avari, passed in Karachi on Sunday night. He was 81.
The last rites of Avari will be held on Monday (today) in Karachi. "The funeral prayers will be held at Khorshed Villa, inside the compound of Beach Luxury Hotel at 1pm," the family members said.
Avari was also well-known in Pakistan as a two-time Asian Games gold medalist. He served as commodore of the Karachi Yacht Club in 1976 and 1980. He won a gold medal in enterprise-class yachting at the Asian Games in Bangkok in 1978 alongside Munir Sadiq and he repeated the feat with his wife Goshpi in 1982 in New Delhi.
Avari was awarded with the Pride of Performance Award for sports in 1982.
He along with his sons owned and operated the Avari Group of Companies – a leading hotel management company in Pakistan - of which he was the chairman.
The group owns and operates Avari hotels which include a five-star deluxe hotel in Lahore, five-star Avari Towers and seafront Beach Luxury Hotel in Karachi.
The group is also actively pursuing opportunities for owning and/or managing three- and four-star properties elsewhere in Pakistan.
The Avari Group was the first Pakistani company to have obtained international hotel management contracts. As of now, they operate the 200-room four- star hotel in Dubai, and manage the 200-room Ramada Inn in Toronto at Pearson Airport in Canada.
The politicians, sportsmen, business community paid tribute to Avari over his demise. Sindh Chief Minister Murad Ali Shah in his message said that the services of Avari to the country and community will always be remembered.
History and values
Byram's father had taught him and his family members to look after the poor. Byram's father was an orphan, who grew up in an orphanage in Navsari (India) and was a self-made man. His father's oversight and dynamism was instilled in Byram and his children.
The Avari Group did not lay off its workers in the worst economic situations.
The key motivation for Byram and his family members was "economic benefit" – however their meaning of the word "benefit" did not only mean monetary gain but respect, recognition, standing in society, level of reputation and acknowledgement.
Byram's motto was "we have to give back to the society and our Zoroastrian community of Karachi".
Honorary CG of Canada
As honorary consular for Canada in Karachi since 1985, he dealt with child kidnappings, forced marriages and divorce actions.
Politics
When he was the minority representative in the National Assembly from 1988 to 1993, Byram's constituency spanned from the Kalash tribe in Chitral to Sikhs of Punjab to the Bahai's of Thatta and the Zoroastrians of Karachi.
Both times he was elected with a double majority count over the next contestant.
Some of his achievements included arranging sanitation and drinking water for the Bahai community of Thatta, opening of the Sikh gurdwaras in Nankana Sahib and Panja Sahib as well as maintaining English language medium at two Parsi Schools and the Karachi Parsi Anjuman Trust Fund (KPATF).
In 1988, on the death of his father Dinshaw B Avari (who then was the social head of the Parsi community of Karachi), Byram was unanimously elected as the chairman of the KPATF board and held that position to date.
In these over 30 years, Byram managed to keep Parsi schools and institutions private and English medium, maintained Parsi properties and places of worship and disposal of the dead, provided security for the Parsis in Karachi, held regular informal meetings, and made sure his group's managers helped the Parsi community 24/7.
COMMENTS
Comments are moderated and generally will be posted if they are on-topic and not abusive.
For more information, please see our Comments FAQ