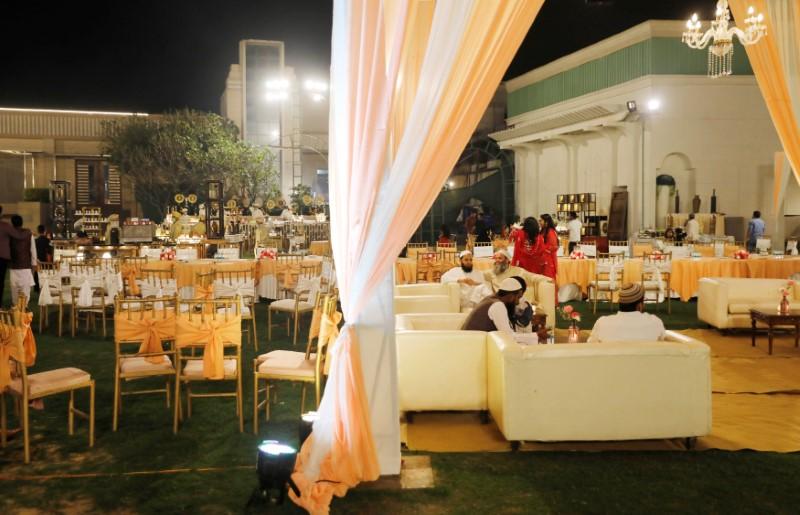 ---
LAHORE:
The Punjab government has imposed a complete ban on indoor weddings and other social gatherings in districts with high disease prevalence in a bid to contain the spread of coronavirus.
The health department said in a notification issued late Sunday that only outdoor weddings will be allowed with maximum 300 guests under strict Covid-19 SOPs and "there shall be a complete ban on indoor weddings".
It also banned indoor gatherings including cultural, musical /religious and other events. "However outdoor gatherings shall be allowed for maximum 300 individuals under strict Covid protocols," it added.
The new orders will come into effect immediately, it added.
Earlier this month, the federal government revived several coronavirus-related strict restrictions as the ongoing fourth wave turned dangerous.
Also read: Major cities placed under Covid curbs
In the wake of rising numbers of Covid patients, the National Command and Operation Centre (NCOC) – the nerve centre of the government's anti-pandemic strategy – decided to re-impose certain restrictions in selected cities for a period of one month from August 3 till August 31.
Announcing the revised guidelines, NCOC chief and Planning Minister Asad Umar said that the government was taking "targeted and staggered" decisions to curb the spread of the pandemic – now mostly fuelled by the highly transmissible Delta variant of coronavirus.
"After approval of Prime Minister Imran Khan, the NCOC has decided" to impose certain restrictions in almost all the major cities of the country, where the market hours have been cut and office attendance reduced to 50%, Umar told a press conference.
Under the restrictions, markets, which were allowed to remain open till 10 pm, would now again close at 8 pm in these selected cities. They will observe two off days in a week instead of one. "The off days will be decided by the provinces," Umar said.
Furthermore, the government withdrew the permission granted for indoor dining for the vaccinated people because of very weak compliance seen at the restaurants. It was decided that outdoor dining would be allowed till 10 pm and take-away service till 12 midnight.
With respect to offices, the planning minister pointed out that for the month of August 50% attendance would be allowed in all public and private offices, while the remaining 50% employees would work from home.
COMMENTS
Comments are moderated and generally will be posted if they are on-topic and not abusive.
For more information, please see our Comments FAQ