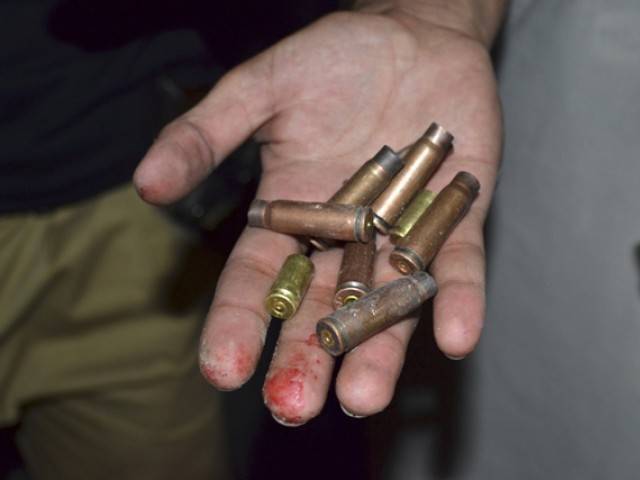 ---
KARACHI:
Unidentified assailants shot dead the director of a private institute in Karachi on Friday evening after he offered resistance during a 'robbery bid'.
The incident occurred when two unidentified men stopped the director's car near Stadium Road in Karachi, with the occupants identified as Syed Zahir Ali and son of Syed Asghar Ali.
Upon facing resistance, the bandits opened fire, critically injuring Ali. He was rushed to a private hospital where he succumbed to his injuries.
The deceased worked at an institute located in the Gulshan-e-Iqbal neighbourhood of the port city.
Talking to the media, Senior Superintendent Police (SSP) East Sajid Amir Sadozai said Ali was stopped by armed assailants riding a motorcycle.
The 70-year-old was stopped shortly after he dropped his driver. He was a resident of Bahadurabad.
Read Man wanted in cop's murder killed in encounter
Meanwhile, police said the statement of the driver had been recorded. According to him, the faces of both the bandits were clear and that they fled from the scene after firing a single shot.
According to the SSP, the suspects were not wearing helmets or face-masks at the time of the incident. Police, he added, are in the process of creating their sketches.
He further stated that the deceased had not receivrf any threats, adding police was probing the matter further.
A day ago, on Friday, a security guard was killed during a bank heist in Hyderabad after which the robbers took away Rs6.5 million in cash.
The burglary happened in the Citizen Colony area branch of Sindh Bank, in the limits of Bhitai Nagar Police Station, in the wee hours of Friday.
Hyderabad SSP Abdul Salam Shaikh told The Express Tribune that the unidentified perpetrators strangled to death the security guard, Shahid Khaskheli, who was alone in the bank on night duty.
"The entry door of the bank and the locker had been opened using keys," he said. "It seems to be an inside job."