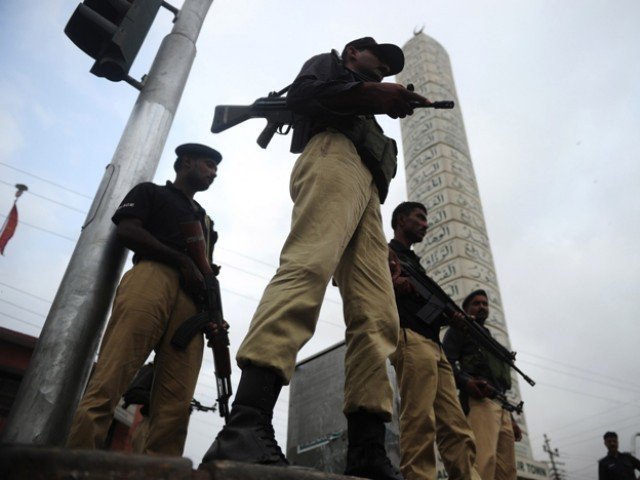 ---
HYDERABAD:
A security guard was killed during a bank heist in Hyderabad after which the robbers took away with Rs6.5 million in cash.
The burglary happened in the Citizen Colony area branch of Sindh Bank, in the limits of Bhitai Nagar Police Station, in the wee hours of Friday. Hyderabad SSP Abdul Salam Shaikh told The Express Tribune that the unidentified perpetrators strangled to death the security guard, Shahid Khaskheli, who was alone in the bank on night duty.
"The entry door of the bank and the locker had been opened using keys," he said. "It seems to be an inside job."
However, he added, the police are collecting further details and evidence from the crime scene. According to him, the robbers also took away the bank's CCTV system. The SSP informed that two security guards of the bank have been detained for interrogation and the entire staff was also quizzed about the incident. He said that geo-fencing has been done and an investigating team, led by ASP Aleena Rajpar, with officials from the central investigation agency (CIA) and the relevant police station's SHO, are probing the matter.
"The nature of the crime suggests it wasn't possible without inside information," said ASP Rajpar, speaking to The Express Tribune.
According to her, the security guard did not resist the entrance of the robbers. "We aren't denying any possibility as of now," she said, when asked if someone from among the bank's staff is involved in the robbery. She also informed that no other CCTV cameras installed in the area, including the camera of a private bank adjacent to the Sindh Bank, has so far helped the police identify the suspects or trace their movement.
An official of the bank, who requested anonymity, told The Express Tribune that the sanitary worker was the first person to arrive in the bank on Friday morning.
"When he knocked on the door, the security guard didn't respond." The door was opened when the morning shift guard arrived at the bank.
"We saw Khaskheli's body lying in the room of a bank's official." In contrast to the police version, the official said the robbers stole cash from the cash vault and not from the locker room. He also differed from the police over the use of keys for opening the vault, saying that they have found traces of the lock being broken. The FIR for the incident has not been lodged so far.
The security guards belonged to Tarwest security company.