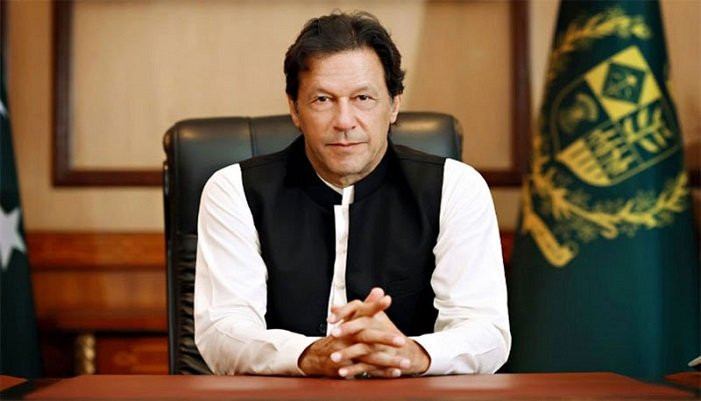 ---
Prime Minister Imran Khan has said that changing public opinion across the globe about the Palestine issue will force the world's powerful countries to withdraw their support from Israel.
"Public opinion is changing around the world which is encouraging... and the day is not far away when Palestinians will get their just rights," he said in his message on 'Palestine Solidarity Day' being observed in Pakistan on Friday.
"In the past, I had never seen Western media and politicians criticising Israeli atrocities," he added.
The premier said the major reason for the shift in public opinion is social media which played a major role in exposing the Israeli assault on Palestinians.
PM Imran said since the creation of Israel Pakistan has always supported Palestinians at all international forums in line with the vision of Quaid-i-Azam.
Also read: Israel police attack Palestinians with stun grenades, teargas at Al Aqsa mosque
The prime minister also appreciated Foreign Minister Shah Mahmood Qureshi for successfully highlighting Israeli unjust actions against Palestinians at international foras including in the United Nations.
Commending the people of Pakistan for expressing solidarity with the Palestinians today (Friday), he said Israel has committed inhuman aggression by targeting Palestinian worshippers at Al Aqsa mosque on the night of 27 Ramazan. He said Israeli settlers forcibly evicted Palestinian families from their homes.
The prime minister also said, besides, he talked to Saudi, Turkish and Palestinian leadership and assured them that Pakistan will stand by their Palestinian brethren in "every thick and thin".
Earlier in the day, PM Imran had said that Israel's continued aggression against Palestinians "remains a matter of deep concern for everyone".
"The international community must take urgent actions to stop Israeli attacks against Palestinians, prevent the desecration of holy places, especially the Al Aqsa mosque, and facilitate a just and lasting solution in line with the relevant UN resolutions and the two-state vision," he added.
Israeli aggression
Israeli forces stormed the holy Al-Aqsa mosque during the last Friday of Ramazan and used unjustified force against peaceful worshippers. The incident and subsequent actions by Israeli forces led to the current confrontation.
Nearly 450 buildings in the Gaza Strip have been destroyed or badly damaged, including six hospitals and nine primary-care health centres, since the current conflict began, the United Nations humanitarian agency said. Some 48,000 of the 52,000 displaced had gone to 58 UN-run schools.
Gaza health officials said at least 232 Palestinians, including 65 children, had been killed and more than 1,900 wounded in aerial bombardments. Israel said it had killed at least 160 combatants.
Authorities put the death toll in Israel at 12, with hundreds of people treated for injuries in rocket attacks that caused panic and sent people rushing into shelters.
Ceasefire
Israeli police have attacked Palestinians at Jerusalem's Al Aqsa mosque compound following an Egyptian-mediated truce between Israel and Hamas began on Friday.
Israeli police spokesperson Micky Rosenfeld said "riots broke out" at the Al Aqsa esplanade which is Islam's third holiest site and also revered by Jews, who call it the Temple Mount.
#UPDATE Fresh clashes between Palestinians and Israeli police broke out at Jerusalem's Al-Aqsa mosque compound on Friday, in the latest unrest at the sensitive religious site, AFP journalists and police said pic.twitter.com/LDHiZoty6S

— AFP News Agency (@AFP) May 21, 2021
(With additional input from AFP)
COMMENTS
Comments are moderated and generally will be posted if they are on-topic and not abusive.
For more information, please see our Comments FAQ