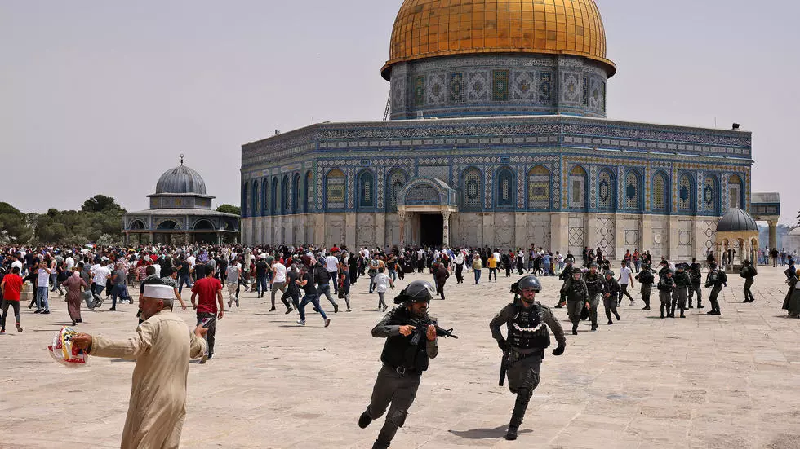 ---
Israeli police have attacked Palestinians at Jerusalem's Al Aqsa mosque compound following an Egyptian-mediated truce between Israel and Hamas began on Friday.
Israeli police spokesperson Micky Rosenfeld said "riots broke out" at the Al Aqsa esplanade which is Islam's third holiest site and also revered by Jews, who call it the Temple Mount.
#UPDATE Fresh clashes between Palestinians and Israeli police broke out at Jerusalem's Al-Aqsa mosque compound on Friday, in the latest unrest at the sensitive religious site, AFP journalists and police said pic.twitter.com/LDHiZoty6S

— AFP News Agency (@AFP) May 21, 2021
"Hundreds of people threw rocks and petrol bombs at police officers who responded at the scene and began dispersing the rioters," Rosenfeld said in a statement.
"Police units (are) at the scene," he added.
AFP reporters at the compound in Jerusalem's Old City said clashes were ongoing.
Police have fired rubber bullets and used stun grenades at the site, according to an AFP reporter.
The confrontations died down within about an hour, with Israeli police retreating to their positions at the compound's gates. Medics said 20 Palestinians were wounded, with two transferred to hospital for treatment.
Days of unrest at Al Aqsa mosque during Islam's holy fasting month of Ramazan led Hamas to demand Israeli forces vacate the compound by 6:00 pm (1500 GMT) on May 10.
Hamas then fired rockets at Jerusalem when the deadline expired.
Israel then commenced a heavy aerial campaign targeting Hamas and other armed groups in Gaza.
A ceasefire to end the Gaza hostilities appeared to be holding on Friday.
Pakistan's Foreign Minister Shah Mehmood Qureshi said the country welcomed the announcement of a ceasefire between Palestine and Israel.
"This is the power of collective, unified action; this is the effort of every person and every nation, together for a just cause," the FM said in a Tweet on Friday.
May this ceasefire be the 1st step towards peace in Palestine, he added.
US President Joe Biden pledged to salve the devastated Gaza. Israeli aerial bombardment of the densely populated area killed at least 232 Palestinians, while rocket attacks killed 12 people in Israel during the latest bout of Israeli aggression.
Palestinians, many of whom had spent 11 days huddled in fear of Israeli shelling, poured into Gaza's streets. Mosque loud-speakers feted "the victory of the resistance achieved over the Occupation (Israel)."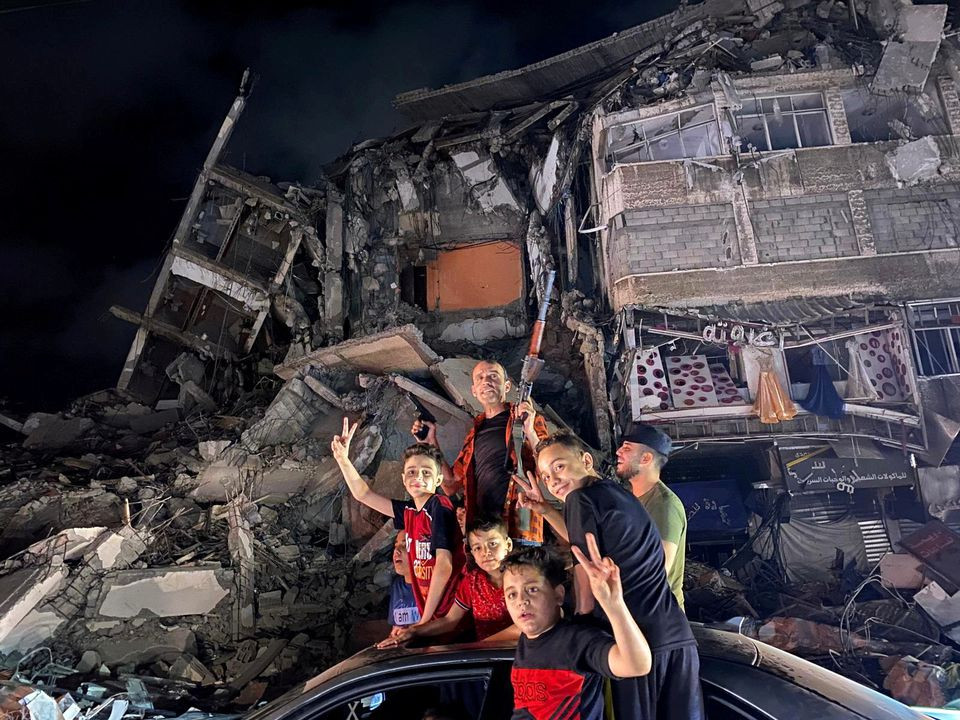 People gesture near the rubble of a damaged building as Palestinians celebrate in the streets following a ceasefire, in Gaza City May 21, 2021. PHOTO: REUTERS
Cars driving around East Jerusalem's Sheikh Jarrah at dawn flew Palestinian flags and honked horns, echoing the celebratory scenes in Gaza.
Israeli security forces stormed the holy Al-Aqsa mosque during the last Friday of Ramazan and used unjustified force against peaceful worshippers. The incident and subsequent actions by Israeli forces led to the current confrontation.
Nearly 450 buildings in the Gaza Strip have been destroyed or badly damaged, including six hospitals and nine primary-care health centres, since the current conflict began, the United Nations humanitarian agency said. Some 48,000 of the 52,000 displaced had gone to 58 UN-run schools.
The fighting meant many Palestinians in Gaza could not mark the Eidul Fitr festival at Ramazan's conclusion. On Friday, throughout Gaza, postponed Eidul Fitr meals were held instead.
In Israel, radio stations that had carried around-the-clock news and commentary switched back to pop music and folk songs.
Death toll
Gaza health officials said at least 232 Palestinians, including 65 children, had been killed and more than 1,900 wounded in aerial bombardments. Israel said it had killed at least 160 combatants.
Authorities put the death toll in Israel at 12, with hundreds of people treated for injuries in rocket attacks that caused panic and sent people rushing into shelters.
"It is true the battle ends today but (Israeli Prime Minister Benjamin) Netanyahu and the whole world should know that our hands are on the trigger and we will continue to grow the capabilities of this resistance," said Ezzat El-Reshiq, a senior member of the Hamas political bureau.
He told Reuters in Doha that the movement's demands also include protecting Al-Aqsa mosque in Jerusalem and ending the forceful eviction of several Palestinians from their home in East Jerusalem which Reshiq described as "a red line".
COMMENTS
Comments are moderated and generally will be posted if they are on-topic and not abusive.
For more information, please see our Comments FAQ