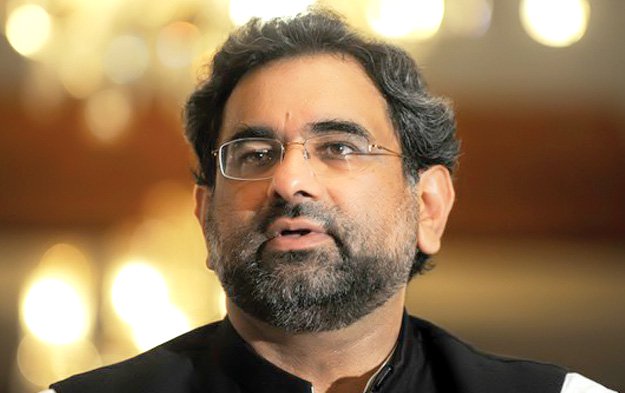 ---
ISLAMABAD:
Former Prime Minister Shahid Khaqan Abbasi on Tuesday claimed that Prime Minister Imran Khan did not earn the vote of confidence, but was 'handed' the same by the 'institutions'.
Talking to media persons in Islamabad, Abbasi said, "Horse-trading did take place during Senate's polls, but all limits were crossed during the bid to gain the vote of confidence".
"It happened to the members of the government, not the opposition's," he said and added, "the premier did not earn the vote but he was handed over the vote by the institutions." The former premier, however, did not specify the institutions.
Also read: PDM turns its guns on establishment again
The Pakistan Muslim League-Nawaz (PML-N) leader went on to say that he was contemplating writing to the Director-General Inter-Services Public Relations (ISPR) who had earlier denied any hand in politics.
"We had said at the time that time will tell [whether or not it's true]. What happened during the Senate elections and the vote of confidence was completely contrary [to the claim]. Today, the parliamentary system in the country has come to a standstill."
Abbasi also said that the nation saw what happened during the media talk [outside parliament lodges] on March 6. "Are we going to have to be armed during our pressers? Are they going to run the country on such values? What happened during Senate's polls wasn't very encouraging."
Also read: ECP to hear PTI's plea on Gilani's notification today
The lower house of parliament reaffirmed its confidence in Prime Minister Imran Khan on Saturday by overwhelmingly voting in his favour in a move that political pundits believe has preempted the next move of an increasingly hostile joint opposition which wanted to use its recent Senate win to ratchet up pressure on the embattled government to step down.
Imran Khan polled 178 votes – six more than the magical number of 172 – in a National Assembly session specifically convened for the purpose by the president but boycotted by the Pakistan Democratic Movement (PDM), the alliance of a dozen opposition parties.
The prime minister voluntarily decided to seek a fresh vote of confidence from the house after the shock defeat of PTI candidate Hafeez Sheikh at the hands of PDM's Yousaf Raza Gilani in the March 3 Senate elections which the opposition said was a vote of no-confidence against the premier.