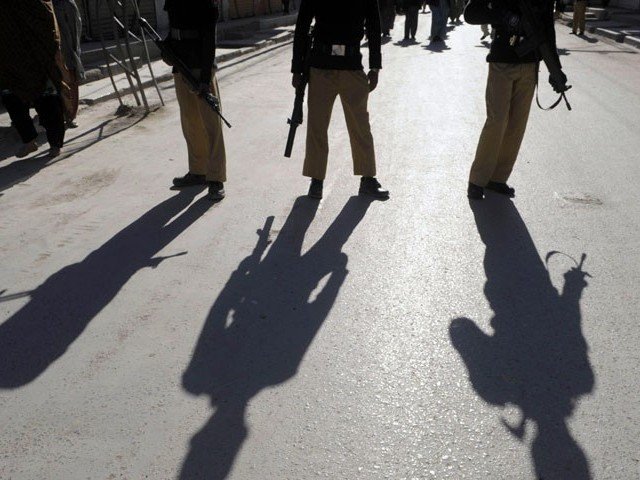 ---
The Dadu and Qambar-Shahdadkot police conducted a joint operation to nab proclaimed offenders Ghulam Murtaza Chandio and Zulfiqar Chandio, who are both wanted in a triple murder case, in Qambar-Shahdadkot on Thursday, but in vain.
Large contingents of police cordoned off areas where Ghulam and Zulfiqar were thought to be. It emerged that the accused could not be arrested, reportedly because information about the operation was leaked. A separate inquiry has been initiated to probe the alleged leak.
Meanwhile, the search operation is to continue until their arrests, with cops being deployed on strategic routes.
Ghulam and Zulfiqar have been accused of shooting dead union council chairperson Raees Karamullah Chandio and his two sons in Dadu's Mehar taluka in 2018.
During a hearing in February this year, the Supreme Court reprimanded Sindh police officials over failing to arrest two accused. Justice Umar Ata Bandial had observed that the police had the capability to arrest the accused but "they failed to do so, apparently due to the accused's influence."
Pakistan Peoples Party MPA Nawab Sardar Khan Chandio and his brother Burhan Chandio are among those nominated in the case. Advocate Ume Rubab Chandio, the daughter of one of the deceased, has also accused Sindh's ruling party of backing the culprits.
The SC had given the cops six weeks to arrest the accused in February.
Sukkur AIG Dr Kamran Fazal recently excused himself from forming a team to arrest the accused, citing his preoccupation with police operations against dacoits. Sindh IGP Mushtaq Mahar had directed him on October 21 to constitute a police team to arrest the proclaimed offenders.
On Thursday, Mahar directed the SSPs to make concrete efforts to arrest the absconders immediately. He warned of departmental action over criminal negligence if they failed to comply.
He further alluded to reports of SHOs being appointed on the recommendations of "local bigwigs who patronise crime," and said that in this particular instance, there were reports of some SHOs being in contact with the proclaimed offenders.
Published in The Express Tribune, October 30th, 2020.