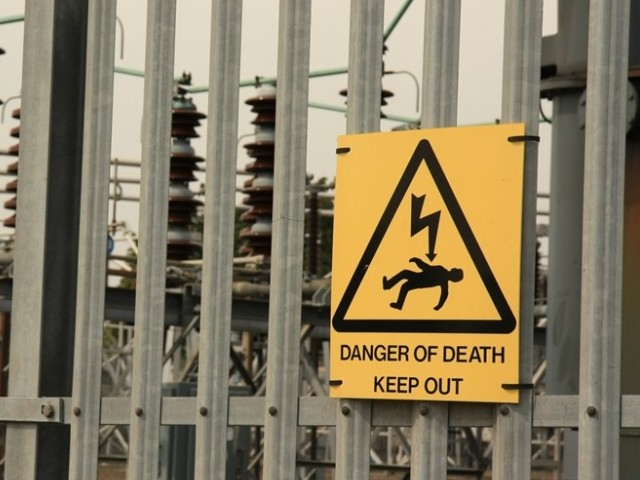 ---
Two young sisters died as a fire broke out inside a house in Buffer Zone on Thursday, one of several sites of such fire incidents in the past two days.
The deceased sisters, aged six and seven years respectively, had been left locked at home by their parents, who had gone for work and errands.
Rescue workers, police and fire officials reached the house located on the third floor of a three-storey building and found the door locked. They could hear the sisters calling for help while a neighbour's wall was broken down for the rescue teams to enter.
According to Gabol Town SHO Roshan, the police and neighbours attempted to get the girls out but smoke had filled the house and the children died while they were being shifted to Abbasi Shaheed Hospital.
The flames had erupted due to a short circuit in the wiring of the UPS installed at the house, according to the preliminary investigation.
The deceased were identified as Umaima, 7, and Hamna, 6, daughters of Harris.
Separately, fires broke out in three other areas of the city, gutting valuables. Flames erupted in a hostel room at the University of Karachi campus, a secondhand clothes warehouse and a house in Shah Latif.
A fire tender was dispatched after an electrical short circuit led to a fire in the Institute of Business Administration's boys hostel located on KU premises, according to fire officials.
Everything in the room was gutted by the flames, but the blaze was contained by fire officials and no loss of life was reported.
Meanwhile, a warehouse in Haroonabad Pankha Hotel in Sher Shah caught ablaze and two fire tenders dispatched from Lyari fire station managed to put out the fire in 40 minutes.
According to fire officials, preliminary investigation suggests this incident was sparked by a short circuit as well.
Similarly, another short circuit led to flames at a house near Shah Latif Town police station. After a two-hour long struggle, fire tenders dispatched from Landhi and Korangi fire stations each managed to extinguish the fire which burned through various household items. No casualties were reported.
Published in The Express Tribune, October 16th, 2020.