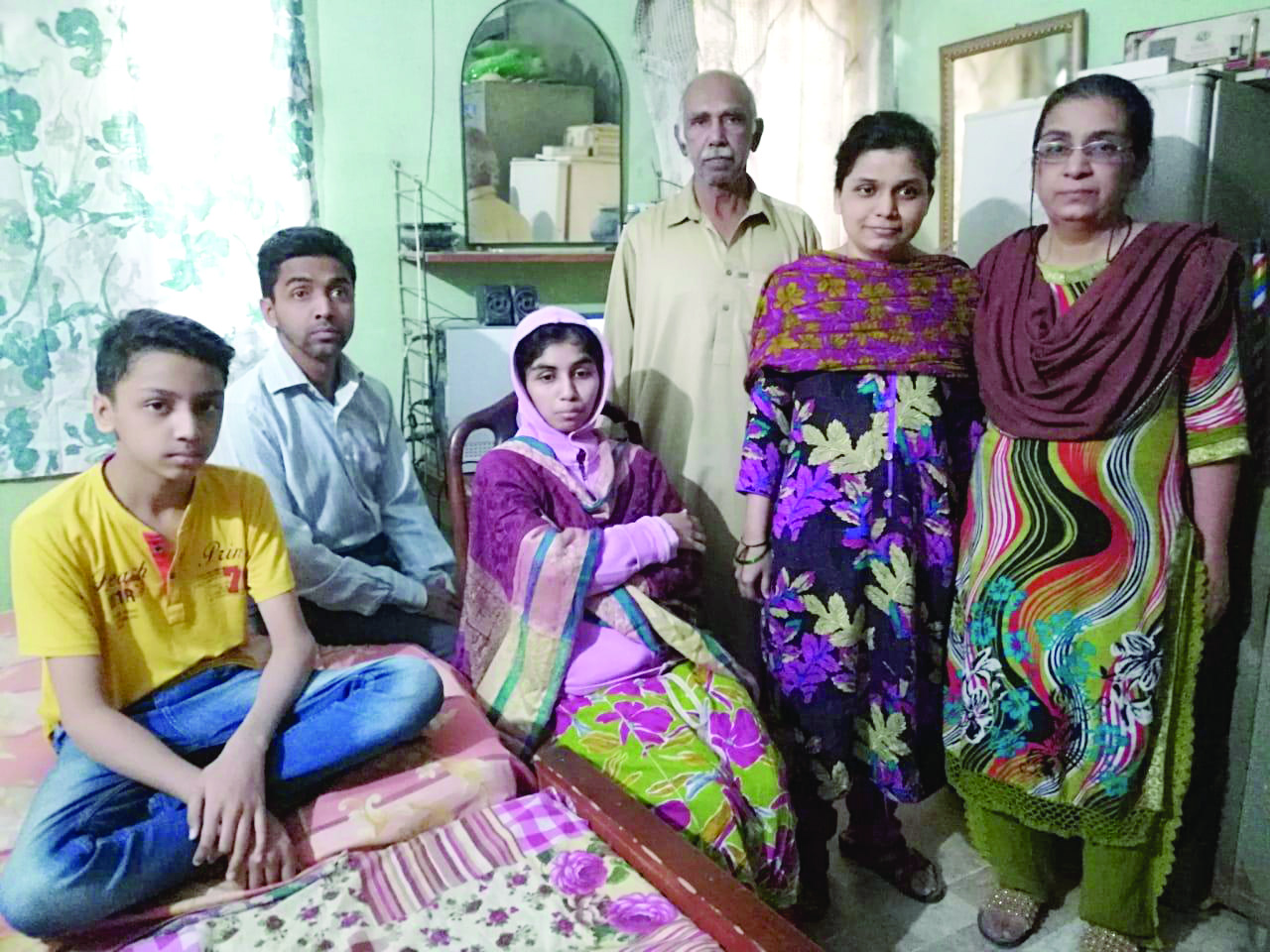 ---
KARACHI: Imagine having to go through life without seeing its vibrant colours. Imagine not being able to see not just your own features but also those of your loved ones. Imagine never observing the subtle changes in expression that give away a person's feelings when making conversation. Never looking up to the sky to appreciate its changing colours. Never being able to see beautiful landscapes or count the stars at night. Imagine never being able to see at all.

If you can read this, you cannot even begin to imagine.

For Saima Shahid, 25, this is the hand life has dealt her. Instead of treating it as a disability, though, she has decided to take matters into her own hands and make the best of her skills to improve the quality of life, both for herself and her three siblings, two of whom are also visually impaired.

For the past three years, Saima has been writing books in the braille reading and writing system used by visually impaired people. It uses raised dots to represent the letters of the print alphabet. "It started out as a hobby," says Saima, with a smile. "I would record cooking shows on TV channels and then write down the recipes in braille," she reminisces.




Seeing her commitment, one of her teachers encouraged her to start writing a book. Saima accepted the challenge and, in 2017, compiled a book comprising 23 recipes within a span of two months. The book has now been reproduced several times and is being promoted by the Blind Resource Foundation Pakistan (BRFP).

"My father reads the books to me and I type it with the help of a braille translation software by Duxbury Systems," she explained. "My second book, which was launched in 2018, comprises 150 recipes and is spread over two editions. It is available in the market," she added.

Saima believes that literature should be made commonly available in braille. "There should be novels, books and even newspapers written in braille to facilitate the visually impaired people," she said, adding that the cause needed the support and assistance of the government.

"We don't have many libraries except for audio libraries," lamented Saima, referring to the limited options for research material available to visually-impaired persons. "The audio libraries have material related only to the curriculum. There is nothing on topics such as current affairs and other social issues," she added.

What is braille?

According to Saima, braille comprises six dots and 63 shapes. All languages can be written in these characters. There are signs at the beginning of every text that show which language is it. "We start from the right when we write braille and from the left when we read it," she explained.

Saima doesn't charge anything for typing in braille, but the paper used for it is very expensive. Each page costs between Rs30 and Rs40. "The BRFP has a printing press from where the books I type are printed," she said, adding that the organisation has also started a quarterly magazine this year. "I type short stories or articles on current affairs for the magazine."

Future plans

A second-year student of intermediate at the Sir Syed Government Girls College, Saima hopes to work on braille and publish books related to the curriculum so that more visually impaired persons can benefit from her talent. For now, she is supported by her peers and faculty and is preparing to graduate this year.

"I feel there is hope," said Samia, with reference to her impairment. "I genuinely believe the Almighty has made me special for a reason," she said, mouth widening into a smile. She has taken on her disability and plans to work towards improving the conditions of others like her. She is currently working on a book containing guidance on everyday chores for the visually impaired. The book comprises 26 chapters and will be completed by January.



A father's struggle

Saima's father, Shahid Jamil, is a salesman and has been in this profession for the last 25 years. "Having three visually impaired children has been a great challenge for me," he said. "There was no one to guide us on how to best educate and bring up my children," he explained.

For Shahid, the children's education was in itself an arduous process as they went to the regular schools in the beginning. "We heard about an institution for differently-abled students at Numaish Chowrangi, but the children had grown up by the time," he said. "Someone told us to opt for private tuitions but this option too came with its own issues."

Arranging a writer for examinations was one such difficulty as there was no facility for giving the exams in braille. Somehow, though, all the children managed to pass their matriculation. According to Shahid, the government doesn't offer any funds or facilities to schools and institutions catering to differently-abled children. "Education for visually impaired students is very expensive," he lamented, adding that special slates for writing cost Rs3,000 and books printed in braille cost a minimum of Rs1,000 each. This is besides the tuition fee and traveling costs.

"But I somehow managed to get them a basic education," said Shahid. "Now I want them to get employment and become independent so that they can move further in the journey of their lives."

Job search

Saima's brother, 30-year-old Mujtaba, is also visually impaired but is able to travel in public transport. He has been searching for a job for the last three years and says he can type documents on Microsoft Word and operate the computer. He can even work as a telephone operator or a receptionist. "But everywhere I apply, I am simply told that the organisation doesn't have a disabled quota."

Maliha, 23, another sister of Saima, has passed her matriculation and has stopped studying further for the time being. She makes handicrafts and jewellery using beads. She wants to design new things and is searching for a job.

Soul searching

"All my children are independent and perfectly capable of looking after themselves," said Saima's mother. "Our society is cruel, though, and doesn't understand differently-abled persons," she lamented.

"They don't like them and don't want to help them even though there is no difference between them and the differently-abled. They can think, feel and do all other things in the same way," she continued.

For Saima's mother, it is the 'normal' people who need to be educated on how to behave with those who are differently abled. "Society's mind-set needs to change. Everything else will change with it."

This story is part of a weekly series that seeks to bring to light the unsung heroes of Karachi - the hawkers, traders, doctors, teachers, engineers, lawyers and daily-wage labourers. It is they who make Karachi the city of lights.

 

Published in The Express Tribune, December 9th, 2019.