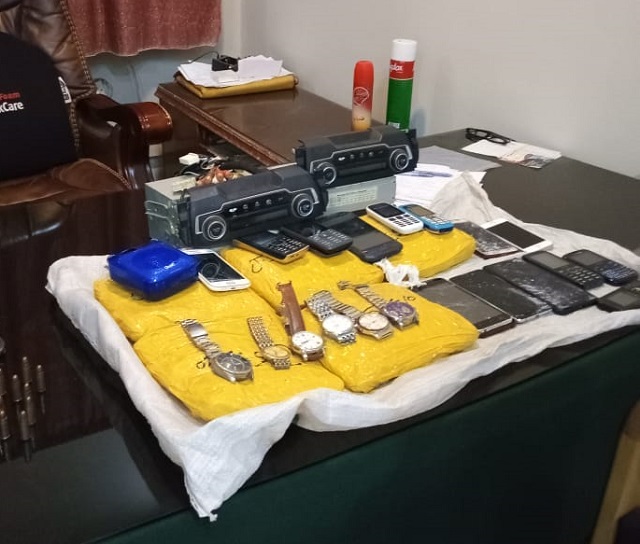 ---
KARACHI: A woman was arrested for allegedly supplying explosive material to terrorists in a raid carried out in the city's Sohrab Goth neighbourhood on Saturday, police said.

Malir Senior Superintendent Police (SSP) Syed Irfan Ali Bahadur said that the husband of Shireen Gul, who was her accomplice in various unlawful activities, escaped during the raid in Sohrab Goth's Jannat Gul area.

He said the couple was involved in providing shelter to terrorists, as well as, buying and selling stolen items from robbers. Hand grenades, six kilos of hashish and other looted goods including mobile phones and wrist watches were also recovered from their possession during the raid.

A case was lodged against the suspects with further investigation into the case underway.

Karachi gang involved in selling ice, heroin and cocaine busted

Last month, police arrested the leader of a gang involved in drug dealing along with four of his accomplices, including a policeman, in Karachi's Soldier Bazaar area.

Police said those arrested were involved in selling crystal meth — also known as ice– heroin, cocaine, as well as, other drugs in the city. The gang leader was known to have had a network of 15 drug dealers and peddlers with both men and women on his payroll.

The gang would run his business through online messaging application WhatsApp, according to the police investigation, and aimed to lure students and those belonging to well-to-do families. Through the WhatsApp group, they would invite students to dance parties where they would experiment with these drugs, said police officials.