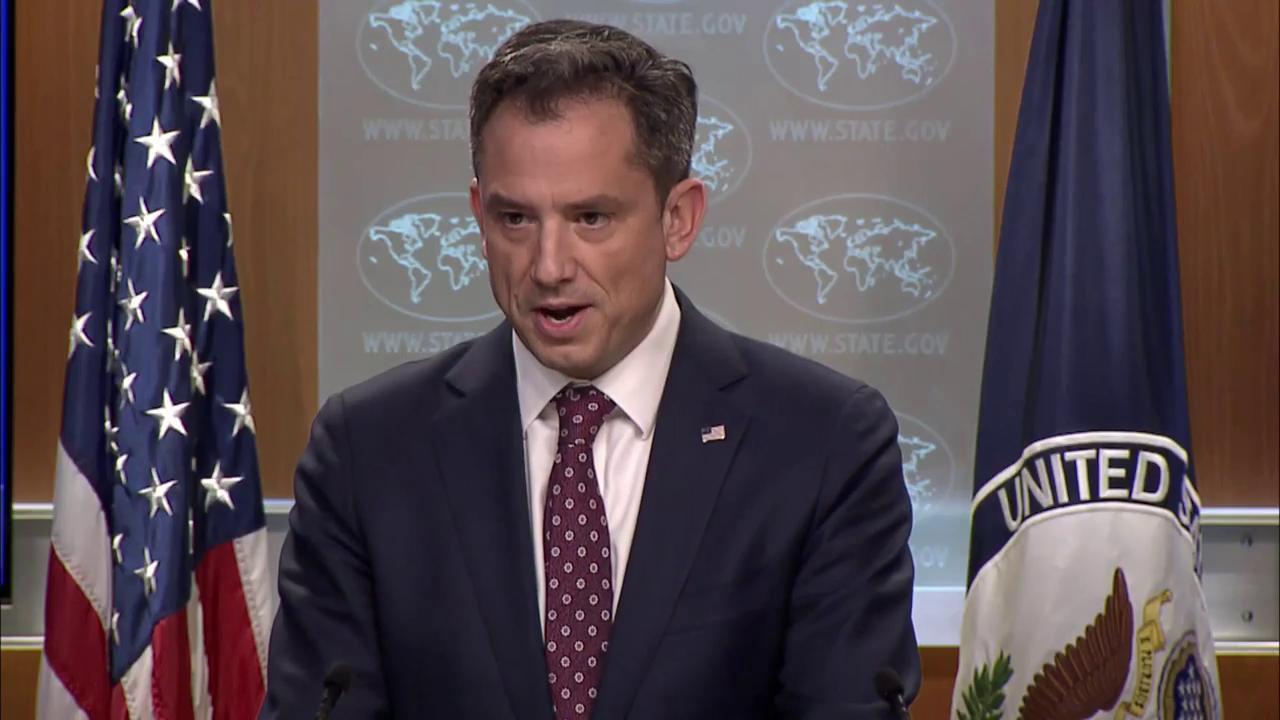 ---
The United States reiterated the call for direct communication between Islamabad and New Delhi to de-escalate the situation between the two nuclear-armed neighbours.

Deputy Spokesperson of the US State Department Robert Palladino made the comment in a press briefing on Tuesday while responding to a question regarding the Trump administration's position in the ongoing tensions.

"The position of the United States is that we urge both sides to continue to take steps to de-escalate the situation, and that includes through direct communication."

India refuses to share proof of strikes in Balakot amid 'doubts over deaths'

He stressed that the US 'strongly' believed that "further military activity will exacerbate the situation."

It may be mentioned here that Prime Minister Imran Khan has repeatedly offered to de-escalate the situation through dialogue. His peace initiatives, however, have been dismissed by the Bharatiya Janata Party-led government in India.

Last week, Indian premier Narendra Modi snubbed PM Imran's three attempts to initiate direct contact. The prime minister wanted to apprise Modi about his decision to release the captured Indian pilot and reached out three times on February 28 but received no response.

The United States, Saudi Arabia, United Arab Emirates (UAE), UK and European Union (EU) have been involved in both overt and covert diplomacy to find a way out of the impasse between the two countries.

US Secretary of State Mike Pompeo reached out Foreign Minister Shah Mehmood Qureshi, Indian External Affairs Minister Sushma Swaraj and National Security Advisor Ajit Doval urged them to avoid "further military activity".

Watch Palladino's press briefing here:


Pompeo, who spoke to the foreign ministers during the Hanoi trip, said he expressed to both the countries that the US encouraged "restraint, and avoid escalation at any cost".

"I also encouraged both ministers to prioritise direct communication and avoid further military activity," he added.

Indian claim of shooting down Pakistan's F-16 jet

Responding to a question about Indian government's claim that it had shot down an F-16 used by the Pakistani Air Force when it struck back on February 27, Palladino said the US had seen the reports and was following it "very closely".

"I can't confirm anything, but as a matter of policy, we don't publicly comment on the contents of bilateral agreements that we have in this regard involving US defence technologies nor the communications that we have with other countries about that."

Indian claims of shooting down Pakistan's F-16 debunked

A timeline of the Indo-Pak tensions escalating


Tensions escalated dramatically between Pakistan and India on February 14 when a young man – a native of Indian occupied Kashmir (IoK) – rammed an explosives-laden car into an Indian military convoy, killing at least 44 soldiers.

India was quick to blame the state of Pakistan for the suicide bombing.PM Imran offered every possible help in the investigation, but India turned down the offer and whipped up war hysteria.

On February 26, the Indian Air Force violated Pakistani airspace. The country's top civil and military leadership declared the violation of airspace by Indian fighter jets "uncalled for aggression" and decided that the country would respond at a "time and place of its choosing".

On February 27, Pakistan announced it had shot down two Indian fighter jets that attempted to violate its airspace and captured an Indian pilot. The military's media wing later released a video of the pilot, who introduced himself as Wing Commander Abhinandan bearing service number 27981.

Director-General Inter-Services Public Relations (ISPR) Major General Asif Ghafoor said in a press conference that the armed forces had responsibly retaliated to Indian incursion by striking a target few miles from an Indian military's administrative unit to ensure there were no human life or collateral damage."We decided to not hit a military target or endanger human life. We did not want to retaliate at the cost of regional peace. We do not want escalation," he told reporters.

India asks Pakistan to 'do more'

A few hours later, Prime Minister Imran Khan took the nation into confidence over the armed forces' response. As escalating tensions fuelled concerns of all-out war between nuclear-tipped Pakistan, Imran warned of catastrophic consequences should "better sense" not prevail. The premier ended his speech with another peace talks offer and cooperation in Pulwama attack investigation to India.

On February 28, the Foreign Office said it received a dossier on the Pulwama attack from the Indian government. It added that the government was deliberating whether to treat Abhinandan as a prisoner of war (POW) or apply any international convention.

In the evening, PM Imran addressed a joint session of the parliament and announced that Pakistan would release the captured pilot as a goodwill gesture to de-escalate tensions.

On March 1, Pakistan 'as a goodwill gesture' handed over to Indian authorities the captured IAF Wing Commander Abhinandan Varthaman as the nuclear-armed neighbours scaled back a confrontation that has prompted world powers to urge restraint.
COMMENTS
Comments are moderated and generally will be posted if they are on-topic and not abusive.
For more information, please see our Comments FAQ