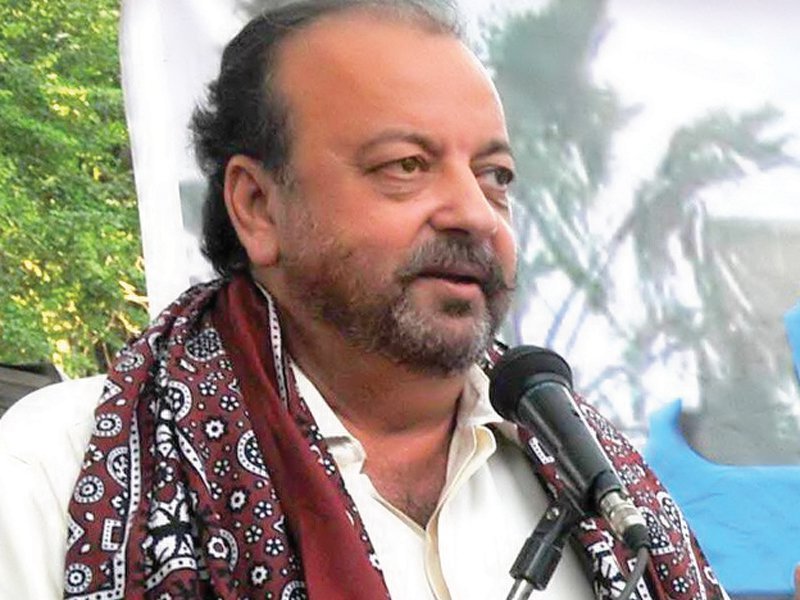 ---
ISLAMABAD/ KARACHI: In an unprecedented move, the country's top graft buster on Wednesday arrested Sindh Assembly Speaker Agha Siraj Durani from a hotel in Islamabad in connection with its probe into case related to Durani's 'assets beyond his known sources of income'.

According to a press release issued later in the evening, the National Accountability Bureau (NAB) Karachi team took Durani into custody in collaboration NAB Operation Division and the Intelligence Wing of NAB headquarters.

"Agha Siraj is accused of having assets beyond known sources of income," the statement said. After the arrest, NAB presented the Pakistan Peoples Party (PPP) provincial leader before an accountability court in Islamabad and sought his seven-day transit remand.

However, the accountability court judge, Muhammad Bashir, said the accused should be presented before the relevant court as early as possible. He also asked NAB to get Durani's medical examination conducted to know about his health condition. The court granted NAB a three-day transit remand for Durani.

NAB officials supported by paramilitary Ranger also raided the speaker's residence in Karachi's upscale DHA neighbourhood and searched files and other documents.

As the raid was under way, a large number of PPP ministers – including PPP Sindh President Nisar Khuhro, former CM Qaim Ali Shah, Local Governments Minister Saeed Ghani, Minister for Energy Imitiaz Shaikh, Health Minister Azra Pechuho – and MPA Shehla Raza also reached the house. The leaders and workers later started a sit-in protest outside Durani's residence.

"The family members are confined in the house for hours. No one allows us to see them and serve them food. The wife of Durani is unwell. His grandchildren and other family members are worried, but no one allowing us to meet them," Khuhro said while speaking to media. During the protest, Durrani's family doctor also reached his residence but was not allowed entry.

The PPP's protest was continuing till filing of the report.

Commenting on the arrest, the PPP Secretary Information Dr Nafisa Shah said Durani was not arrested but kidnapped in Islamabad. Strongly condemning his arrest, she said NAB was overstepping its boundaries through such acts. "What message is being sent to the people of Sindh by arresting their speaker? Arresting the Sindh Assembly speaker is an insult to the assembly," she said.

Shah said NAB is not investigating but committing a crime by arresting people without proper proceedings of the cases. She alleged that the 'selected' Prime Minister Imran Khan had made NAB a tool for political blackmailing.

"The ruling party's Pervez Khattak, Fehmida Mirza and Ali Zaidi are also nominated in NAB cases. We ask NAB why these people have not been arrested so far. Accountability has always been a tool through which dictators hide their own crimes," she added.

NAB reject allegation of discrimination

Later, NAB vehemently denied statement accusing the accountability watchdog of only targeting Sindhis. A NAB spokesman said some media reports alleged that NAB official Irfan Mangi, who is a Sindhi, has been tasked to arrest the Sindhis.

He said NAB officers are performing their duties with honesty, dedication and in accordance with law and the baseless propaganda aims at influencing NAB activities.      "NAB, a national institution is taking across the country action to eradicate corruption and no province enjoying immunity in this regard."

He said the officers have no affiliations with any party, individual or group. "NAB condemns bigotry. NAB officers' first and last affiliation is with the state of Pakistan. NAB will continue working in accordance with law."

According to the statement, the arrest operation was supervised by Operation Division and Intelligence Wing of NAB headquarters. Furthermore, NAB chairman directly supervised the arrest operation.

"Immediately after the arrest, medical checkup of the speaker was conducted. Durrani was immediately presented in an accountability court for getting transit remand.

"NAB has also finalised the arrangements to shift the arrested speaker to Karachi. A NAB Karachi team is already in Islamabad to shift Durrani to Karachi and law will take its course in this case," it added.
COMMENTS (1)
Comments are moderated and generally will be posted if they are on-topic and not abusive.
For more information, please see our Comments FAQ