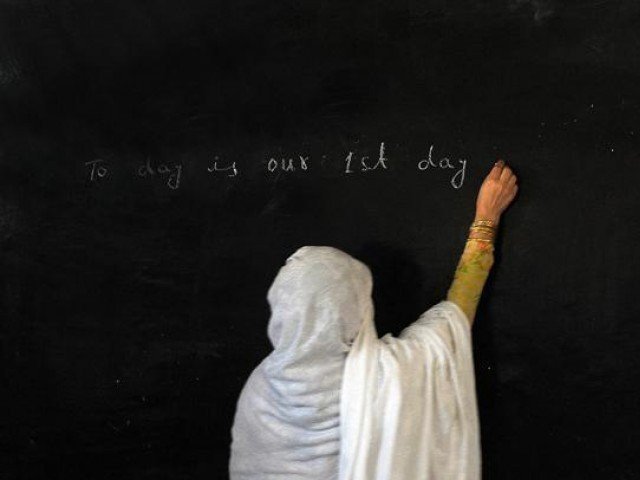 ---
ISLAMABAD: Having not been paid for 10 months, daily wage workers, mostly women, have urged the top judge in the country to take notice of their plight otherwise they would commit suicide along with their children before the apex court.

Around 1,800 teaching and non-teaching staff of public schools and colleges in the capital have been protesting for nearly three months now, with the teachers resorting to a boycott of classes after the government failed to pay them.

Teachers say that apart from not paying them, the government refuses to regularise them.

Daily wage teachers boycott classes, protest in capital

They say that around 400 of daily wagers were formally regularized and had appeared for the mandatory medical examinations. Moreover, their regularization had been approved by the federal cabinet, but they were not being allowed to join their positions on permanent seats.

They argued that while the government regularised daily wage employees of different ministries under a regularization policy introduced by the previous Pakistan Peoples Party (PPP) government, it seemed that for the ruling Pakistan Muslim League-Nawaz (PML-N) the policy falls short for school staff.

Fed up with the government apathy, which they claim has remained unmoved by the by their boycotts of academic activities in schools and colleges, the teachers have now turned to Chief Justice of Pakistan Mian Saqib Nisar to help resolve their issue.

They have urged him to take suo moto notice of the matter.

Some daily-wage teachers hired illegally

"I have given 10 years of my life to this school and profession," complained Faiza Naqvi, a daily wage teacher at the Islamabad Model College for Boys in Sector G-6/3.

"Out of those 10 years, five were spent on the roads [protesting and demanding our rights]," she said as she lamented that they were always paid after eight or nine months and only when they protested or boycotted classes.

She added many daily-wage teachers depend entirely on their meagre government salaries. However, when they are not paid for months on end, it piles on to their misery.

"The government is indifferent towards their plight," Naqvi quipped.

"I am a single mother and I am completely dependent on my salary," the teacher explained. "I have children who make demands, but I have been lying to them for the past 10 months that I will bring them whatever they wish for since my salary is going to be released soon."

"Now, they have stopped asking me as even they sense my dilemma," she cried.

The teacher said that she could not bear to see her children go hungry or suffer from diseases, adding that it was better to douse themselves with petrol and set themselves alight in front of Supreme Court rather than endure the ignominy any longer.

"Then the court may listen to us," she regretted.

Please listen to our issues and resolve it, urged Sonia Iqbal who teaches at the ICG in Sector F-6/2.

"In our culture, it is not easy for women to sit outside for long, but despite my family refusing to allow me to come here, we have been protesting outside the press club every day for the past three months," she added.

Minister for Capital Administration and Development Division (CADD) Dr Tariq Fazal Chaudhry, in a recent meeting with the protesters, had informed them that a summary for releasing their salaries from June through December 2017, had been approved.

But that was 25 days ago and the teachers are still waiting for their salaries to be deposited into their accounts.

CADD officials did not respond to queries about the delays in releasing the money.

Published in The Express Tribune, March 26th, 2018.