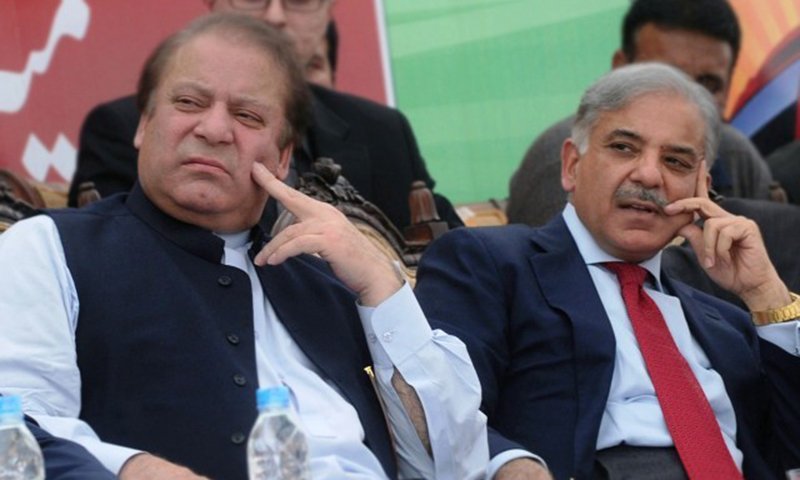 ---
ISLAMABAD: Former prime minister Nawaz Sharif claimed on Tuesday that the judges, especially the Supreme Court's bench in the Panamagate case, are aware that he is not guilty, but they want 'face-saving' because nation has rejected their judgments.

Sharif questioned why supplementary references were being filed when the National Accountability Bureau (NAB) has found no new evidence against the Sharif family.

He added that the current references should be allowed to be concluded on the basis of evidence available before the court "without wasting taxpayers' money on foreign visits in search of new evidence".

Sharif, in a meeting with reporters at the Punjab House, expressed that the Pakistan Muslim League-Nawaz (PML-N) will not back down from running the movement for the rule of law and Constitution.

He said that supplementary references were nothing, but an effort to 'cover things up', alleging that judges were supervising his cases and issuing all kinds of instructions.

Sharif ridicules rivals at Haripur rally

During the meeting, Sharif said that the NAB team dined out with Sheikh Rashid in London and came back after wasting taxpayers' money.

He was of the view that the cases against him and his family should be concluded because investigators "cannot find any new evidence that points to any corruption done by the Sharif family".

"When will NAB stop its search to find evidence against me?" he questioned.

"Now they want to make a case against Shehbaz Sharif. One should be commended for building roads but more references are being filed against him," he added.

Sharif said the nation has rejected the Supreme Court bench's decision to disqualify him on the basis of Iqama instead of the Panama Papers revelations.

"The judges who gave the verdict want face-saving now. I was certain that they wouldn't find anything against me and that's why I did not challenge maintainability before the Supreme Court in Panamagate case," he added.

"Singers, who have joined the chorus against me are unknown and out of tune (Bay Surey)," quipped Sharif while responding to a question about the opposition parties' rally in Lahore.

He, however, revealed that he personally likes Mehdi Hassan, Muhammad Rafi, Talat Mahmood as singers.

"The International Monetary Fund (IMF) report suggests that Pakistan is 16 points ahead of India," he said and added, "Pakistanis must appreciate that."

He said stock exchange went a record high to the level of 53,000 points and the economic monitoring agencies were reporting Pakistan's positive growth during his term.

Nawaz has always played with his 'own umpires', says Imran Khan

After the disqualification decision the market crashed below 40,000 points, Sharif said.

Discussing the verdict, the PML-N leader said that "the judges who gave the verdict know that I was not guilty. When they couldn't find anything they got interim references. I am fighting for the nation and its people. Because of this I am facing a lot of trouble too."

Talking about former president Pervez Musharraf, he said that nobody has the audacity to bring him to Pakistan.

Commenting on the unfortunate Kasur incident, Sharif said that it was a horrible and shameful incident for Pakistan and added that Asma's case was incredibly disappointing too.

"A lot of politics was played over Zainab's issue and that shows that the people don't have the heart for the deceased child," he said,

Over his quick verdict, Sharif said that more often than not, the cases were pending for years but his case was being directed to be concluded within six months.

Throwing his weight behind Punjab Chief Minister Shehbaz Sharif, the former prime minister said rumors about rifts in the Sharif family will never come true and those who wish to see Shehbaz parting ways are mistaken. "No such thing will ever happen."

During Ghulam Ishaq Khan's tenure, an attempt was made for Shehbaz to drift away from the party but it never happened. Since then, he said, it's been 28 years and their wishes have never came true.

Sharif conclusively stated that he was not afraid of anything that might come his way, assuring that the elections would take place on time.