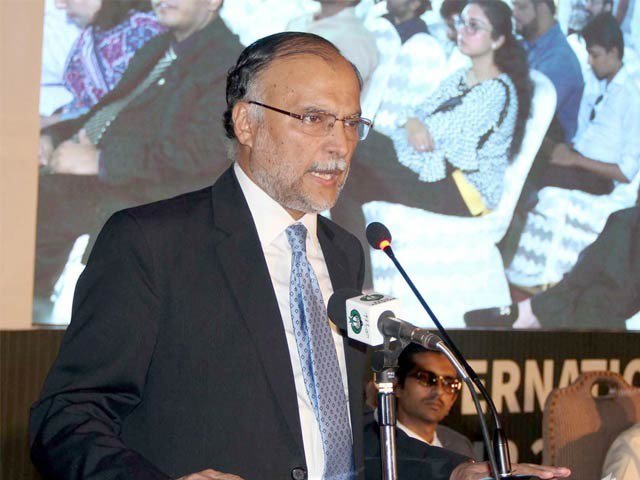 ---
ISLAMABAD: Interior Minister Ahsan Iqbal has said that creativity and innovation are the fundamental drivers of progress, and no country can afford to ignore them.

"We are living in a very competitive world, and being categorised as a least efficient innovator is a very serious challenge," Iqbal said while addressing 'International Annual Trans-Eurasia Information Network NOC Workshop-2017' at the Higher Education Commission (HEC) on Monday.

Inaugurated on Monday, the five-day workshop is being organised by the Pakistan Education and Research Network in collaboration with the Asia-Pacific Advanced Network (APAN).

Pakistan among least innovative countries in the world: survey

Participants from Bangladesh, Nepal and Sri Lanka are attending the workshop aimed at enhancing skills and capabilities of network engineers and network security staff.

"This is a century of innovations, and only those nations are progressing well that are equipped with weapons of knowledge and technology," said Iqbal.

He said standards of development had changed, with the development of a country now depending upon a few things. "We need to enhance our production capacity and improve our standard continuously. We need to introduce knowledge and information revolution in the country as well as innovations in all sectors," he added.

"Pakistan has huge potential to rank among the top 10 economies of the world for which we need to conduct research on modern technology," he said. "After successful launch of 3G and 4G technologies, the government plans to test 5G services in the country soon."

The minister said that the government was establishing centres of excellence for artificial intelligence, cyber security, big data, cloud computing and robotics.

He said digital Pakistan was aimed at equipping the young generation with modern technology to ensure its effective usage, adding that with the provision of 3G and 4G, Pakistan had become the fourth largest country in terms of earning through freelancing.

He said many other countries expressed their interest in becoming part of the China-Pakistan Economic Corridor "which is a sign of great change".

"We must put Pakistan on the road to wealth with the help of all areas and segments of the country. It will only be possible when we have competitiveness," said Iqbal.

In his brief address, HEC Chairman Dr Mukhtar Ahmed emphasised the need for promotion of constructive sciences which leads to welfare of mankind. "Let's work together for the wellbeing of humanity," he underlined.

He appreciated the government for approving the highest number of projects in higher education by doubling the HEC's budget over the last few years.

PM should steer Start-up Pakistan initiative

APAN Director Nimal Ratnayke said, "APAN coordinates activities related to network technologies, services and applications among its members and with its international peers."

He described APAN as "a key driver in promoting and facilitating network-enabled research and education activities, including research collaboration, knowledge discovery and sharing, tele-health and natural disaster mitigation".

On the occasion, Interior Minister Iqbal inaugurated HEC's Events Registration Portal meant to provide updates of different events. A large number of Information Technology experts and students attended the ceremony.


COMMENTS
Comments are moderated and generally will be posted if they are on-topic and not abusive.
For more information, please see our Comments FAQ