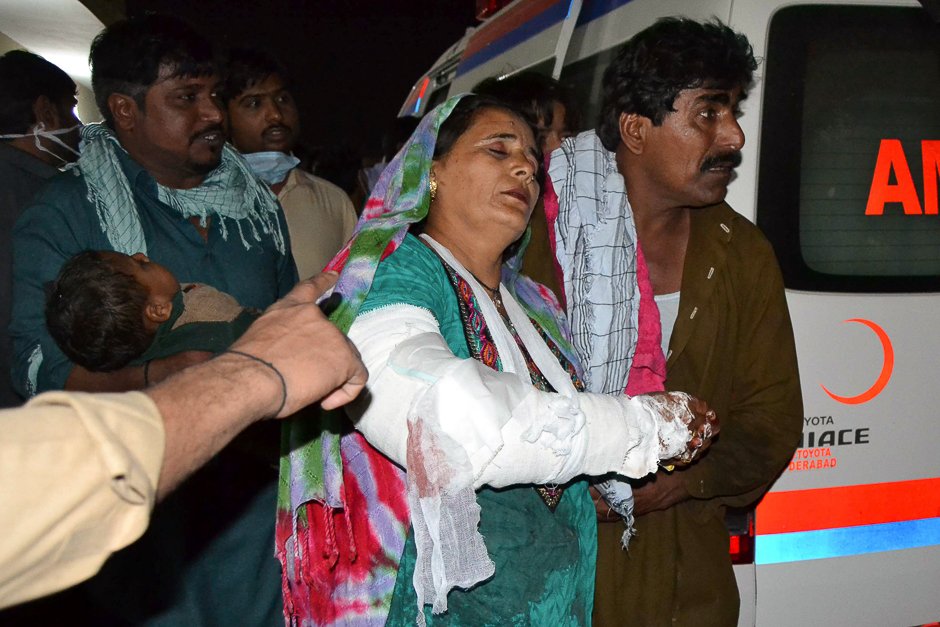 ---
KARACHI: Deedar Ali, a 35-year-old caretaker at the shrine, was severely injured in the blast and has been battling for his life in the ICU at the Shaheed Mohtarma Benazir Bhutto (SMBB) Trauma Centre.

His uncle, Muneer Ahmed has been patiently waiting to hear good news since Friday morning; however, not hearing anything until Friday evening his wait had turned into a nightmare.

"I don't know whether my nephew will be able to recover or not but I can't forget a seven- year-old child who died in front of our eyes in the same ambulance we were transporting Ali to Nawabshah."

He burst into tears while recalling the event and told The Express Tribune, "We tried to ask his name several times but he was unable to speak due to severe injuries". He tried to move his eyes for 10 to 20 minutes but then silently closed his eyes forever, Ahmed wept.

An attack on Sehwan's heart

"We can't even imagine what his mother might be going through if she is alive," he said. How can a person carry out such inhuman an act by destroying the lives of hundreds of people? he asked, shaking his head in dismay.

"Scenes of doomsday came alive in front of us as we picked up the body parts of our loved ones," said the mother of five-year-old Komal, who is also admitted in the ICU at the trauma centre. She said four of their family members died in the deadly blast, whereas her own daughter is in a critical condition.

Three-hundred-and-forty-three people were injured in the blast at the shrine of Lal Shahbaz Qalandar in Sehwan on Thursday. Health department officials confirmed that the death toll at 88.

Dozens of militants killed in nationwide security crackdown following Sehwan blast

Due to the large number of pilgrims with varying degrees of injuries in the blast, victims were shifted to various hospitals throughout the province due to the lack of facilities at the hospital in Sehwan.

According to a handout issued by the provincial health department, seven patients were shifted to PNS Shifa, Karachi, while six others were shifted to SMBB Trauma Centre and one to Jinnah Postgraduate Medical Centre early Friday morning.

The bulk of the victims, 210, were shifted to the Syed Abdullah Shah Institute of Medical Sciences in Sehwan Sharif after the attack, of which only eight were under treatment on Friday evening.

The remaining 46 injured were shifted to the Peoples Medical University Hospital, Nawabshah, in Shaheed Benazirabad, out of which 29 were admitted. Liaquat University Hospital, Hyderabad received 23 injured of which 12 were admitted. Civil Hospital, Dadu received 17 patients and 33 went to Chandka Medical College Hospital, Larkana.

Of the total death toll, 76 were reported in Sehwan, four in Nawabshah and eight in Larkana making the total death toll 88.
COMMENTS
Comments are moderated and generally will be posted if they are on-topic and not abusive.
For more information, please see our Comments FAQ