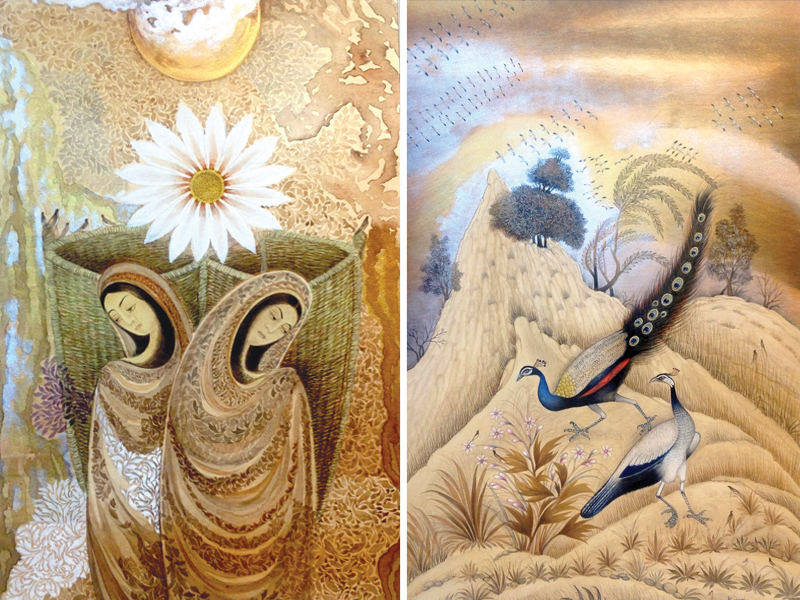 ---
ISLAMABAD: A collection of miniature paintings by veteran artist N.H.Kazmi is on display at Nomad Gallery.

Titled "Reflections 2016", the showcase of a total of 37 art pieces combine his traditional technique with more experimental, contemporary work.

In his more recent work, Kazmi employs gold and copper leaf, creating smooth patterns to give off a subtle effect both in color and form. The understated use of earthen tones, merged within the white and crème backdrop, blends into smooth fluttery imagery on canvas.

Meanwhile, the series on women and Mughal monarchs is far more detail-oriented and is categorised by elements of Islamic Art, influenced by solid tones of colour and well-defined textures. The artist also uses the subdued effects through pastels.




Symbols of flowers, birds and angels create an almost mythical impact on the viewer.

The artist, who has widely exhibited his paintings around the world, recently also showcased his work in China. The creative influences from diverse cultures, including Iran and Algiers, have also manifested in his current series.

In his artist's statement, he says that the opportunity to visit rich provinces and the wide exposure to the arts in China was a thrilling experience for him, adding that the miniature tradition was particularly inspiring and invigorating.

"The rich cultural tradition, well-preserved sites, heritage, architecture and friendly people added to this wonderful impression of a historical land with hospitable people, inspired [him] to widen his perspective in the art."

Nageen Hayat, the gallery curator and director, highlighted the evolution of Kazmi's work, saying the current collection juxtaposes both the traditional and contemporary themes into a highly-stylised ensemble. The current exhibition will remain open at the gallery until Wednesday, November 2.

Published in The Express Tribune, October 27th, 2016.