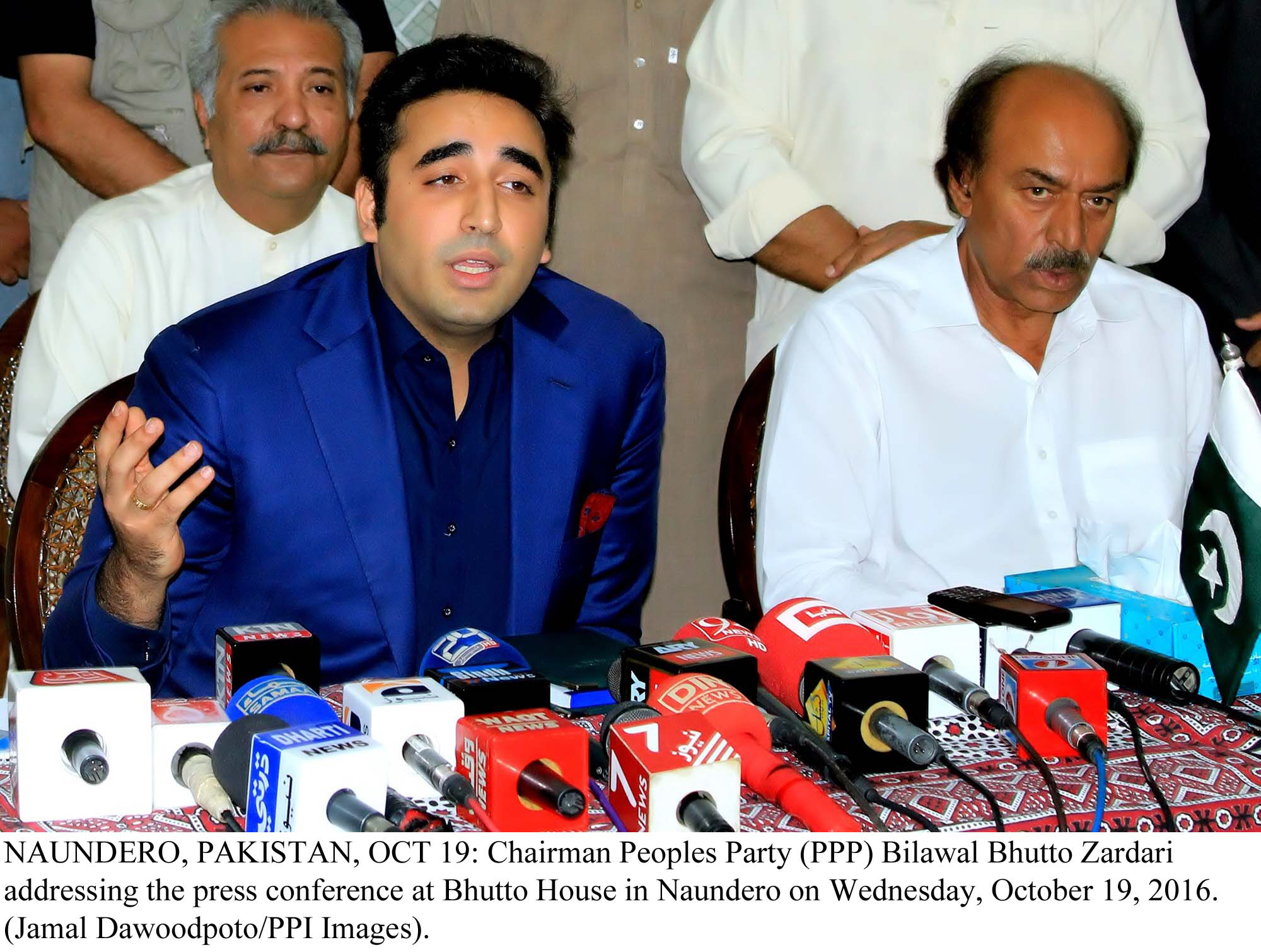 ---
SUKKUR: Pakistan Peoples Party chief Bilawal Bhutto Zardari fired another salvo at the government on Wednesday, warning that the impact of a Bhutto chanting the slogan of 'Go, Nawaz Go' would be colossal.

"People will see the impact when a Bhutto shouts 'Go, Nawaz Go'," Bilawal told the media at Naudero House in Larkana.

His remarks came days after the 'Salam-i-Shuhada rally' was held in Karachi in which the PPP leader outlined four key demands -- revival of the national security committee of parliament; approval of a bill presented on the Panama Papers controversy; implementation of resolutions passed at a multiparty conference on the China-Pakistan Economic Corridor and appointment of a full-time foreign minister.

Bilawal issues fresh challenge to govt

He warned the PML-N government that if these demands were not met by December 27 -- the 9th death anniversary of Benazir Bhutto -- then he would announce a long march.

Bilawal also took a swipe at PTI chief Imran Khan, accusing him of borrowing the slogan from the PPP. "It was my mother who raised this slogan during her Dharna".




The PPP chairman said: "The PPP remained against the privatisation of national institutions -- be it the Pakistan Steel Mills, PIA or others, because privatisation renders people jobless.

"The PPP has always tried to provide job opportunities to jobless youth, while the PML-N has always done the opposite."

Referring to media reports that the SBP has shifted some of its important functions to Punjab, Bhutto-Zardari termed it against the spirit of the 18th constitutional amendment.

"We will strongly oppose it because neither the Sindh government and nor people have been taken into confidence."

According to him, this action will not only cause harm to the federation, but will also be harmful for democracy.

Bilawal predicts premature end of govt's tenure

Talking about the Karsaz bomb blasts in Karachi, he said it was the third largest tragedy in the world history. He alleged that the government at that time washed away all evidence, but now the Sindh government has constituted an inquiry committee to probe the incident afresh.

Talking about the Karachi rally, he claimed that around one million people were in attendance. He thanked the people of Karachi for making the rally a historic success.

Talking about the friendly relations between Nawaz Sharif and his Indian counterpart Narendra Modi, Bhutto-Zardari wondered how it is possible for Sharif to talk against Modi, saying there is a big question mark on the government's policy on Kashmir.

"The way Modi (suddenly came to) attend his (Sharif's) granddaughter's wedding speaks volumes about their (personal) relations (friendship) which is embarrassing for us," he said.

Published in The Express Tribune, October 19th, 2016.

 
COMMENTS (2)
Comments are moderated and generally will be posted if they are on-topic and not abusive.
For more information, please see our Comments FAQ