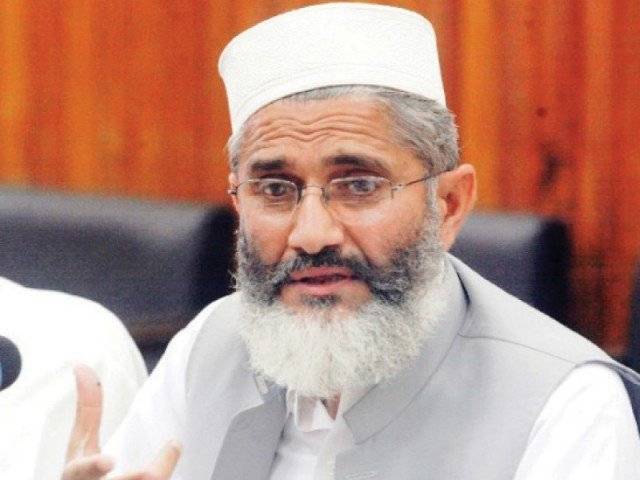 ---
ISLAMABAD:



Amid a heated debate over the mode of investigations into Panama Papers revelations, the Jamaat-e-Islami (JI) on Wednesday went one step ahead and asked for a National Action Plan against corruption in the backdrop of army chief's latest statement.




Army chief General Raheel Sharif on Tuesday called for 'across the board accountability' and said "Pakistan armed forces will fully support every meaningful effort in that direction."

Panama Papers: Hectic political contacts over leaks inquiry

General Raheel's statement came at a time when the Panama Papers – a vast leak of legal documents – claimed that Prime Minister Nawaz Sharif's three children had offshore business.




"The army chief has already expressed willingness. So let's have a National Action Plan against corruption like the one we have against terrorism," said the JI chief Senator Sirajul Haq, adding that the NAP against terrorism was already bearing good results.

However, the JI chief expressed apprehension about military intervention in case politicians did not mend their ways. "The politicians should rectify their image and political parties should establish self-accountability by not allowing party tickets to the corrupt," he said.

Referring to former dictators General Ziaul Haq and Pervez Musharraf, JI chief said both of them had justified their actions while citing corruption of politicians. "We should not give an opportunity [for an intervention], otherwise people would sanction the action," he added.

Opposition divided over demand for PM's resignation

While talking about the commission announced by Prime Minister Nawaz Sharif to probe allegations against his family, Haq said the PM should not have announced any inquiry or commission in line with universal principle.  The JI chief also demanded forming a commission under the supervision of the Chief Justice of Pakistan (CJP).

Sirajul Haq also opposed Plea Bargain (PB) provision of NAB and said this option should be withdrawn. According to estimates, Pakistanis have stashed away $375 billion in foreign banks while our total debt is $70 billion, he added.

Ilyas Bilour of the Awami National Party (ANP) endorsed the demand for a commission under the supervision of the CJP. "The chief justice should be authorised to hire a foreign [forensic audit] firm for investigations," he added.

However, he said his party would demand an inquiry against all, "as hinted by the army chief, and not merely against one family [ie, that of the PM Nawaz Sharif]."

Senator Osman Saifullah, whose family has also been named in the leaks, gave personal clarification to the allegation of owning 34 offshore companies. "I want to confirm that I have never had 34 companies," he added.

Democratic politics under threat

"I urge the government to start investigations at the earliest to address the issue once and for all," he said as he asked people to refrain from levelling allegations unless there is an investigation.

Pakistan Tehreek-e-Insaf's (PTI) Azam Swati reiterated his party's demand for a judicial commission headed by the CJP to probe the matter. Referring to Interior Minister Chaudhry Nisar's suggestion for the MPs to present themselves for accountability, Swati volunteered to present his assets for verification.

Published in The Express Tribune, April 21st,  2016.
COMMENTS
Comments are moderated and generally will be posted if they are on-topic and not abusive.
For more information, please see our Comments FAQ