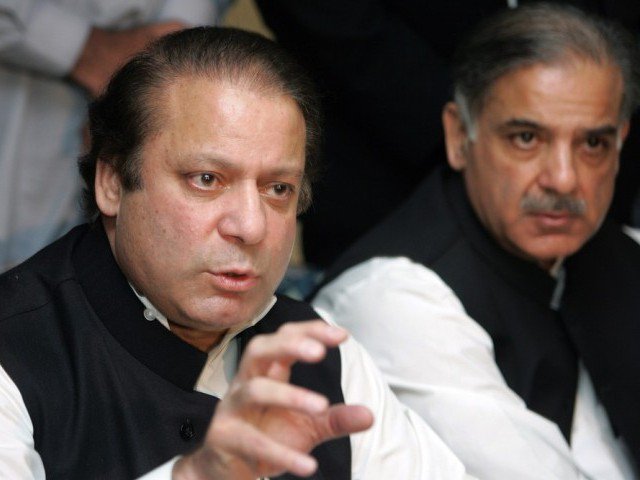 ---
KARACHI:



Prime Minister Nawaz Sharif's family, among others, have denied any wrongdoing after documents leaked from a Panama-based company showed that they had shares in offshore companies.




Panama Papers, one of the biggest media leaks in history, consists of 11.5 million documents spanning four decades from Panama-based law firm Mossack Fonseca, shows how some of the world's most powerful people, including over 200 people from Pakistan, have concealed their money offshore.

PM Nawaz's family hit back after Panama Papers leak

The details were made public by International Consortium of Investigative Journalists (ICIJ) and German newspaper Süddeutsche Zeitung.

Among those named are three of Nawaz's four children – including daughter Maryam, and sons Hasan and Hussain -- with the records showing they owned London real estate through offshore companies administered by the firm.




According to the documents, Maryam owned the British Virgin Islands-based firms Nielsen Enterprises Limited and Nescoll Limited. The two firms were incorporated in 1994 and 1993. They owned "a UK property each for use by the family" of the companies' owners.

Hussain and Maryam signed a document dated June 2007 that was part of a series of transactions in which Deutsche Bank Geneva lent up to $13.8 million to Nescoll, Nielsen and another company, with their London properties as collateral.

Panama Papers: Huge tax leak exposes Putin aides, world leaders, stars

In July 2014, the two companies were transferred to another agent.

Mossack Fonseca knew that Maryam was Nawaz's daughter, a "politically exposed person," and committed to checking her activities twice a year beginning in July 2012.

Hasan was the sole director of Hangon Property Holdings Limited, incorporated in the British Virgin Islands in February 2007, which acquired Liberia-based firm Cascon Holdings Establishment Limited for about $11.2 million in August 2007. At least five other off-shore companies are linked to the Sharif family but their details have not been released so far.

Mossack Fonseca resigned as agent for Hangon because was a "politically exposed person."

Hussain defended the companies and told a private broadcaster that his family had done "nothing wrong".

A spokesperson for the family responded to media reports that the "Panama leaks and ICIJ have made no allegations of wrongdoing against Sharif family."

The spokesperson added that none of the corporations mentioned were owned or run by Nawaz.

Maryam Nawaz on her official Twitter account clarified that she "is merely a trustee of one of the corporations owned by Hussain Nawaz, which would only entitle her to distribute the assets to Hussain Nawaz's family if required".

But they are not the only ones implicated with over 200 Pakistani politicians, businessmen and lawyers have apparently been named, said Center of Investigative Reporting in Pakistan (CIRP) – which worked with ICIJ.

Others from Pakistan involved include several Pakistan Peoples Party (PPP) leaders including former prime minister Benazir Bhutto, Senator Rehman Malik, the family of PPP Senator Osman Saifullah and Javed Pasha -- a close aide of former president Asif Ali Zardari,.

Petroline International Inc, a company earlier embroiled in an oil-for-food bribery scandal, resurfaced listing Benazir, her nephew Hassan Ali Jaffery and Senator Malik as the only shareholders.

However, the PPP dismissed the link.

Nawaz's son owns London apartment, offshore companies

In a statement, PPP spokesperson Senator Farhatullah Babar said that "this is not the first time that Benazir's name is being besmirched through unsubstantiated allegations."

Malik, on the other hand, posted documents of Petroline International Inc on his official Twitter account to prove that the company had no ties with the Panama-based law firm.

"Petroline registered in UAE. During exile period of Benazir and Rehman Malik [from] 2000 to 2005. No link with Panama. Lies against PPP leaders."

He said he would hold a press conference in which he would expose "elements who cooked this fiction against us."

The family of Senator Saifullah from Lakki Marwat was found to be involved in around 34 offshore companies.

Others named included hotel industry tycoon Sadruddin Hashwani industrialists Shehbaz Yasin Malik, Chairman ABM Group of Companies Azam Sultan, Pizza Hut owner Aqueel Hussian, chairman of Soorty Enterprise Abdul Rashid Soorty, Abullah family of Sapphire Textiles, Gul Muhammad Tabba of Lucky Textiles as well as Shahid Nazir of Masood Textiles.



Published in The Express Tribune, April 5th, 2016.
COMMENTS (8)
Comments are moderated and generally will be posted if they are on-topic and not abusive.
For more information, please see our Comments FAQ