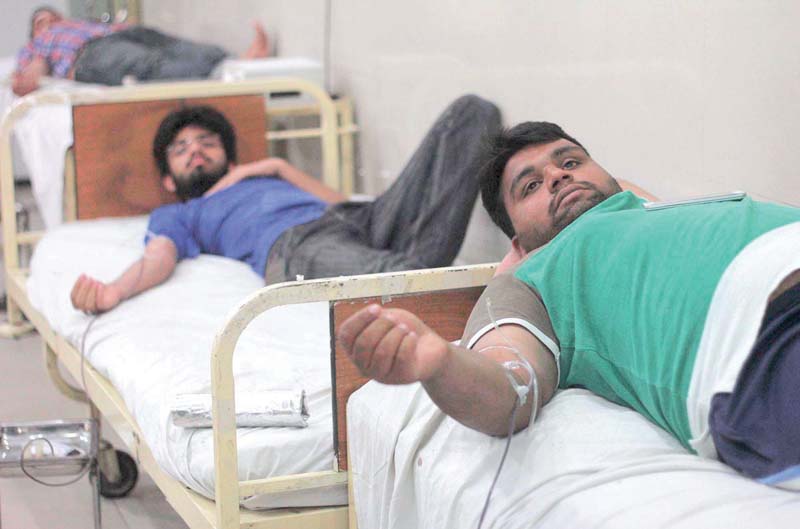 ---
LAHORE:



At least 65 people — mostly women and children — were killed and 340 wounded Sunday evening in an apparent suicide bombing at a recreational park where a large number of Christian community members were celebrating Easter Sunday.




The blast, which struck at the heart of Prime Minister Nawaz Sharif's political base, was the second deadliest in Lahore since a suicide bomber blew himself up amidst spectators of a flag-lowering ceremony at the Wagah border crossing in November 2014, killing 55 people.

Suicide blast kills at least 72 in Lahore park

Sunday's bombing occurred near Gate No 1 of Gulshan-e-Iqbal Park – metres away from children's swings. "Circumstantial evidence suggests it was a suicide blast," DIG Operations Dr Haider Ashraf told the media. "Ball bearings were also found at the park." Experts say nearly 20kg of explosives were used in the blast.

DCO Captain (retd) Muhammad Usman confirmed the death toll. "The rescue operation is continuing," he told journalists. The army had been called in, he said, and soldiers were at the scene helping with rescue operations and security. SP Mustansar Feroz said most of the injured and dead were women and children.

The casualties were ferried to different hospitals of the city where officials said some of them had life-threatening wounds. "Many injured are being treated in operation theatres now and we fear that the death toll may climb considerably," said the provincial health adviser, Salman Rafique.

According to the Rescue 1122 spokesperson, 39 bodies and 125 injured were shifted to Jinnah Hospital; five bodies and 48 injured to Sheikh Zayed Hospital; six bodies and 41 injured to Services Hospital; six bodies and 33 injured to Farooq Hospital; and nine bodies and 12 injured to Mayo Hospital, while the other injured were driven to Lahore General Hospital, Ganga Ram Hospital and Bajwa Hospital.

Dozens of women and children were seen being wheeled into hospitals, covered in blood. Many of the injured were transported to hospitals on taxis and auto-rickshaws due to a shortage of ambulances. Hundreds of citizens arrived outside hospitals to donate blood. Local television channels reported that many of the bodies were being kept in hospital wards as morgues were overcrowded.

Gulshan-e-Iqbal Park, one of the largest parks of Lahore, is usually packed with visitors on weekends. But there was an extraordinary rush Sunday evening as a large number of Christians had turned up to celebrate Easter. Police, however, said it was not clear whether the attack had deliberately targeted the Christian community.

Rickshaw blast: Cylinder explosion leaves two dead in Lahore

Javed Ali, a 35-year-old resident who lives opposite the park, said it was overcrowded because of Easter.

Eyewitnesses said they saw body parts strewn across the parking lot once the dust had settled after the blast. "When the blast occurred, the flames were so high they reached above the trees and I saw bodies flying in the air," said Hasan Imran.

Ahmad, a teenaged boy who works at a Gol Gappay point in the park, survived with minor injuries. "An ear-splitting explosion rocked the entire park," he told The Express Tribune. "And then there were bodies strewn across the park and blood splattered all around," he added.

Rickshaw driver Zeeshan said he ferried passengers to and from the park daily. "Normally, guards do not allow us to come near the gate – but today nobody stopped me from picking passengers from the gate," he said pointing to poor security at the park. DCO Usman said action would be taken against those responsible for securing the park.

Soon after the attack, the Punjab government ordered all public parks to be closed and announced three days of mourning in the province. On social media people were retweeting the call for blood donations, while Facebook activated its 'Safety Check' for Lahore.

President Mamnoon Hussain, Prime Minister Nawaz Sharif and Punjab Chief Minister Shahbaz Sharif condemned the attack and directed the health authorities to provide best treatment to the injured.

Following Lahore blast, Facebook activates 'safety check' feature

The United States, a strategic ally of Pakistan, also denounced the attack. "The United States stands with the people and government of Pakistan at this difficult hour. We will continue to work with our partners in Pakistan and across the region ... to root out the scourge of terrorism," White House National Security Council spokesman Ned Price said in a statement.

Indian PM Narendra Modi telephoned his Pakistani counterpart to express grief over the blast. "The coward terrorists attacked children and women," he said. "We are with the Pakistani nation at the time of grief."

Nationwide, overall levels of militant violence have fallen since the military launched a massive operation, codenamed Zarb-e-Azb, in North Waziristan Agency in mid-June 2014. Last year saw the lowest number of civilian and security forces casualties since 2007. But militants are still able to carry out major attacks from time to time.

Published in The Express Tribune, March 28th,  2016.
COMMENTS
Comments are moderated and generally will be posted if they are on-topic and not abusive.
For more information, please see our Comments FAQ