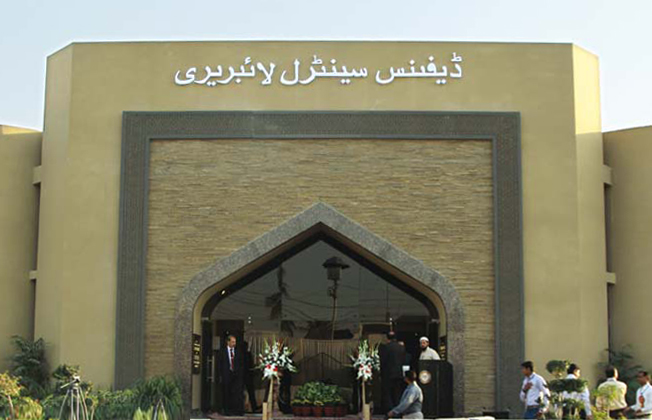 ---
KARACHI: The newly-renovated Defence Central Library (DCL) formally opened its doors for the public to benefit from the treasure of knowledge it has to offer.

The dark-coloured complex stands majestically on main Sunset Boulevard, completed at a whopping cost of Rs83 million.




The DCL, built in November 1991, houses more than 80,000 books. Now, the building's façade has been changed along with the seating arrangement. Brighter lights have been placed, and the carpets and shelves have all been replaced.

Lighting the way: Teachers asked to encourage children develop reading habit

Abida Memon, who has been visiting the library for the last seven years, was delighted by the changes. "There has been improvement, [it has] brighter lights now."

She sat in one of the study cabins to prepare for her civil service exam. Memon, who comes from Civil Lines, studied for her MBBS in the library and spends more than 11 hours these days at the facility. "The environment here is peaceful," she said.

Senior librarian Aqeel Fatima, employed at the DCL for the last 12 years, denied the notion that visitors to libraries were decreasing. She said that in the DCL, the number was increasing. Among the 4,000 members in the library, including the residents from Defence Housing Authority (DHA) as well as from other parts of the city, were a large chunk of medical students.




"We have the latest medical books that can't be found anywhere else," said Fatima, adding that people are starting to take a keener interest in psychology books.

Fashion mogul's library set to raise millions for AIDS research

Entry charges

The library charges Rs1,000 per month from those registered as residents of DHA, while subscribers from outside the DHA are charged separate rates.

Only senior citizens over 65 years of age and DHA employees are exempt from paying the library fee.

A student, Madiha, currently studying for an exam that will enable her to practice medicine in the US, felt that libraries should be free of cost, as they are in the rest of the world.

A new page: NBF to set up book garden in Hayatabad

Dreaming big

DHA administrator Brigadier Zubair Ahmed, who performed the ribbon-cutting ceremony during the inauguration, said that he wants the library to become an iconic building of the DHA. Ahmed said that he felt more libraries should be inaugurated as our religion emphasises on learning and reading.  He said that children are the future and they should have libraries that the youngsters can benefit from. The library also boasts of being the only one in Karachi that has wheelchair access.

Published in The Express Tribune, December 16th,  2015.
COMMENTS (1)
Comments are moderated and generally will be posted if they are on-topic and not abusive.
For more information, please see our Comments FAQ