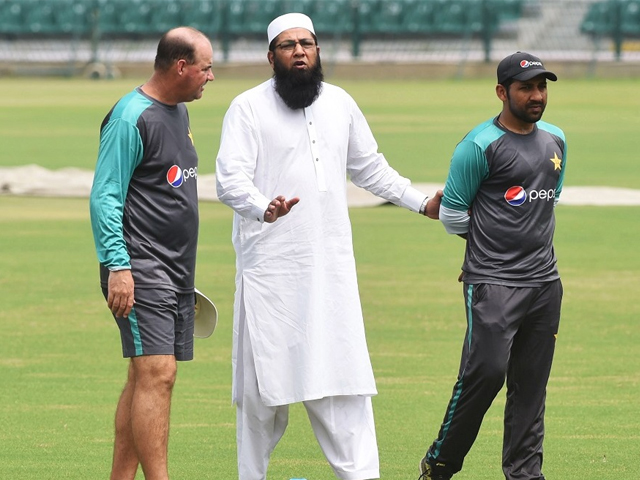 ---
Pakistan cricket has many problems; removing Mickey and Inzi will not solve them
Where we are today did not happen overnight and we cannot just blame two people for it, especially now.
---
After Pakistan's dismal performance in the first half of their World Cup campaign, fans have been angry to say the least. The team is being criticised from left, right and centre, in both acceptable and unacceptable ways. It seems that the Pakistan Cricket Board (PCB), like in all the previous World Cups where we didn't live up to expectations, is feeling the heat and will be looking for scapegoats.

After being whitewashed by England prior to the World Cup and their unpredictability in the tournament thus far, questions have been raised and fingers have been pointed. As a cricket fan and a supporter of the Pakistan cricket team, I too am heartbroken.

Rumours are making rounds that the PCB will not be renewing coach Mickey Arthur and chief selector Inzamamul Haq's contracts after the 2019 World Cup. Even though PCB has not officially commented on the matter, cricket analysts predict that it just might be true. But what I fail to understand is how not renewing Haq and Arthur's contracts changes things for Pakistan cricket. Has the PCB just succumbed to public pressure and sentiment? Where do we go from here? And most importantly, didn't we see this coming?


- 'PCB to part ways with Arthur, Inzamam after World Cup'.
Aamir Sohail is being considered as the chief selector in place of Inzamam. #Dawn quotes PTI report

— Asif Khan (@mak_asif) May 29, 2019
Fortunes of °Mickey Arthur, °Grant Flower, °Inzamam, °Azhar Mahmood & °Sarfaraz Ahmed are all dependent on performance of #cwc19. Even if Team Pakistan wins next four games still chances are way bleak to be in top4.🇵🇰🏏 A revamp is on its way in th Management of national team!!

— Arfa Feroz Zake (@ArfaSays_) June 16, 2019


Let's analyse the past in order to understand the current situation. Haq and Arthur were given their respective responsibilities after the T20 World Cup back in 2016. Some questioned their appointments back then as well. Doubters stated that Haq lacked experience while Arthur had a history of poor coaching experiences. The South African has had forgettable coaching stints with South Africa and Australia, and he had suggested at the time that Pakistan was involved in match-fixing in one of the games played between South Africa and Pakistan in 2007.

Nevertheless, both Arthur and Haq came on-board with the mission to change things around for Pakistan cricket. But could these two gentlemen single-handedly help Pakistan reach the top of the mountain and bring a structured approach to Pakistan cricket? I didn't think so even back then.

Pakistan cricket needed to be revamped back then and it still does. Players' fitness was an issue back then as it is right now, so clearly that is one department that hasn't witnessed any improvement. Additionally, the domestic structure is still pretty frail, and you can only see players coming out of the domestic circuit who are either exceptionally talented or very lucky. The system doesn't seem to be playing a role in developing new players for the national side. A discussion did commence between Younis Khan and the PCB which gave a glimmer of hope that things might start to change at the grassroot level, but even that didn't materialise.

Where we are today did not happen overnight and we cannot just blame two people for it, especially now. If you take a look at the records, T20s have been the only format of the game where the Pakistan team has consistently performed well after the T20 World Cup in 2016. Since the tournament, the team has only lost two T20 series out of the 13 played.

Other than T20s, the Pakistan team's performance graph has been rather poor over the last three years. In Test matches, we have only won four out of the 11 series played under Arthur, which makes for a winning percentage (in series) of only 36%. In ODIs, we have won six out of the 14 series in which the teams were selected by Haq (Champions Trophy 2017 included). Since 2018, we have only won one ODI series (out of six) and that too against Zimbabwe. Naturally, the aforementioned reflects very poorly on Arthur and Haq, but it would be foolish to suggest that they are the root cause of the problems hampering Pakistan cricket. Their removal is no remedy and reports which indicate that the PCB is leaning in this direction only add more uncertainty to an already turbulent World Cup campaign

All this is made worse by the reports coming out of England which tend to suggest that the mood within the Pakistan dressing room has been antagonistic. So much so that it was said that Haq was sent down to London to specifically try and deal with the crisis which seemed to be brewing within the Pakistan squad. There were rumours of infighting ranging from Arthur being frustrated with the players to Imad Wasim trying to usurp the captaincy for himself. Apparently, Haq was sent over to England to try and placate the players and act as a mediator. Undoubtedly, the sudden presence of the team's chief selector in England sparked all sorts of questions.

While these are all undoubtedly valid concerns, the PCB, and us fans, must wait till after the World Cup to find the answers.

If any action that could've resulted in visible improvement was to be taken, it should've been done so earlier. If it wasn't done then, then it doesn't really make a difference by doing it now. In fact, if the PCB has already made the decision to not renew Arthur and Haq's contracts, it sends out a very wrong message to the team management and the players, which is damaging for their morale. The need of the hour is to show maturity and support towards the side we have sent for this mega event and to take necessary actions after the event concludes (regardless of the team's performance from here on). What has led us to this point is the practice of sweeping our weaknesses under the carpet after a one-off spark of brilliance. This practice should now stop. An analysis of the root cause of the problem needs to be carried out and must be addressed diligently.

We are a nation that loves cricket unconditionally. Let's continue to give that love and support to our side during this difficult time while preparing ourselves to take some concrete steps towards improving the cricketing system in the country for better and more consistent results in the future.