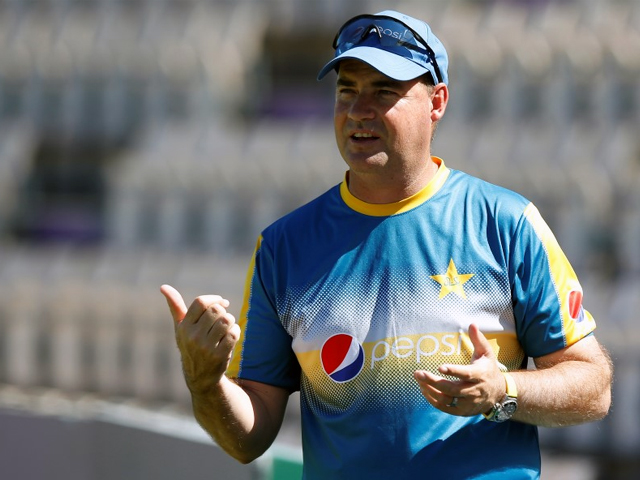 ---
What has Mickey Arthur done for Pakistan cricket?
A man whose dedication cannot be questioned and someone who is committed to leaving Pakistan cricket in a better place
---
The sight could not have been more vivid. Pakistan were reeling at 162-7 in their do-or-die Champions Trophy clash against Sri Lanka at Cardiff. The camera panned on Pakistan Head Coach Mickey Arthur, who was sitting on the balcony. Over the course of Pakistan's run chase, he went from having a reasonably cheery smile on his face at 74-0, to gradually seeming worried, annoyed, disgusted, at times livid, and finally, sporting an expression of pure and utter disappointment on his face.  

Overs later, when Pakistan had mounted an impressive comeback to win the game on the back of a match-turning partnership between Sarfraz Ahmed and Mohammad Amir, as well as some very good luck, the same Arthur was now seen beaming with joy and clenching his fists in celebration, as if he had just won the lottery. No player or member of the team management on the balcony looked as happy as he did.


In many ways, these contrasting reactions are what give the best insight into who Arthur is – a man who wears his heart on his sleeve and doesn't hold back when it comes to dishing out criticism towards players he feels aren't meeting his required standards. Often times, he'll get angry and give players an earful (just ask Sohail Khan). But at the same time, he is also a man whose dedication towards his job cannot be questioned, and someone who seems genuinely committed to leaving Pakistan cricket in a better place than he found it in. The fact that his reactions while watching Pakistan play often echo those of every Pakistani watching the same match, are what define his passion towards his job.

Since being appointed the head coach in May 2016, Arthur has had a major influence in changing how Pakistan have played their cricket, and two years down the line, they seem like a starkly different side compared to the one that crashed out of the 2016 ICC World T20.

Under Arthur, Pakistan have experienced success in all three formats: ascending to the top of the ICC Test Rankings in 2016, winning the Champions Trophy in 2017, and establishing themselves as the most successful T20 team in the past two years with a number one ranking to boot. The inconsistency is obviously there as it always is with Pakistan, but the high points have been dizzying, especially considering Pakistan's woeful track record in the past decade, and the fact that they seemed to be playing an outdated version of ODI cricket when Arthur took over.


Brilliant performance Pakistan. So good to see this young team deliver such great results under Sarfraz and Mickey Arthur. Memorable knock Fakhar Zaman, well played Shoaib Malik. Pakistan Zindabad 🇵🇰 pic.twitter.com/TRdPjsjuM2

— Shahid Afridi (@SAfridiOfficial) July 8, 2018


However, the most refreshing thing about Arthur's regime is that he isn't focused solely on results.

"I like to think that when people look at what happened for the last one year, they look at structure. You are always going to be judged as coach on win-loss ratio but for me it's a lot more than that. It's about the environment, it's about the standards and it's about challenging players," said Arthur.

And in many respects, he has established that structure and culture within the set-up from which he drove players' attitudes. He is the man responsible for instituting monthly fitness tests, and his no-nonsense policy towards fitness can best be summed up by his decision to send Umar Akmal back home from England after he failed a fitness test prior to the Champions Trophy.


We will remain grateful to Mickey Arthur for ever.

— Dr Rafay Khan (@rafay77) July 24, 2018


By working closely with fielding coach Steve Rixon, he has ensured that Pakistan's fielding has improved exponentially, minimising the dropped catches, misfields and the general sloppiness that in the past has so often been the cause of Pakistan letting oppositions run away with matches where they had the upper hand. And anyone who has seen Pakistan play in the past year would agree they have looked a far more professional side on the field than they did previously.

Then there's his belief in the new generation of Pakistani talent, such as Fakhar Zaman, Babar Azam, Hasan Ali, Shadab Khan and Faheem Ashraf, whom he has constantly backed and supported. Players who now possess the ability to carry Pakistan forward and are genuine match winners in their own right. This is of course something Arthur has wanted all along, as he once stated,

"For me, coming in and building a team is something that I really enjoy. I enjoy seeing young players given the opportunity and then perform and go on to have fulfilling careers."
Fakhar Zaman "Mickey Arthur told me that if we win the toss we will bat first and then you have to get a double hundred and I did" #ZIMvPAK

— zainab abbas (@ZAbbasOfficial) July 20, 2018
This young pakistani team has everything in it. Credit should be given to mickey arthur and co.

— Taimoor Abbasi (@FracturedMalang) July 20, 2018


People often downplay or underrate the role coaches play in cricket, but the reality is that modern-day cricket is driven by high standards of professionalism and fitness that hinge on rigorous training, fixed dietary plans, as well as guidance that helps players realise the areas in which they can be better. Until Arthur came along, Pakistan seemed completely oblivious to all of these things; unfit players were regularly selected, horrendous fielding performances showed no signs of improvement, while sloppiness and indiscipline would rear its ugly head time and time again. It was like the world of cricket had moved far ahead and Pakistan had been left far behind, stuck with the same medieval and outdated mindset.

Luckily, Arthur, who spent nearly his entire coaching career in countries like South Africa and Australia, realised the long-term importance of structure and how crucial it was to changing the team.

"It's about not tolerating mediocrity and that's the stuff I would love to leave behind so the next coach that came in would come into a structure that functions. Players know what standards are and live up to those standards. Otherwise I'm wasting my time. Hopefully that's going to be my legacy – a thoroughly professional structure."

For a team plagued by inner politics and an often cancerous team culture in the past, Arthur has also done remarkably well to create a healthy environment of camaraderie and mutual respect in the dressing room, where players feel the freedom to be themselves while keeping their egos in check.


Once legend couch said and i think Pak is heading toward it
Mickey Arthur"The best part of this job is being involved in a country where cricket is so passionate and so followed. I love every minute of it but most of all I love the skill levels of the Pakistani players"#PAKvZIM pic.twitter.com/FNrketLLAX

— Michal (@itsMichalJohn) July 20, 2018


It goes without saying that Arthur has already left a lasting impact on Pakistan cricket and has been a force of continuous change within the set up, but the fact that he believes there is still a lot of work to be done is heartening to hear, because it shows how deeply focused and driven he is towards making Pakistan a professional, consistent and world class cricketing outfit. If Pakistan are to have any chance of winning the World Cup, it would have to be with Arthur's steady hand at the helm, pushing the players to achieve their very best.