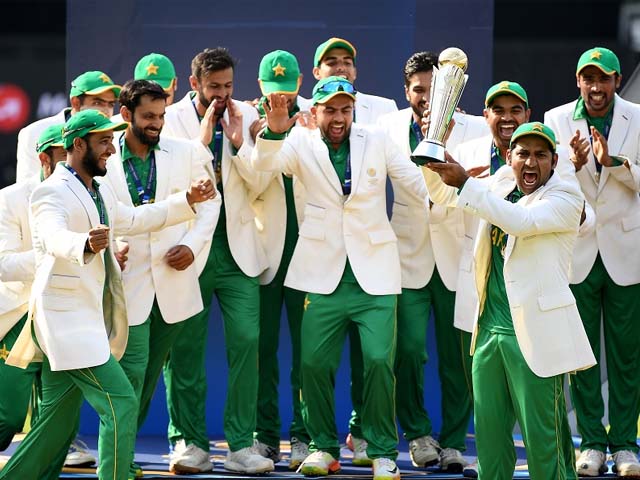 ---
#PakvsInd: If the first match was a mismatch, the final was complete annihilation followed by domination
Virat Kohli wished for an India-England final, and I realise it now, that he couldn't be more correct.
---
The most unpredictable team in the world, ranked bottom in this tournament, has yet again pulled it off. It has taken eight years for Pakistan to hoist an international trophy, but in doing so, they've blown out everyone who doubted them. Two hundred million people rejoice once again, as Pakistan rises from the ashes to beat India (emphatically, I must add), to win the 2017 ICC Champions Trophy for the first time.


This is only the third time that Pakistan have managed to beat India in an ICC tournament. Oh but this victory is unlike any other. This time, the odds weren't even. Everyone who believes in logic and statistics expected India to win. Who would've thought that hardcore passion, belief and a very momentous no-ball by Jasprit Bumrah would turn the tables, and with such comprehension? Pakistan were swatted aside when the two teams met earlier in the tournament; Virat Kohli & Co didn't know that they themselves would spark a renaissance that would bring about their own doom.




This was a complete performance. Pakistan had come into the game in extraordinary momentum, beating South Africa, Sri Lanka, and England on their way. Maybe calling them unpredictable again and again prompted a predictably positive response. The young team, most of whom haven't played a single minute of international cricket at home, showed the whole world what hard work and big-time adrenaline can do.

They beat a team which prides itself on being a star-studded team that plays in front of their home fans most of the year around. They beat a rival which had held bragging rights since quite some time now. And they beat them in every department. They took a page out of their opponent's batting and scored a massive 338. They improved what they were brilliant in and bowled the best batting side out to create a 180-run winning margin.




If the first match was a mismatch, this one was annihilation.

This trophy is not just about beating an arch-rival. It's about what infrastructure, team management and inconsistencies this team comes from, and what they've managed to achieve. It's about the elevation they've managed to reach and bring serenity and joyousness to a nation that craves for it. It's about creating distortion in a monotonously inconsistent pattern.

Team Pakistan has caused an upheaval in world cricket, and rightly so. They've given performances to back it up. The trophy was passed from India to Pakistan. Please pass the bragging rights too!

From Rishi Kapoor to Aamer Sohail, no one anticipated that Fakhar Zaman would make India pay so dearly for a no-ball. The former navy officer smashed 117 golden runs to set the platform for a big total. Excellent contributions from Azhar Ali and Babar Azam, along with an outrageously un-Mohammad Hafeez like cameo from Hafeez set up the highest total in this year's Champions Trophy. Kohli looked unconcerned – the best batsman in the world would pull this off, no?




In comes Mohammad Amir, and he literally went through the Indian top-order. He made Rohit Sharma look like he needs to head for the nets for the entirety of his life, whilst dismissed Kohli twice in two balls (the first was a lollipop catch dropped by Ali, who was met with some poetic anger from Amir).




Kohli has never looked this perplexed on a solid batting pitch. He didn't play a bad shot, he just couldn't deal with the sheer pace and swing that Amir had to offer. This was Amir's time to shine, and he was calling the shots when he bowled.




After, he took care of Shikhar Dhawan. Hasan Ali and Junaid Khan did what they do best, picked up important wickets in middle over with short intervals. Shadab Khan chipped in with two important scalps as well. This bowling quartet epitomises Pakistan's win.




You could see they were hungry. Their celebrations were explosive, their eyes were bloodshot and drop-dead focused. They were, quite simply, hunting down the Indian batsmen, and despite Hardik Pandya's big-hitting 50, there were no guns and barrels that could draw out an escape plan for India from this quartet.




Like the previous match, this win wasn't a thrilling win. This win wasn't a last-over finish. This was domination, and a statement of intent has been made. A 180-run defeat is magnanimous, and team India needs to do a lot of homework as they try to improve on this defeat.

Kohli wished for an India-England final, and I realise it now, that he couldn't be more correct.

What did Sarfraz Ahmed say to his team to cause such a turn-around in form?

He sure is a realist, as when he told his players that the tournament isn't over after defeat to India, everyone believed. One victory at a time, they clawed their way out from being lopsided to clinical. Hasan, so invigorating and effective, won the Golden Ball and the Man of the Tournament (not to mention a Hublot watch, woah).




When the tournament started, Rameez Raja predicted a Pakistan-India final, with Pakistan to win. Did he truly believe it? Neither did I, Raja. But both you and I, along with the whole nation can rejoice, as this is our win. We did not cause an upset. When you put together four world class performances together, it takes the shape of a pattern.

This youthful team, led by Sarfraz and presenting an invigorating brand of cricket, has made us all so very proud. I cannot bleed greener anymore. Pakistan are champions, and the world needs to watch out. This hunger is young, this win is just a start.