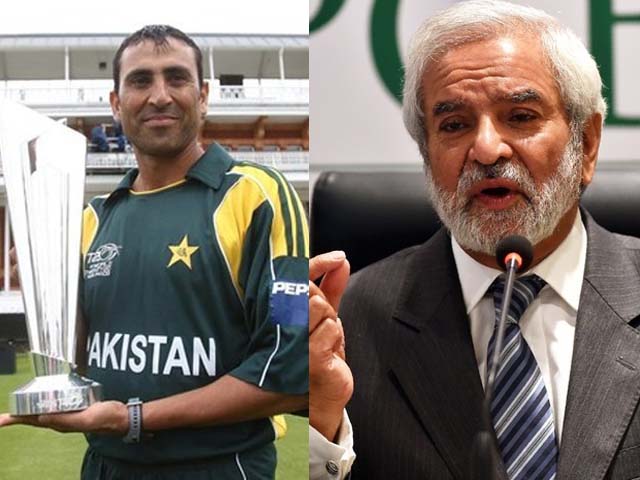 ---
Younis Khan and PCB couldn't reach an agreement – whose loss is it?
Who would be a better role model than the only Test cricketer to have scored a century in all Test hosting nations?
---
Just a few days ago, talks between the Pakistan Cricket Board (PCB) and former Test captain Younis Khan, for the appointment of the latter as the coach of the Under-19 Pakistan cricket team, fell through. Unconfirmed sources claim that the demands Younis made with respect to his remuneration was one of the deal breakers. The other bone of contention was the authority Younis had insisted on for his role as the coach, which included a very strong say in matters of selection as well. The PCB, apparently, only wants a coach who can just be around the team and guide them about some general stuff, as has been the case in the past.
Reports state Younis Khan has failed to come to an agreement with PCB over taking up the role of coach & chief selector of the national junior team after both parties couldn't agree on his salary demands #Cricket

— Saj Sadiq (@SajSadiqCricket) May 8, 2019
After deadlock with Younis Khan on heading PCB U19 cricket, Misbah-ul- Haq and Shoaib Akhtar also being considered. Essential for U19 and A teams to be in safe hands.#Cricket #PCB

— Tariq Saeed (@TariqSaeed13) May 7, 2019


So, whose loss is it? Definitely not Younis', I would say.

The batting legend is already working as a mentor with the Peshawar Zalmi franchise in the Pakistan Super League (PSL) and would definitely be in high demand if he decides to move elsewhere or do anything else related to coaching or mentoring. He is not just a former cricketer who has represented Pakistan for a little over 17 years, but is also a level two certified coach, a qualification he acquired while he was actively representing Pakistan.

With the qualification and experience that Younis has, one cannot imagine somebody more suitable than the Mardan-born cricketing genius to take up the reins of Pakistan's Under-19 cricket. His integrity has so far been unquestionable and so has his knowledge of all aspects of the game. His record undeniably cements his status as one of the best players the game of cricket has ever produced. Who would know better about adjusting and acclimatising to different playing conditions around the world than the only Test cricketer in history to have scored a century in all the countries that have hosted Test cricket thus far?


STAT: Younis Khan becomes first batsman in history to score a hundred in Tests in each of the 10 Test playing nations and UAE. #AusvPak

— Mazher Arshad (@MazherArshad) January 5, 2017


As far as the PCB is concerned, the chairman made a very wise call when he decided to bring in Younis as someone who could take the Under-19 Pakistan cricket team under his wing. Younis is the best role model young cricketers can have around them when they're gearing up to compete for a place in the Pakistan 'A' Team, and eventually the national side. Where the PCB went wrong, in my opinion, was how they managed the whole thing. Younis' demands (if they are believed to be true) aren't, to a certain extent, unfair at all.

Let's just compare his case with that of Rahul Dravid's in our neighbouring country, even though this comparison has been made plenty of times in the past. Dravid is the head coach of both India's Under-19 cricket team as well as the Indian 'A' team. Dravid also has an important part to play as far as the selection of the players is concerned.

Now let's see how this works. A player of Dravid's stature takes control of Indian cricket from the Under-19 level, where he can actually create a difference in the players' techniques, temperaments and the way they approach the game. Dravid then sees these players progress through to the Indian 'A' team, transitioning right into the Indian national side. This has resulted in the grooming of Indian players like Prithvi Shaw, Mayank Agarwal, Rishabh Pant and many more. And how much does Dravid get paid for it? A little over a whopping INR 4 million a month!


Our Under-19 cricket team won the World Cup. Their head coach Rahul Dravid was a significant factor behind this victory. He teaches us to work honestly & live for others. - Narendra Modi pic.twitter.com/auSgpLov5P

— Rahul Dravid FanClub (@RahulDravidFC) February 5, 2018


I believe that the PCB needs to put its priorities in order and understand where the money actually needs to be spent. I do understand that there is a huge difference between the economies of India and Pakistan, and also in the budgets of their respective cricket boards. It may not be practically possible for the PCB to match Younis' remuneration package with that of Dravid's, nor is anyone asking for that, but surely they could come to some sort of agreement.

The central thing is that the board should realise the importance of developing cricket at the grass root and Under-19 level. Talented former cricketers such as Younis, Wasim Akram, Misbahul Haq, Rashid Latif, Mushtaq Ahmed and Saqlain Mushtaq should be offered roles with due respect and a monetary compensation which matches their reputation. This will encourage them to come forward and serve the national board instead of working with private, local and international franchises or international boards.

So, it's pretty clear to me as to who is at a loss with Younis not serving the PCB. What do you think?