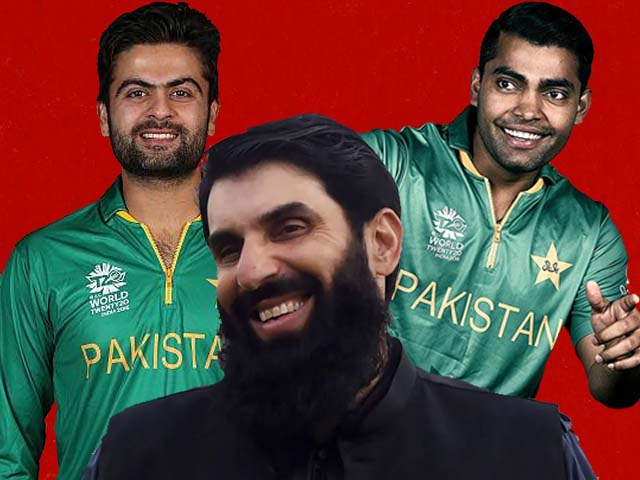 ---
Misbahul Haq: In with the old, out with the young and new?
While many will rejoice at the omission of Malik and Hafeez, the inclusion of Akmal and Shehzad is incomprehensible.
---
The decisions made by the Pakistan Cricket Board (PCB) recently have left me with mixed feelings. I have generally appreciated most of the decisions taken by the board regarding the restructuring of the domestic cricket circuit in the country. But as far as some of their decisions regarding the national side go, I've been less than impressed. The appointment of Misbahul Haq as head coach and chief selector is one of those decisions, and his team selection seems to be another cause for concern.

Misbah has already proven himself as one of the best captains Pakistan has seen in its cricketing history. But a good captain does not necessitate a good coach; and what makes his appointment all the more tricky is the fact that he will have to juggle his roles as coach and chief selector. As a result, Misbah's three-year contract has raised some eyebrows, and rightly so.

Even though he has completed a level two coaching course, he does not possess any coaching experience at a professional level. He did not completely meet the requirements advertised by the PCB for the position of head coach, which included a working experience of minimum three years in a similar cricketing role alongside elite cricketers from national or international teams; which is why the PCB relaxed its requirements. Moreover, the fact that he was part of the committee which removed Mickey Arthur from his post makes Misbah's appointment all the more suspect.

But the main contention with regards to Misbah taking charge of the team was that he would fail to breathe new life into the squad and that he would rely on already established names instead of giving a chance to up and coming youngsters. I can't help but agree with Ramiz Raja when he says that Misbah will continue with his brand of safe and secure cricket, which will clash with Pakistan's more aggressive playing style. Reverting to the likes of Umar Akmal and Ahmed Shehzad seems like a confirmation of this fear.


Absolutely correct, we don't want Ahmad Shazad and Umar Akmal back 😡🤔

Sir plz look in to it @captainmisbahpk

— NAQI HUSSAIN (@Naqi_786) September 16, 2019
Ahmed Shahzad, Umar Akmal n Iftikhar in the probables list for the series vs SL

No new up coming talent n the tride and tested

No Sami Aslam, No Haider Ali etc@captainmisbahpk been your supporter but this is a disappointing start to continue with the tried and tested #PAKvSL

— Hasaan Saeed (@HasaanSaeed) September 16, 2019


Misbah's cautious playing mentality is reflected in the list of 20 players who have been selected for the training camp ahead of the home series against Sri Lanka. While many will understandably rejoice at the omission of Shoaib Malik and Mohammad Hafeez, the inclusion of Akmal and Shehzad is incomprehensible.

The last time Akmal scored a 50 in an ODI was half a decade ago. Coincidentally, it was under Misbah's captaincy. If you're looking for an Akmal century, you'll have to go back further, where you'll find an unbeaten 102 against a weak Afghanistan side.

Akmal, who was initially termed as the next Inzamamul Haq by some, has consistently shown an immature approach towards the game. Very rarely have we seen him steer the team through to a successful run chase like the legendary Inzamam used to. What we have gotten used to seeing is the junior Akmal throwing his wicket away at crucial stages during matches after playing callous and reckless shots.

Apart from poor and irresponsible batting performances, Akmal doesn't rank highly in the fitness and discipline departments either. Throwing Akmal a bone when he does not merit it will benefit no one, especially since there are far hungrier and talented players waiting in the wings. The same can be said about Shehzad's playing career. A batsman of great potential who never really lived up to the expectations. Therefore, Akmal and Shehzad, who were on the fringes during Arthur's reign, would feel like they have just won the lottery.

https://twitter.com/MOY707/status/1173619961236996096

It seems like Misbah selecting Akmal and Shehzad provides them with a good opportunity to impress viewers and selectors against a Sri Lankan side operating at half strength. But such short-term achievements are ultimately useless since they will lead to little long-term change. The fact that Sri Lanka are sending in a weak side to tour Pakistan could so easily have been used as an opportunity to give some young batting talent the chance and confidence to prove his mettle in front of a home crowd. This would give Pakistan a handful of players who could be groomed for the next ODI or T20 World Cup. Misbah must realise that the time to invest in new players is now, and neither Akmal nor Shehzad represent the future of Pakistan cricket.

Perhaps it is my optimistic nature which is willing me to believe that just like his batting, Misbah will take time to settle at the selection and coaching crease, and will start playing his shots once he's got his eye in. As far as Akmal and Shehzad are concerned, they should thank their lucky stars for this selection and not throw the opportunity like their wickets.