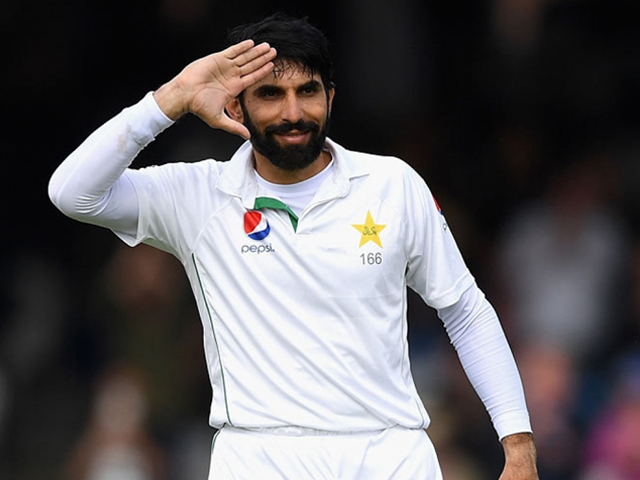 ---
Well done, Misbahul Haq!
Captain cool wronged his critics once again by scoring a brilliant century.
---
Lord's Cricket Ground is the home of cricket and it's every cricketer's wish to be able to play and perform exceptionally at this historic venue. The incentive to perform well at Lord's is having your name written on the honour board, which is erected inside the pavilion of the cricket ground.

How can a cricketer have his name included in that list?

Simple, a batsman has to score a century and a bowler has to take five wickets in an inning or 10 wickets in a match.

There is a long list of players on this board, but unfortunately, the world's greatest players such as Sachin Tendulkar, Brian Lara, Javed Miandad, Imran Khan, Shane Warne, Curtly Ambrose and Wasim Akram have not had a chance to get their name up on this particular board.

This board also has some surprising names written on it. Personally, for me, the most surprising names were Nasimul Ghani of Pakistan and Ajit Agarkar of India.




Pakistan has played 14 Test matches at the Lord's ground, including yesterday's match. In the previous 13 Tests, 11 players earned the honour of having their name engraved on the Lord's honour board.

Pakistan began a new Test series against England on the same cricket ground yesterday. This is a vital Test series for Pakistan, not only to set a certain momentum, but to restore the pride which was shattered six years ago at the very same venue. Three players were accused of spot-fixing and were subsequently banned and jailed for their crime.

One of the accused players, Mohammad Amir, is back on the Pakistan team and has resumed his career from the same place where it had ended.




After the spot-fixing fiasco in 2010, the Pakistan Cricket Board (PCB) handed over the reins of our cricket team to the skipper, Misbahul Haq. Within six years, he transformed the team into a forceful Test unit. Pakistan is currently at the third position in the ICC Test ranking and Misbah has played a pivotal role in our team attaining this great ranking.

Misbah is the longest serving Test captain of Pakistan, and with 20 victories to his name, he is also the most successful captain in Pakistan Test history.

A few weeks ago, Misbah, along with the team, left for their England tour. England, a place considered intimidating not only because of the tough playing conditions, but also because of the presence of hostile media.

Misbah had seriously been contemplating retirement before this tour, but was persuaded by the chairman of PCB, Shehryar Khan, to continue playing.

Misbah has had to face numerous critics about his playing style and age, but he has proved them wrong with his fitness and impeccable skills.

That's exactly what he did yesterday.




He walked to the crease when his team was struggling at 77-3. He decided to take the responsibility of swerving his team towards a decent innings. He built a partnership with Younis Khan and then Asad Shafiq, and helped his team's total to rise up to 282. In the process, he also completed his 10th Test century (the first in England) and celebrated by doing 10 push ups. The story behind this is that he had promised the army folks that he would do 10 push ups for every century he scored.


The century at Lord's, that even on the first day of the Test match, made Misbah the 12th player from Pakistan to have his name written on the Lord's honour board.

Pakistani players who have had their names written on the Lords honour board prior to Misbah are Khan Mohammad, Javed Burki, Nasimul Ghani, Hanif Mohammad, Mudassar Nazar, Mohsin Khan, Waqar Younis, Inzamamul Haq, Mushtaq Mohammad, Mohammad Yousuf and Mohammad Amir.

At the age of 42, he became the oldest Test captain to score a century in Test cricket. Prior to Misbah, this record was held by Bob Simpson of Australia. He has the ability to do the unthinkable. Before the start of this Test series, a few Pakistani names were rumoured to go up on the Lord's honour board, but Misbah's name never came up. Captain cool wronged his critics once again by scoring a brilliant century.




Misbah has had an unfortunate past in his Test career, where he faced a four year break during his peak years. But since his return from this break in 2007, he eventually became an integral part of the Pakistan Test squad. He, along with Younis Khan, carry the burden of Pakistan's batting line-up on their shoulders.




Scoring a century at Lord's at the pinnacle of his career is a great achievement for Misbah. This will further strengthen his status as a legend in Pakistani cricket.




As all good things come to an end – so will Misbah's career – ­but the legacy that Misbah will leave behind, will prove to be an arduous task for his successors to carry forward.