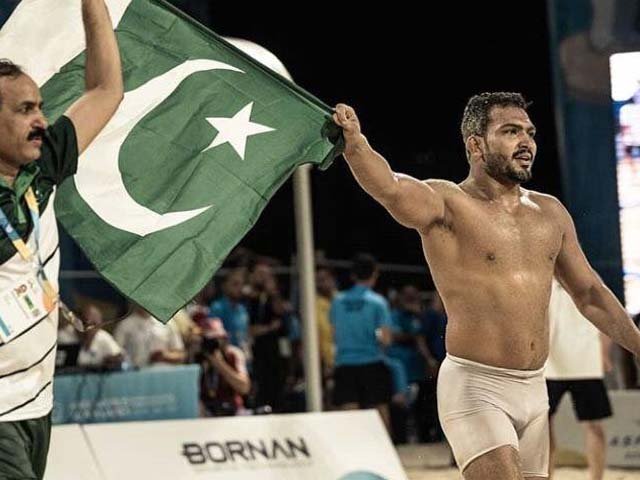 ---
What does the future hold for Inam Butt?
POA is sending athletes to the Summer Olympics on a wild card but has ignored genuine medal-winning prospects
---
Pakistan has been fortunate enough to be home to a lot of talented and dedicated individuals. These countrymen have raised the national flag in various fields including sports irrespective of having little or no support from the government. Inam Butt, the wrestler, is also one of these men. He is continuously making the nation proud by winning medals at various international wrestling events. Despite that, the authorities, especially the Pakistan Wrestling Federation, is not giving him the facilities and financial support he deserves.

Butt a product of Gujranwala's local akharas (wrestling rings) came in the limelight when he won a gold medal during the 2010 Commonwealth 

Games

. He repeated the feat in the 2018 Commonwealth Games also while also making his mark during other international events. Recently, he became the source of national pride, once again, by winning a gold medal at the first-ever Association of National Olympic Committees (ANOC) World Beach Games. Butt was the first-ever Pakistani player to 

qualify

 for the games, supported by only 

20-days

 of training organised by Pakistan Sports Board; while he completed the rest at his akhara in Gujranwala.  

During the final, Butt defeated Georgian opponent Dato Marsagishvili, an Olympics medalist, who he had lost to just a few months before due to a controversial decision by the 

referee

.





Butt's next target are the upcoming Tokyo Olympic Games in 2020. In my opinion, Butt after more than ten years of experience in international wrestling can be Pakistan's prospect for the gold medal. However, the Pakistan Olympic Association (POA) has always laid more emphasis on the hockey team and the medals we earn through it. There has been little or no genuine effort towards grooming athletes in individual sports.





On the other hand, hockey, the national game of Pakistan is in total 

disarray

. After failing to qualify for the 

2016

 Olympics, the team's qualification seems doubtful this time too. Bearing in mind, they have to beat hockey's powerhouse, 

Netherlands

 in two consecutive matches to get selected. 





While POA is contending on sending one or two athletes to the Summer Olympics on a wild card, they have simultaneously ignored athletes who are genuine medal-winning prospects. Considering the situation of hockey, the time has arrived for our associations to start focusing on athletes with promising talent in individual sports because we cannot afford to lose more athletes to poor strategy.



Out of the ten medals Pakistan has won in the Summer Olympics, only two are for individual sports. The bronze medals were won for wrestling and boxing, 

by Mohammad Bashir in 1960 and by Hussain Shah in 1988 respectively. Although, both the players were awarded the Sitar-e-Imtiaz, the government did not do much to support them. 

Shah wanted to train more young boys in the sport but due to the lack of support at home, he eventually moved to

 

Japan

 without getting the recognition he deserved. 

No matter how much we criticise the decisions made in the past regarding Shah and Bashir, it is of no use, especially if we make the same mistakes with Butt.



It is extremely important for POA and other sports bodies to arrange for funds for Butt as well as offer him the chance to 

train

 in other countries so that he can practice in state of the art wrestling rings and at least have some experience before getting down into an Olympic standard ring.





Recently, the government of Punjab presented

 Butt with a cheque of , Rs. 200,000, for winning the Beach Wrestling World Series, while players like Shoaib Malik have also shown interest in promoting him. But support cannot be conditional and cannot be event-based.

 Butt just recently had to

 miss

 the Asian Wrestling Championship, despite training strenuously due to the lack of funding.



Butt's case is also a test for POA, as they have previously not been very keen on supporting individual sports. POA will have to focus on Butt rather than wasting funds by sending athletes on a wild card just for the sake of participation. I request the prime minister of Pakistan to look into this matter as well. Like individual sportsmen before him, Butt's case should not be ignored and POA should be implored to fund him. By giving him the right facilities and training, Butt could possibly bring an Olympic medal home after a gap of 24 years.

I am concluding my piece on this poetic verse of Allama Iqbal which I will dedicate to Inam Butt, Hussain Shah and many others like him:

But of his barren acres Iqbal will not despair:
A little rain, and harvests shall wave at last, oh cup bearer!