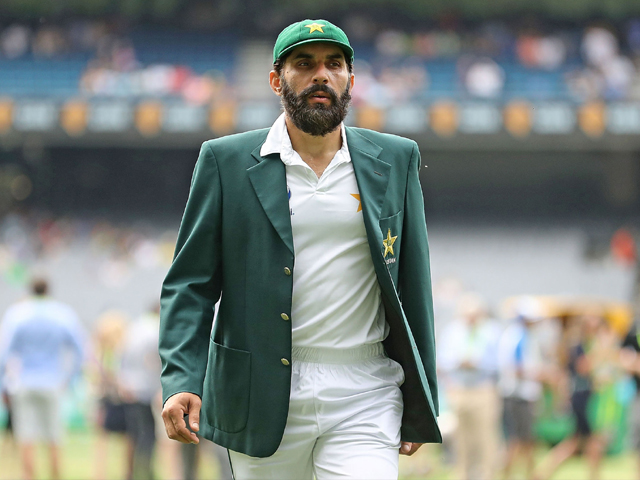 ---
Misbahul Haq can be a fantastic batting coach but cannot be the head coach
In his four years, Misbah was unable to produce a truly formidable playing 11 or win any major cricket tournament.
---
Although it looks like Misbahul Haq has emerged as the prime candidate to become the next head coach of the Pakistan cricket team, I don't think he is the right man for the job. While Misbah was a decent captain, I felt he hardly introduced any new players during his tenure.

The likes of Haris Sohail and Babar Azam were ready to play international cricket while Misbah was captain, but he didn't allow them to make an entrance, instead relying on the old guard. Misbah consistently preferred safe and 'conservative' players over slightly more exuberant cricketers.

But I do still think that he can be very useful for the Pakistan Cricket Board (PCB). Misbah's temperament and skill-set would make him a fantastic batting coach. His time as a batsman comprised of hours upon hours of practice and coaching rather than a reliance on unbridled natural talent. Misbah's ability to dig himself in at the crease stemmed largely from the fact that he had worked very hard at honing his craft. Hence, he would make a good batting coach because our players are in desperate need of someone who can instil some discipline and consistency in their batting.

While the role of the batting coach suits Misbah, the array of skills which a head coach must possess are entirely different. Most of all, the individual who is given that responsibility must be a master strategist. It's the head coach's responsibility to evaluate the playing combinations, select players, and formulate tactics for the team. If anything, Misbah's tenure as captain of the cricket team demonstrated that he is severely lacking in this department. He usually tends to go for the safer options whenever he has to make a choice and often lacks a willingness to experiment – a trait which would work against him if he were to become head coach of an unpredictable Pakistan side.

During his captaincy, the Pakistan cricket team was extremely defensive, and at times, negative. The playing mindset which he represented did little to help break the various chains which have long shackled Pakistan cricket. I feel that Misbah would bring the same cautious philosophy to his coaching. Pakistan, given the uncertain nature of who will captain the team, needs a strong dynamic head coach who can lead and energise his players.

Furthermore, during Misbah's captaincy we didn't win a single major cricket tournament. We were knocked out of the 2013 Champions Trophy without winning a game, and we also got knocked out early on in the 2015 World Cup. By 2015, Misbah had been in charge of the Pakistan team for over four years, yet he was still unable to produce a truly formidable playing 11. An inability to construct a commanding squad does not bode well for a future head coach.

Naturally, the obvious question is that if not Misbah, then who? Given that the Pakistan cricket team is in need of a strong head coach, the likes of Tom Moody, Stuart Law, Phil Simmons or Dean Jones would be ideal.  They not only have the experience but they also possess the much needed bravado.

Oddly enough, there have also been rumours that Misbah may also be appointed as chief selector by the PCB. That too will be an awful decision because, as mentioned, Misbah's captaincy hardly brought any new talent to the fore. So many years were wasted for the likes of Sohail because Misbah never gave him a chance, and I fear that he may do the same with other upcoming cricketers like Saif Badar and Saud Shakeel. Pakistan cricket needs to do away with the old and make room for the new.

However, the one benefit I can see from Misbah becoming head coach is that he will finally stop playing in the Pakistan Super League (PSL), which would then open a spot for a deserving youngster, which he has blocked for numerous years.

I still believe that the PCB's decision to not give Mickey Arthur an extension was a mistake, and his removal now seems all the more suspect since Misbah was part of the National Cricket Committee (NCC) which removed Arthur from his post. After his dismissal, Misbah then resigned from the NCC and turned in his application for head coach. As a result, it isn't hard to see why some people are calling this a conflict of interest.

https://twitter.com/DennisCricket_/status/1165930047489753088


The PCB has announced that Misbah-ul-Haq has stepped down from the PCB Cricket Committee and has formally applied for the role of Pakistan Head Coach #Cricket

— Saj Sadiq (@SajSadiqCricket) August 26, 2019


But even if one were to ignore that, it is clear that the PCB must now make a brave decision and not resort to a safer option just because the future looks rather unpredictable at the moment. By the looks of it, the PCB wants to bend over backwards in order to ensure that Misbah gets the job, but his brand of leadership is not needed by our current batch of players. We need someone modern, a risk-taker who has recently played international cricket, has a positive mind-set, and is also strategically sound. And I do not think Misbah is that man.