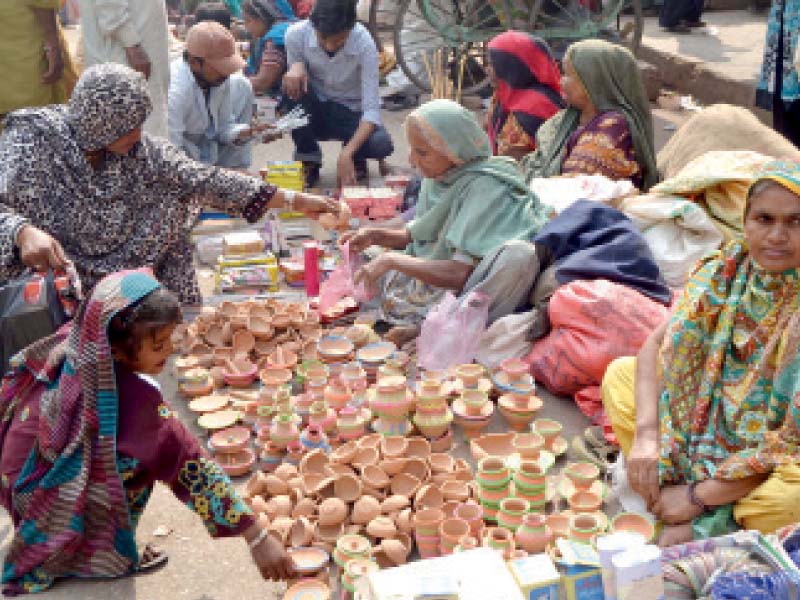 ---
KARACHI: Homes have been scrubbed, clothes, mehndi and bangles assembled, firecrackers gathered and sweetmeats left to simmer on the stoves - the biggest festival of the Hindus, Diwali, is all set to kick off amidst lights and colour today.

Diwali is the biggest festival of the Hindus, often referred to as the 'Festival of Lights'. The festival, which also marks the start of the new year for Hindus, celebrates the return of Lord Ram along with his wife, Sita, and brother, Lakshman, from a 14-year-old exile in Ayodhya.

The two- to three-day-long celebrations are preceded by poojas inside homes, known as Dhanteras. Homes are lit up with earthen lamps while rangoli (dyed rice) is used to craft patterns on the floor to welcome Lord Ram and his wife, Sita. "The concept is such that when Lord Ram and Sita visit our houses, they like the colours and designs," Kiran Sajesh, a housewife, told The Expres Tribune. "It is believed that Lord Ram and Sita visit such houses more frequently."

Reaching out: PM to join Sindh's Hindu community for Diwali

According to her, some people make the rangoli on their own, while others use stencils to perfect the design. While using dyed rice is a traditional practice, others may go for more innovation, she added.

Nitish Kumar, who visits his family in Thar every Diwali, said that the last time, they experimented with rangoli made with paints. "All colours from yellows and greens to blues and hues of red are used," he said. "Our painted rangoli stuck around for some time while the one made from rice has to be removed after the two-day celebration," he said. At other places, families also put colour on their goats and animals as they believe that it leads to an increase in wealth. For kids, the fun starts after the pooja once the sounds of firecrackers resonate in the air. "Its colour, sound and light, all magnified," said Kiran. "That's what kids enjoy the most along with money and gifts, of course."

The second day, which revolves around family gatherings and having meals together, is all about having spicy and sweet stuff prepared at home. The common savoury delicacies include chana chaat, fruit chaat, daal chawal, mix sabzi and chickpeas, while for the sweet tooth, kheer is a must along with laddoos, jalaibi and gulab jamans.

"Every house in our village also maintains a register in which prices of commodities such as rice, goldand flour is written after the pooja of goddess Lakshmi," Kumar told The Express Tribune. "It's a practice that I have seen since my childhood that a red ink (red colour used for shuddh or purity) is used to mark the entries, while a silver coin is dipped in red paint and stamped four times around the list and the names of all those who are present in the house," he said.

Interfaith harmony: Diwali celebrations to bring all faiths together

Sikhs to celebrate simplistically

Every year, as Hindus rejoice the return of Lord Ram and Sita, the Sikh community commemorates Bandi Chor Divas. This occasion celebrates the freedom of the sixth Guru, Guru Hargobind, from Gwalior. The day coincides with Diwali and is honoured the same way with prayers and lighting in Sikh gurdwaras.

"Free food and sweetmeats are distributed," said Sardar Ramesh Singh, the patron-in-chief of Pakistan Sikh Council. "However, this year, the Bandi Chor Divas will be celebrated in simplicity worldwide on account of the recent desecration incidences of Guru Granth Sahib."

Published in The Express Tribune, November 11th, 2015.